Může vstát jaderná energetika z mrtvých?
LONDÝN – Jaderná energetika je od katastrofy v japonské Fukušimě před více než deseti lety na ústupu, ale možná má nakročeno k návratu. Ruská invaze na Ukrajinu a prudce rostoucí ceny zemního plynu vedou některé lidi k tvrzení, že jaderná energie může napomoci k vyřešení dvojího problému energetické bezpečnosti a klimatických změn. Vrátilo se jádro do hry, anebo půjde o další falešný poplach?
Až donedávna se vyhlídky jaderné energetiky jevily jako chabé. Elektrárny postavené v 70. a 80. letech se chýlí ke konci provozní životnosti a Německo s Japonskem se z politických důvodů rozhodly je uzavřít. A z několika málo nových jaderných elektráren, které se v současné době stavějí, jich mnoho sužují chyby v řízení a technické závady. Tlakovodní reaktory EPR ve Flamanville v severní Francii a ve finském Olkiluotu mají 13, respektive 12 let zpoždění. Hinkley Point v jihozápadní Anglii, který měl už příštím roce dodávat Britům energii na pečení vánočních krocanů, bude možná v provozu v roce 2027. A u všech těchto projektů zákonitě došlo také k obrovskému překročení rozpočtu.
Ve Spojených státech nebylo žádné nové komerční jaderné zařízení uvedeno do provozu už od roku 1996. Kombinace levného domácího břidlicového plynu a dotací větrné energie podkopává rentabilitu stávajících elektráren a odrazuje investice do nových podniků. Vzhledem ke klesajícím nákladům alternativních energií začalo být jádro příliš nákladné a riskantní. V mnoha zemích dochází i ke stárnutí kvalifikovaného personálu v oboru jaderné energetiky a nábor nových zaměstnanců byl v uplynulém desetiletí minimální.
Pokles nezastavily ani argumenty zástupců jaderné energetiky, že jádro by se mělo pokládat za příspěvek k přechodu na čistou energii. V posledním roce však prudce rostoucí ceny energie a energetická nejistota vyvolaná ruskou invazí na Ukrajinu připomněly vládám a spotřebitelům, že závislost na dovozu klíčových strategických zdrojů je riskantní. Maximalizace doma vyrobených dodávek elektrické energie by měla být výchozím bodem jakékoliv strategie energetické bezpečnosti. Současně platí, že vzhledem k prudkému růstu cen zemního plynu v posledních 12 měsících začaly nové jaderné komplexy vypadat mnohem konkurenceschopněji.
Výsledkem je vlna nových projektů a plánů. Britský premiér Boris Johnson chce, aby jaderná energie představovala do roku 2050 čtvrtinu veškeré výroby elektrické energie v zemi. Čína zase v dubnu schválila výstavbu šesti nových reaktorů, které doplní 54 již provozovaných a 19 budovaných reaktorů. Čínské firmy údajně jednají o vývoji 40 nových reaktorů po celém světě. Jednatřicátého ledna byla podepsána zakázka na reaktor čínské výroby v pákistánském Karáčí a počátkem roku podepsala Čína dohodu o výstavbě další nové jaderné elektrárny v Argentině.
Je pravda, že Německo začalo uzavírat své jaderné provozy už v roce 2011 a do konce letošního roku má uzavřít poslední tři jaderné elektrárny v zemi. Jinde v Evropské unii však existuje značný zájem o jadernou energii coby potenciální náhradu ruských dodávek zemního plynu, na nichž byla EU v posledních 40 letech závislá. Francouzský prezident Emmanuel Macron oznámil před nedávnými prezidentskými volbami, že Francie počínaje rokem 2028 vybuduje až 14 nových jaderných reaktorů. A Polsko v březnu předložilo plány na výstavbu šesti nových reaktorů.
WINTER SALE: Save 25% on a new PS subscription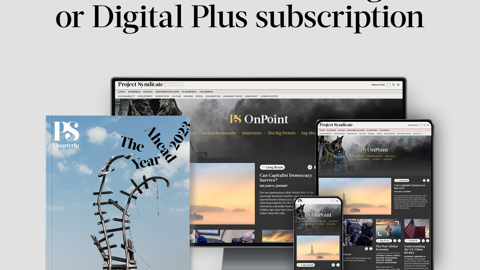 WINTER SALE: Save 25% on a new PS subscription
For a limited time, you can gain greater access to Project Syndicate – including every commentary and our entire On Point suite of subscriber-exclusive content – starting at less than $6 per month.
V souladu s tímto trendem už firmy jako Rolls-Royce ve Velké Británii nebo NuScale v USA vyvíjejí novou generaci malých modulárních reaktorů (SMR), které lze vybudovat a nasmlouvat za méně než deset let. SMR lze stavět v sériích a měly by lákat soukromé investory, které odrazují dlouhé realizační lhůty, eskalující náklady na výstavbu a rizika spojená se složitými velkými elektrárnami, jako je ta ve Flamanville.
Jaderná renesance však zdaleka není jistá. Reaktorů, kterým dnes hrozí uzavření a odstavení, je více než těch, jež se v současné době budují. A třebaže ve většině zemí začala veřejnost pohlížet na jadernou energii vstřícněji, zakořeněný odpor vyvěrající z ekologických a bezpečnostních obav dál jadernou renesanci brzdí. Místní plánovací procesy jsou extenzivní a trpké. Výstavba si žádá čas, v neposlední řadě kvůli nutnosti rozsáhlých bezpečnostních posudků, a čas stojí peníze. V důsledku toho bude projekt pokračovat pouze v případě, že existují věrohodné garance týkající se budoucích cen a nákupů energie. Budoucnost jaderné energetiky je neoddělitelná od veřejné politiky, která je jako vždy nejistá a představuje další zdroj rizika.
Navíc neexistuje záruka, že ceny zemního plynu zůstanou vysoké, jakmile se začnou využívat nová ložiska v oblastech jako severní Afrika či Střední Asie, nebo že EU dostojí svému závazku snížit dovoz plynu z Ruska o dvě třetiny do konce letošního roku. Jaderný průmysl se také stále nedokáže efektivně vypořádat s problémem likvidace odpadu. A v elektrárnách, jako je Sizewell ve východní Anglii, mají kromě toho problémy se zajištěním dostatečného množství vody, aby se reaktory vůbec mohly provozovat.
Vzhledem k vyhlídce dlouhého konfliktu na Ukrajině, který omezí obchod s Ruskem, a vzhledem k faktu, že s přechodem na nízkouhlíkový svět pravděpodobně poroste význam elektrifikace, má jaderná energetika obrovský potenciál. Vzhledem k dlouhým realizačním lhůtám nemůže nabídnout okamžité vyřešení dnešních problémů. Během deseti let by však jaderná energie mohla spolu s energií větrnou a sluneční podkopat globální trh s plynem. Otázkou zůstává, zda dnes civilní jaderná energetika konečně dokáže naplnit příslib, který dávala, když se v 50. letech poprvé rozvíjela.
Z angličtiny přeložil Jiří Kobělka