Le grand retour de l'énergie nucléaire ?
LONDRES - L'énergie nucléaire est un secteur en baisse depuis la catastrophe de Fukushima au Japon il y a plus d'une décennie, mais elle est peut-être sur le point de faire son grand retour. L'invasion de l'Ukraine par la Russie et la montée en flêche des prix du gaz naturel ont conduit certaines personnes à penser que l'énergie nucléaire peut être une solution au double défi de la sécurité énergétique et du changement climatique. Ce secteur fait-il son grand retour ou bien ne s'agit-il d'une fausse alerte ?
Dernièrement, les perspectives de croissance de l'énergie nucléaire n'étaient pas au beau fixe. Les centrales construites dans les années 1970 et 1980 s'approchent de la fin de leur cycle de vie, alors que l'Allemagne et le Japon ont décidé d'arrêter leurs centrales nucléaires pour des raisons politiques. Sur le nombre relativement faible de nouvelles centrales nucléaires qui ont été construites récemment, un grand nombre ont vu leur réputation ternie par une mauvaise gestion et des défauts techniques. Le navire amiral en matière de technologie de réacteur à eau pressurisé européen à Flamanville dans le Nord de la France et à Olkiluoto en Finlande ont respectivement 13 et 12 ans de retard. La centrale de Hinkley dans le Sud-Ouest de l'Angleterre, qui était censée fournir l'électricité nécessaire à la cuisson des dindes de Noël en Grande-Bretagne en 2023, sera très certainement opérationnelle en 2027. Inévitablement, tous ces projets dépassent les montants budgétaires prévus.
Aux États-Unis, aucune nouvelle centrale nucléaire commerciale n'a ouvert depuis 1996. La combinaison du gaz de schiste bon marché produit dans le pays et de subventions pour la production d'énergie éolienne a nui à l'économie des centrales existantes et a découragé les investissements dans de nouvelles centrales. Alors que les coûts des approvisionnements en énergies alternatives sont en baisse, le nucléaire a commencé à paraître excessivement coûteux et risqué. Dans de nombreux pays, le personnel doté des qualifications en génie nucléaire vieillit et le recrutement a été minimal durant la dernière décennie.
L'argument selon lequel le nucléaire devrait être considéré comme un avantage pour la transition vers l'énergie propre n'a pas stoppé le déclin dans ce secteur. Mais au cours de l'année écoulée, la hausse des prix de l'énergie et l'insécurité énergétique déclenchée par l'invasion de l'Ukraine par la Russie ont rappelé aux gouvernements et aux consommateurs combien leur dépendance aux importations de leurs principales ressources stratégiques était risquée. La maximisation des approvisionnements nationalement produits en électricité devrait être le point de départ de toute stratégie en matière de sécurité énergétique. Dans le même temps, la forte hausse des prix du gaz naturel au cours des 12 derniers mois a commencé à rendre les nouvelles centrales nucléaires beaucoup plus compétitives.
Le résultat est une vague de nouveaux projets. Le Premier ministre britannique Boris Johnson souhaite que l'énergie nucléaire fournisse 25 % de l'électricité du pays d'ici 2050. En avril, la Chine a approuvé la construction de six nouveaux réacteurs, les ajoutant ainsi aux 54 déjà en service et aux 19 en construction. On rapporte que les sociétés chinoises négocient en vue de développer 40 nouveaux réacteurs dans le monde entier. Un réacteur de contruction chinoise à Karachi au Pakistan a été commissionné le 31 mars et la Chine a signé un contrat plus tôt cette année en vue d'installer une nouvelle centrale nucléaire en Argentine.
Il est vrai que l'Allemagne a commencé à fermer sa capacité nucléaire en 2011 et a programmé la fermeture de ses trois centrales restantes vers la fin de cette année. Toutefois dans le reste de l'Union européenne, il existe un fort intérêt pour le potentiel de l'énergie nucléaire en vue de remplacer les approvisionnements russes en gaz naturel dont l'UE dépend depuis les 40 dernières années. Le Président français Emmanuel Macron annoncé avant les dernières élections présidentielles que la France allait construire jusqu'à 14 nouveaux réacteurs nucléaires, à compter de 2028. En outre, la Pologne a proposé des projets en mars pour la construction de six nouveaux réacteurs.
WINTER SALE: Save 25% on a new PS subscription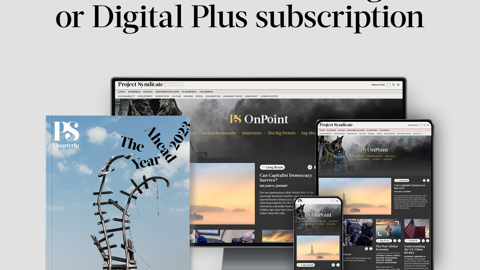 WINTER SALE: Save 25% on a new PS subscription
For a limited time, you can gain greater access to Project Syndicate – including every commentary and our entire On Point suite of subscriber-exclusive content – starting at less than $6 per month.
À l'appui de cette tendance, des sociétés comme Rolls Royce au Royaume-Uni et NuScale aux États-Unis développent une nouvelle génération des petits réacteurs modulaires (PRM) qui peuvent être construits et mis en service en moins de dix ans. Les PRM peuvent être construits en série et devraient attirer les investisseurs privés découragés par les longs délais d'exécution, la hausse coûts de construction et les risques complexes liés aux centrales à grande échelle comme Flamanville.
Mais une renaissance du nucléaire est loin d'être certaine. Aujourd'hui un plus grand nombre de réacteurs risquent la fermeture et une mise à l'arrêt définitive et cette tendance surpasse celle de la construction de nouvelles centrales. Bien que l'opinion publique soit plus favorable à l'énergie nucléaire dans la plupart des pays, une résistance tenace, soutenue par des soucis relatifs à l'environnement et à la sécurité, continue toutefois d'empêcher une renaissance. Les processus de planification locaux sont longs et pénibles. La construction prend du temps, notamment en raison des évaluations étendues de sûreté requises - et le temps, c'est de l'argent. Par conséquent, les projets ne seront mis a exécution que s'il existe des garanties crédibles concernant les futurs prix et achats d'électricité. L'avenir de l'énergie nucléaire est indissociable de la politique publique qui, comme toujours, est incertaine et source de risques supplémentaires.
Par ailleurs, il n'y a aucune garantie que les prix du gaz naturel demeureront élevés quand les nouveaux champs dans des régions telles que l'Afrique du Nord ou l'Asie centrale commenceront leur production, ou quand l'UE tiendra ses promesses sur son engagement à réduire ses importations de gaz en provenance de Russie de deux-tiers vers la fin de cette année. De même, l'industrie nucléaire ne traite toujours pas efficacement le problème du traitement de ses déchets. Dans des centrales comme celle de Sizewell dans l'Est de l'Angleterre, il existe le défi supplementaire de sécuriser les approvisionnements en eau suffisants pour faire fonctionner les réacteurs.
Étant donné la perspective d'un conflit long en Ukraine qui risque de limiter le commerce avec la Russie et avec une électrification probable qui risque de devenir de plus en plus importante à l'heure ou nous évoluons vers un monde à faible teneur en carbone, le potentiel pour l'énergie nucléaire est énorme. En raison des délais nécessaires, l'énergie nucléaire ne peut pas offrir une solution instantanée aux défis actuels. Cependant, dans une décennie, le nucléaire, aux côtés de l'éolien et du solaire, a pu nuire au marché mondial du gaz. La question est de savoir si l'énergie nucléaire civile peut maintenant tenir enfin la promesse qu'elle a faite depuis que cette technologie a été développée la première fois dans les années 1950.