Czy Energia Jądrowa Może Zmarchwychwstać?
LONDYN - Od czasu katastrofy w japońskiej Fukushimie, która miała miejsce ponad dziesięć lat temu, energetyka jądrowa podupadła, ale być może czeka ją powrót. Inwazja Rosji na Ukrainę i gwałtownie rosnące ceny gazu ziemnego skłoniły niektórych do twierdzenia, że energia jądrowa może pomóc w rozwiązaniu podwójnego problemu, jakim jest bezpieczeństwo energetyczne oraz zmiany klimatu. Czy branża wraca do gry, czy też okaże się to kolejnym fałszywym zwiastunem?
Do niedawna perspektywy energetyki jądrowej wydawały się kiepskie. Elektrownie wybudowane w latach 70-tych i 80-tych zbliżają się do końca okresu eksploatacji, a Niemcy i Japonia postanowiły zamknąć swoje obiekty z powodów politycznych. Spośród stosunkowo niewielu relatywnie nowych elektrowni jądrowych wiele zostało zniszczonych przez błędy w zarządzaniu czy usterki techniczne. Flagowe reaktory wodne ciśnieniowe EPR we Flamanville (północna Francja) i Olkiluoto (Finlandia) są opóźnione odpowiednio o 13 i 12 lat. Hinkley Point w południowo-zachodniej Anglii, który miał zapewnić energię do upieczenia brytyjskich indyków na Boże Narodzenie w 2023 roku, może zostać uruchomiony w 2027 roku. Nieuniknione jest, że wszystkie te projekty znacznie przekroczyły budżety.
W Stanach Zjednoczonych od 1996 roku nie otwarto żadnego nowego komercyjnego obiektu jądrowego. Połączenie taniego krajowego gazu łupkowego i dotacji dla energetyki wiatrowej podważyło ekonomikę istniejących elektrowni i zniechęciło do inwestowania w nowe przedsięwzięcia. Przy spadających kosztach alternatywnych źródeł energii energetyka jądrowa zaczęła wydawać się nadmiernie kosztowna i ryzykowna. W wielu krajach starzeją się pracownicy posiadający kwalifikacje w zakresie inżynierii jądrowej, a rekrutacja w ciągu ostatniej dekady była minimalna.
Argumentacja branży, że energia jądrowa powinna być postrzegana jako dobrodziejstwo w procesie transformacji czystej energii, nie powstrzymała spadku. Jednak w ciągu ostatniego roku rosnące ceny energii oraz brak bezpieczeństwa energetycznego wywołane inwazją Rosji na Ukrainę przypomniały rządom i konsumentom, że uzależnienie od importu kluczowych zasobów strategicznych jest ryzykowne. Maksymalizacja dostaw energii elektrycznej produkowanej w kraju powinna być punktem wyjścia dla każdej strategii bezpieczeństwa energetycznego. Jednocześnie gwałtowny wzrost cen gazu ziemnego w ciągu ostatnich 12 miesięcy sprawił, że nowe obiekty jądrowe stały się bardziej konkurencyjne.
Efektem tego jest fala nowych projektów i planów. Premier Wielkiej Brytanii Boris Johnson chce, aby do 2050 r. energia jądrowa dostarczała 25% krajowej energii elektrycznej. W kwietniu Chiny zatwierdziły budowę sześciu nowych reaktorów, dodając je do 54 już działających i 19 będących w budowie. Chińskie firmy prowadzą podobno negocjacje w sprawie budowy 40 nowych reaktorów na całym świecie. Wybudowany przez Chiny reaktor w Karaczi w Pakistanie został uruchomiony 31 marca, a na początku tego roku Chiny podpisały umowę na budowę kolejnej nowej elektrowni jądrowej w Argentynie.
Co prawda Niemcy zaczęły zamykać swój potencjał jądrowy w 2011 roku, a do końca bieżącego roku mają zamknąć trzy pozostałe elektrownie. Jednak w innych częściach Unii Europejskiej istnieje duże zainteresowanie potencjałem energii jądrowej, która mogłaby zastąpić rosyjskie dostawy gazu ziemnego, od których UE była uzależniona przez ostatnie 40 lat. Prezydent Francji Emmanuel Macron zapowiedział przed ostatnimi wyborami prezydenckimi, że Francja zbuduje do 14 nowych reaktorów jądrowych, począwszy od 2028 roku. Polska natomiast przedstawiła w marcu plany budowy sześciu nowych reaktorów.
WINTER SALE: Save 25% on a new PS subscription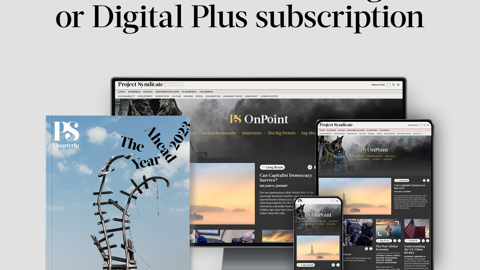 WINTER SALE: Save 25% on a new PS subscription
For a limited time, you can gain greater access to Project Syndicate – including every commentary and our entire On Point suite of subscriber-exclusive content – starting at less than $6 per month.
Wspierając ten trend, firmy takie jak Rolls-Royce w Wielkiej Brytanii i NuScale w USA opracowują nową generację małych reaktorów modułowych (SMR), które można zbudować i uruchomić w ciągu mniej niż dziesięciu lat. Reaktory SMR mogą być budowane seryjnie i powinny przyciągnąć prywatnych inwestorów, których odstraszają długie terminy realizacji, rosnące koszty budowy i ryzyko związane ze złożonymi elektrowniami wielkoskalowymi jak Flamanville.
Odrodzenie energetyki jądrowej nie jest jednak pewne. Obecnie więcej reaktorów jest zagrożonych zamknięciem i likwidacją, niż się ich buduje. Mimo że w większości krajów nastroje społeczne stały się bardziej przychylne energetyce jądrowej, zakorzeniony opór, wynikający z obaw dotyczących środowiska i bezpieczeństwa, nadal utrudnia jej odrodzenie. Lokalne procesy planowania są rozległe i uciążliwe. Budowa trwa długo, między innymi ze względu na konieczność przeprowadzenia szczegółowych ocen bezpieczeństwa, a czas kosztuje. W rezultacie projekty będą realizowane tylko wtedy, gdy istnieją wiarygodne gwarancje dotyczące przyszłych cen i zakupów energii. Przyszłość energetyki jądrowej jest nierozerwalnie związana z polityką publiczną, która - jak zawsze - jest niepewna i stanowi kolejne źródło ryzyka.
Ponadto nie ma gwarancji, że ceny gazu ziemnego pozostaną na wysokim poziomie po uruchomieniu nowych złóż w takich regionach, jak Afryka Północna czy Azja Środkowa, ani że UE wywiąże się ze swojego zobowiązania do zmniejszenia importu gazu z Rosji o dwie trzecie do końca tego roku. Podobnie przemysł jądrowy nadal nie potrafi skutecznie rozwiązać problemu usuwania odpadów. W elektrowniach takich jak Sizewell we wschodniej Anglii dodatkowym wyzwaniem jest zapewnienie wystarczających dostaw wody do eksploatacji reaktorów.
Biorąc pod uwagę perspektywę długotrwałego konfliktu na Ukrainie, który ograniczy handel z Rosją, oraz fakt, że elektryfikacja prawdopodobnie będzie zyskiwać na znaczeniu w miarę przechodzenia do świata niskoemisyjnego, potencjał energii jądrowej jest ogromny. Ze względu na czas realizacji, energia jądrowa nie może stanowić natychmiastowego rozwiązania dla dzisiejszych wyzwań. Jednak już w ciągu dekady energia jądrowa - obok energii wiatrowej i słonecznej - może osłabić globalny rynek gazu. Pytanie brzmi, czy cywilna energetyka jądrowa może wreszcie spełnić obietnicę, jaką dawała od czasu jej powstania w latach 50-tych ubiegłego wieku.
Z angielskiego przetłumaczyła Marz McNamer