The Big Picture brings together a range of PS commentaries to give readers a comprehensive understanding of topics in the news – and the deeper issues driving the news. The Big Question features concise contributor analysis and predictions on timely topics.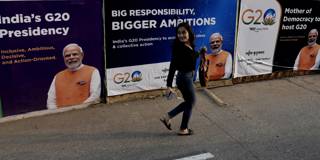 India at Last?
As Indian Prime Minister Narendra Modi welcomes world leaders to New Delhi for the G20 summit, he seems as eager to highlight India's role as a global power player as he is to ensure a successful summit. And India has much to be proud of, from the fastest reported GDP growth of any major economy to the landing of a lunar rover on the Moon's south pole.
The importance of the latter achievement should not be underestimated. As Shashi Tharoor, an MP for the Indian National Congress, explains, the successful lunar mission "serves India's global diplomacy" by "enhancing its credibility and influence." By "showcasing its technological prowess, India's space program reminds the world not only of its innovative capabilities, but also of its capacity to help shape solutions to global challenges in other areas."
But, while Tharoor calls India a "technological force to be reckoned with," Milan Vaishnav of the South Asia Program at the Carnegie Endowment for International Peace highlights a serious potential risk to Indian research and innovation: intensifying government pressure on academics who challenge official narratives. "India will never be a 'vishwaguru' (teacher to the world)," he explains, "unless the government stops silencing dissenting voices."
Indian politics may also be distorting the economic picture. Princeton's Ashoka Mody accuses the authorities of "downplaying inconvenient macroeconomic facts so that they can celebrate seemingly flattering headline figures." He claims that the annual growth rate of 7.8% reported for the second quarter of this year reflects statistical legerdemain, and shows that "growth is, in fact, low, inequalities are rising, and job scarcity remains acute."
By contrast, Brahma Chellaney of the Center for Policy Research touts rising GDP as "the driving force behind India's emergence as a major global power." But sustaining India's "upward trajectory" will require it to "maintain political stability, rapid economic growth, domestic and external security, and a forward-looking foreign policy." This will not be easy, he acknowledges, but virtually everyone – not least the United States – should hope it succeeds.
Along the way, India faces a "big strategic choice," argue Arvind Subramanian of the Peterson Institute for International Economics and JH Consulting's Josh Felman: whether or not to remain a member of the BRICS (Brazil, Russia, India, China, and South Africa) following the grouping's decision to expand its ranks. Given that the new "BRICS+" is "more political in focus, more China-centric in leadership, and more anti-West in motivation," the answer is "probably not."
Featured in this Big Picture
https://prosyn.org/0ohGdgA;