The Big Picture brings together a range of PS commentaries to give readers a comprehensive understanding of topics in the news – and the deeper issues driving the news. The Big Question features concise contributor analysis and predictions on timely topics.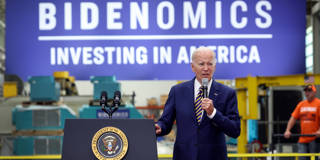 Industrial Policy Is Back
Industrial policy – the use of tools like targeted subsidies, tax incentives, and regulations to modify the economic structure and foster dynamism in strategically important sectors – is anathema to neoliberal orthodoxy, which holds that the less government intervention in the economy, the better. But with "market-based solutions" increasingly viewed as insufficient to ensure widely shared prosperity, industrial policy is back on the agenda in many countries.
The American Enterprise Institute's Michael R. Strain thinks this is a mistake. "Industrial policy always works better in theory than in practice," he explains, because government planners "lack the control to make an industrial policy succeed over the long term." They cannot, for example, prevent other countries from implementing retaliatory policies that "distort relative prices and reduce economic efficiency."
But Harvard's Dani Rodrik, the University of British Columbia's Réka Juhász, and the University of Oxford's Nathan Lane argue that mainstream economists' "knee-jerk hostility" to industrial policy is "increasingly outmoded." In fact, new academic research "grounded in rigorous empirical methods" has produced a "more nuanced and contextual understanding" of industrial policy that "yields a generally more positive assessment."
Columbia University's Joseph E. Stiglitz does not need to be convinced. In his view, industrial policy is a "no-brainer," and the Inflation Reduction Act – an industrial-policy package enacted by the United States last year – amounts to "making up for lost time" after a "failed 40-year experiment with neoliberalism." Beyond the implications for the US economy, the IRA's adoption amounts to a long-overdue acknowledgement that the international rules of the game need to be rewritten.
Stanford University's Michael Spence agrees that industrial policy can help economies counter the economic headwinds they face, but notes that some (the US and China) are far better positioned than others (the European Union) to use it. "If Europe is to achieve growth and dynamism in the twenty-first century," he writes, it "must find a way to federalize critical investment in public goods that produce shared benefits."
For Mariana Mazzucato of University College London, the collective good must be the primary objective around which policymaking is oriented. If done right, a "mission-oriented industrial strategy," with governments mobilizing resources and coordinating efforts with businesses that are willing to work toward shared goals, can "maximize long-term public benefits and stakeholder value."
Featured in this Big Picture
https://prosyn.org/NOwg9zg;