Lee Jong-Wha
Says More…
This week, Project Syndicate catches up with Lee Jong-Wha, a former chief economist at the Asian Development Bank, a former senior economic adviser to the South Korean president, and a professor of economics at Korea University.
Project Syndicate: You've called for the G20 to lead a coordinated response – including fiscal, financial, and trade measures – to the COVID-19 crisis. What principles or policies should form the "the pillars of economic-policy coordination"? If the United States and China refuse to abandon their "utterly counter-productive blame game," can the rest of the world step in to offset the damage?
Lee Jong-Wha: International coordination can play an important role in limiting a negative shock's cross-border spillovers and restoring confidence. Hasty measures taken by individual countries are often ineffective and sometimes even counter-productive. By undermining trade and disrupting financial flows, they can exacerbate emerging and developing economies' plight. One key focus of policy coordination should thus be to keep goods, services, and capital flowing smoothly.
In the wake of the 2008 global financial crisis, I attended many G20-related meetings, including as a G20 Sherpa. I saw firsthand how effective the body was in facilitating cooperation – and how effective that cooperation was in shoring up the global economy. That is why I believe that the G20 should again serve as a platform for planning and implementing a coordinated crisis response.
Tensions between the US and China – which the COVID-19 crisis has unfortunately intensified – threaten to impede progress. Now is the time for the world's two largest economies to show joint leadership, not to point fingers at each other. The rest of the world – especially the European Union, Japan, and middle powers – should be encouraging them to do just that. At the same time, the other major economies, with the support of the international institutions, should be hedging their bets by pursuing their own (coordinated) measures to stimulate the world economy.
PS: Last November, you noted that "key sources of popular frustration" in Hong Kong, such as soaring property prices, resemble those that have fueled Latin American political crises. Ensuring sound policymaking, you argued, demands accountability, underpinned by strong institutions (including an independent judiciary), free and independent media, and a vibrant civil society. What, then, does China's proposed new security law for Hong Kong, which effectively erases the territory's autonomy, mean for the city's economic prospects?
LJW: When Hong Kong and the other East Asian economies first achieved rapid growth and industrialization, they avoided many of the missteps made by Latin American economies, thanks to well-functioning markets and carefully designed economic policies. But, in recent decades, these economies have also confronted rising income inequality and an inadequate government response – two sources of intense frustration.
This is certainly the case in Hong Kong, which is now plagued by economic stagnation, high property prices, and social polarization. Attempts by the Communist Party of China to undermine the city's liberal democracy – which have culminated in the new security law – have compounded these problems.
If Hong Kong is to remain a dynamic economy and a global financial hub, it needs to be allowed to retain its economic freedom, uphold good governance, and cultivate inclusive institutions. This is in China's economic interest, as much as it is in Hong Kong's.
PS: In your latest PS commentary, you note that South Korea will need to go beyond stimulus to ensure economic growth and prosperity. Among other things, you argue, the government must "create a more supportive environment for high-value-added services industries" and "improve conditions for private investment and research and development." But can countries really pursue such policies at a time when the pandemic has generated so much uncertainty about economic fundamentals?
LJW: To cope with the COVID-19 crisis, South Korea's government must adopt bold and timely stimulus measures. How it allocates fiscal resources will shape the country's economic future. Rather than pursue unnecessary and wasteful projects, such as the excessive expansion of public-sector employment, South Korea should support the development of productive sectors, including high-value-added services industries, such as health care, education, and telecommunication. It should also support innovative small and medium-size enterprises and venture firms.
Moreover, it is not too early to start preparing for deeper reform after the coronavirus is contained. In fact, this wouldn't be the first time South Korea pursued reforms in response to crisis. Both the 1997 Asian financial crisis and the 2008 global financial crisis spurred the country to embrace comprehensive and painful reforms in a range of areas, including labor and product markets and the public sector. The COVID-19 crisis represents a similar opportunity to make critical changes, such as eliminating excessive business regulations and labor-market inefficiencies, fixing structural weaknesses, enhancing productivity, and supporting innovation.
PS: You also highlight the need for South Korea to boost the size and productivity of its working-age population, such as by improving lifelong education and skills training and encouraging more women to join the workforce. How should South Korea's government advance these objectives? Would this effort, like the country's COVID-19 response, build on the country's particular features, or could it also be applied in other economies – from Europe to China – that are confronting similar demographic headwinds?
Subscribe to Project Syndicate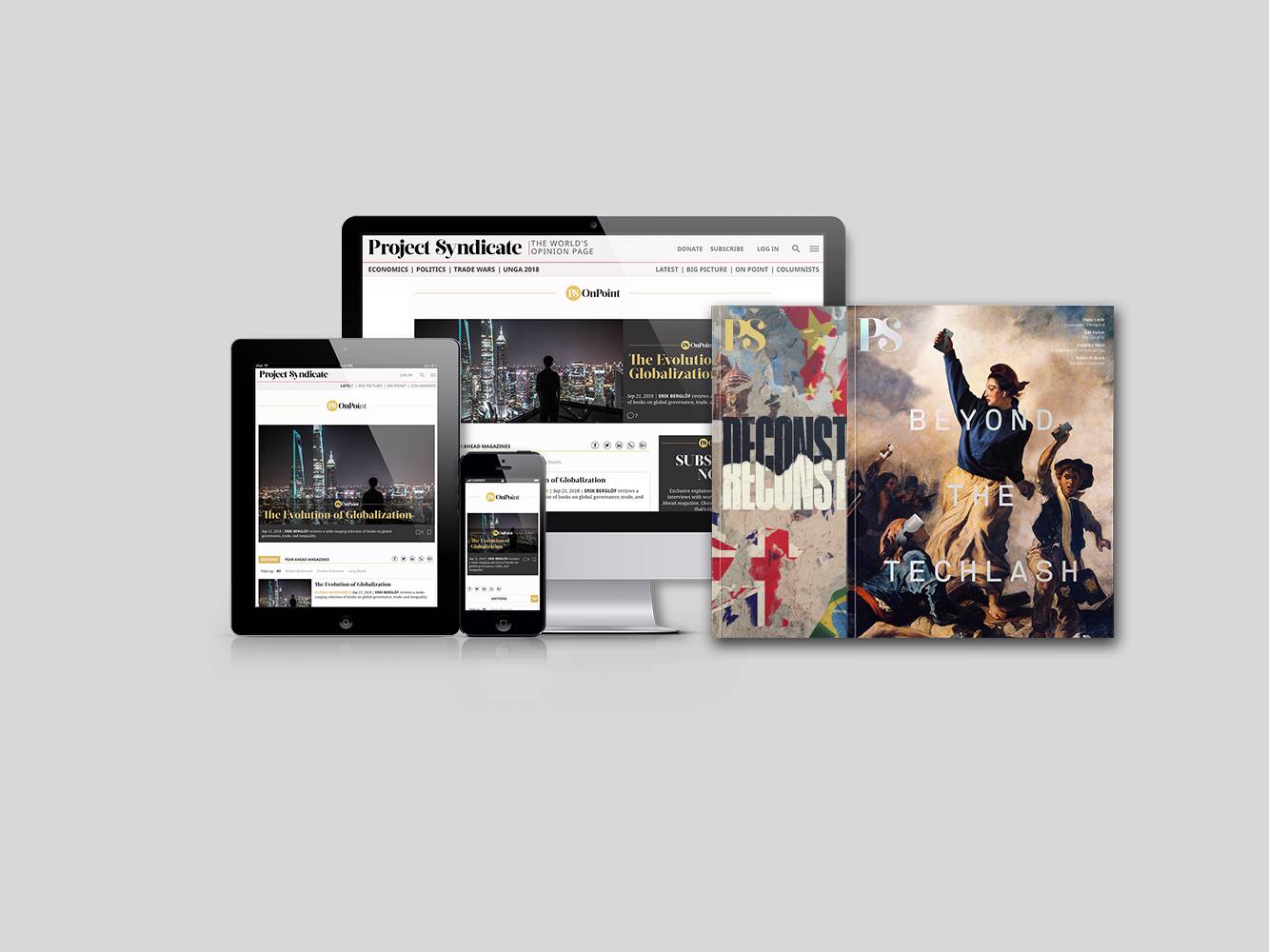 Subscribe to Project Syndicate
Enjoy unlimited access to the ideas and opinions of the world's leading thinkers, including weekly long reads, book reviews, and interviews; The Year Ahead annual print magazine; the complete PS archive; and more – all for less than $2 a week.
LJW: Many countries in Europe and East Asia are struggling with similar demographic trends, including low birth rates and rapid population aging. But this challenge is most pronounced in South Korea, where the total fertility rate, which fell to 0.92 last year, is the world's lowest, and the rate of growth of the elderly population is the world's highest.
Over the last decade, the policymakers have attempted to address this challenge, but with little success. For example, like many advanced economies, the government has attempted to expand lifelong learning education and skills training, especially for low-productivity groups, particularly the elderly. This approach is supported by research, including my own, which shows that life-long training can contribute to the expansion of productive human resources. Yet participation in on-the-job training among elderly workers remains lower in South Korea than in the US and many European economies. More must be done to encourage participation in such programs.
Another persistent problem is low female labor-force participation. Many capable women withdraw from the labor market in their thirties, after marriage or childbirth, because mothers remain the primary caregivers in most families. Such tradeoffs have contributed to a growing reluctance among young women to get married or have children at all. To avoid forcing women to make these choices, South Korea's government should promote flexible work arrangements, expand corporate and public childcare support, and promote a normative shift toward gender equality.
BY THE WAY. . .
PS: Will the COVID-19 crisis undermine the US dollar's position as the leading global reserve currency? And what might it mean for China's efforts to internationalize the renminbi?
LJW: Despite the COVID-19 crisis, the US dollar will retain its dominance. Yes, China's influence over the global economy is growing, and the renminbi is being used more often in cross-border trade settlement and financial transactions. But the Chinese currency's role in the global reserve system remains limited.
The US has far more efficient and transparent financial markets and rules-based institutions. Moreover, central banks around the world have a strong incentive to choose the currency that most others use. Given these "network externalities," the incumbent international currency has a natural advantage – one that the COVID-19 crisis will not eliminate. The renminbi may become a new international reserve currency, but only gradually, alongside continued economic and financial-market development.
PS: As the world heads toward recession, what advice could East Asian countries give developing economies?
LJW: Since the pandemic is the main cause of the current recession, containing the coronavirus is a prerequisite for economic recovery. Some East Asian economies have performed particularly well on this front, thanks to proactive responses by well-prepared governments and the public's willingness to follow guidelines (as I describe in my latest PS commentary). These strengths are rooted in the growth experience of the "East Asian tigers," including South Korea: good governance and social trust were essential to their economic success.
Though the "East Asian model" is not applicable elsewhere – owing to differences in historical conditions, cultural factors, and resource endowments – this lesson certainly is. In many developing economies, pervasive corruption and inefficient public management are undermining both economic development and effective pandemic responses. Improving governance and institutions is essential, even – or perhaps especially – at this difficult time.
PS: Your research on educational attainment with Robert J. Barro enabled social scientists to analyze for the first time empirically the role of education in determining socioeconomic outcomes. Which insights did you find most surprising? What did later versions of the dataset reveal that the earliest iterations did not?
LJW: When I started the project in 1992 with Robert Barro at Harvard University, I never expected that developing longitudinal panel datasets on educational attainment for a large number of countries would become my life's work and one of my major contributions to the field. Yet I am gratified that it has informed so much academic research and so many policy debates.
Our research facilitated the assessment of educational attainment, in a country or worldwide, and provided insight into the links between education and economic, political, and social development. We have provided strong evidence that higher rates of schooling for girls support economic growth and democracy. By updating and extending the existing dataset, I recently constructed a new dataset showing long-term school-enrollment ratios and educational attainment by gender for 111 countries since the nineteenth century.
PS: As someone who has both studied and taught in both South Korea and the US, what do you think these countries could learn from each other's models for human-capital development through education?
LJW: South Korea has achieved a remarkable improvement in education – in terms of both quality and quantity – since the 1960s. The government took the lead, continuously allocating a significant share of the national budget to education. Parents also invested in their children's education, motivated by the high economic and social returns.
In both South Korea and the US, investment in education has been a key driver of human capital development. The two countries' experiences also highlight the importance of competition, efficiency, autonomy, and accountability in the education system for improving educational outcomes.
My experience in US universities is limited. But those universities where I studied and visited provided world-class educations and engaged in cutting-edge research, thereby advancing knowledge and contributing to social development.
Unfortunately, many colleges and universities in South Korea leave graduates without the problem-solving skills, ability to think critically and creatively, and experience working collaboratively that the labor market demands. This has contributed to high unemployment among college graduates. What South Korean universities can learn from their US counterparts is how to adapt to changing industry needs and teach the practical knowledge and skills that will serve graduates well when they enter the labor force. To that end, they should develop partnerships with renowned US universities.
Jong-Wha recommends
We ask all our Say More contributors to tell our readers about a few books that have impressed them recently. Here are Jong-Wha's picks:
by Sebastian Edwards

Recently, I have been trying to understand the rise of populism around the world. This book explains what the Washington Consensus got wrong, and why the economic benefits of globalization were not broadly shared in Latin American countries. It explores the rise – and consequences – of populism in the region. Latin America's political and economic experience in the late twentieth century is not only fascinating; it offers some useful lessons for Asia.

by Kazuo Ishiguro

A good novel might be better than most economics books for summer vacation. Written by a Nobel Prize-winning British author and a recipient of the Man Booker Prize for Fiction, this certainly fits into that category. It tells the story of Mr. Stevens, an aging butler, who has devoted his life to serving Lord Darlington, the host of unofficial secret meetings between Germany and the United Kingdom before World War II. In reading it, I was reminded of many figures and incidents involved in the run-up to the Korean War.
From the PS Archive
From 2020
Lee urges governments to enact sweeping structural reforms to avoid long-term economic stagnation. Read more.
From 2016
Lee thinks that, with the right policies and reforms, emerging economies can recapture their former dynamism. Read more.
Around the web
In their 2015 book, Education Matters: Global Schooling Gains from the 19th to the 21st Century, Lee and Barro present their data on educational attainment to show its effects on individuals and societies. Find the book.
In a 2013 panel discussion at the Peterson Institute for International Economics, Lee answers questions about Asia's recovery and global imbalances. Watch the video.