Warum wir jetzt den Geist Bobby Kennedys brauchen
NEW YORK – Als Krankenhausarzt in New York City sehe ich die klinischen Folgen von COVID-19 jeden Tag: Lungenversagen, entzündete Herzen und blockierte Blutgefäße. Aber in den Vereinigten Staaten ist das Coronavirus auch ein Symptom einer durchdringenderen und dauerhafteren Seuche: einer Kultur und Wirtschaftspolitik, die zutiefst beschädigt und gefährlich ungleich sind, und eines Landes, das sein rassistisches Erbe nicht bewältigt hat.
Diese Pandemie ist nicht das erste Mal, dass sich die USA ihrer kollektiven Pathologie stellen müssen. 1968 schien sich das soziale und politische Chaos, das das Land im Griff hatte, immer weiter zu vertiefen. Im Frühling des Jahres ächzte das Land unter den Spaltungen, die durch den Vietnamkrieg ausgelöst wurden. An die Stelle gewaltloser Bürgerproteste traten – ähnlich wie heute – Aufstände in den Städten des Landes. Und die wirtschaftlichen Verwüstungen, die zur Bürgerrechtsbewegung führten, wurden offensichtlicher, als die Müllmänner in Memphis zu streiken begannen, um für sicherere Arbeitsbedingungen zu kämpfen (eine Episode mit klaren Parallelen zur heutigen Lage).
Im März hielt US-Senator Robert F. Kennedy, der sich als Präsidentschaftskandidat zur Wahl stellte, seine zweite Wahlkampfrede. Seine Worte sind auch heute noch wahr: "Selbst wenn wir versuchen, die materielle Armut auszurotten, gibt es eine weitere, größere Aufgabe", sagte er vor einer gewaltigen Menschenmenge im Allen Fieldhouse der Universität von Kansas. "Sie besteht darin, uns unserem Mangel an Zufriedenheit, Lebenssinn und Würde zu stellen, der uns alle betrifft. Zu häufig und zu lang scheinen wir, um materielle Dinge anzuhäufen, persönliche Fähigkeiten und gemeinsame Werte vernachlässigt zu haben."
Kennedys Worte klingen heute immer noch nach. Sie enthüllen eine simple Wahrheit, die auch durch die COVID-19-Pandemie ans Licht kam: Dass wir um jeden Preis Wohlstand und materielle Kultur betonen, spiegelt Werte wider, die unseren Kampf gegen die Ausbreitung des Virus behindern.
Die Paradoxe sind offensichtlich: Die Amerikaner sind über die schwache Reaktion ihres Landes auf die Pandemie entsetzt. Aber seit Jahrzehnten investieren wir bereits zu wenig in die gesundheitliche Infrastruktur und den Seuchenschutz. Nur 2,5% der US-Gesundheitsausgaben fließen in öffentliche Systeme. Die Schriftstellerin Arundhati Roy hat sich kürzlich gefragt, ob es auch dann an Ausrüstung mangeln würde, wenn die USA Bomben statt Masken benötigten. Die voll ausgestatteten Einheiten der Militärpolizei, die auf den Straßen derselben Städte eingesetzt werden, in denen Krankenpflegerinnen Mülltüten als persönliche Schutzausrüstung trugen, lassen ihre Frage berechtigt erscheinen. Und die wissenschaftliche Expertise, die die Amerikaner jetzt nötiger brauchen als je zuvor, wird von jenen politisch missbraucht, für die Wirtschaft und Parteipolitik an erster Stelle stehen.
Kennedy wäre nicht überrascht gewesen. In seiner Rede von Kansas beklagte er die kulturelle Besessenheit der Amerikaner von einem Wirtschaftswachstum um jeden Preis: "Unser Bruttoinlandsprodukt … zählt Luftverschmutzung und Zigarettenreklame mit", sagte er. "Es zählt die Zerstörung der Mammutbäume und den Verlust unserer Naturwunder aufgrund unserer ungehemmten Ausbreitung. Es zählt Napalm, Nuklearsprengköpfe und bewaffnete Polizeiwagen, um die Aufstände in unseren Städten zu bekämpfen."
Subscribe to Project Syndicate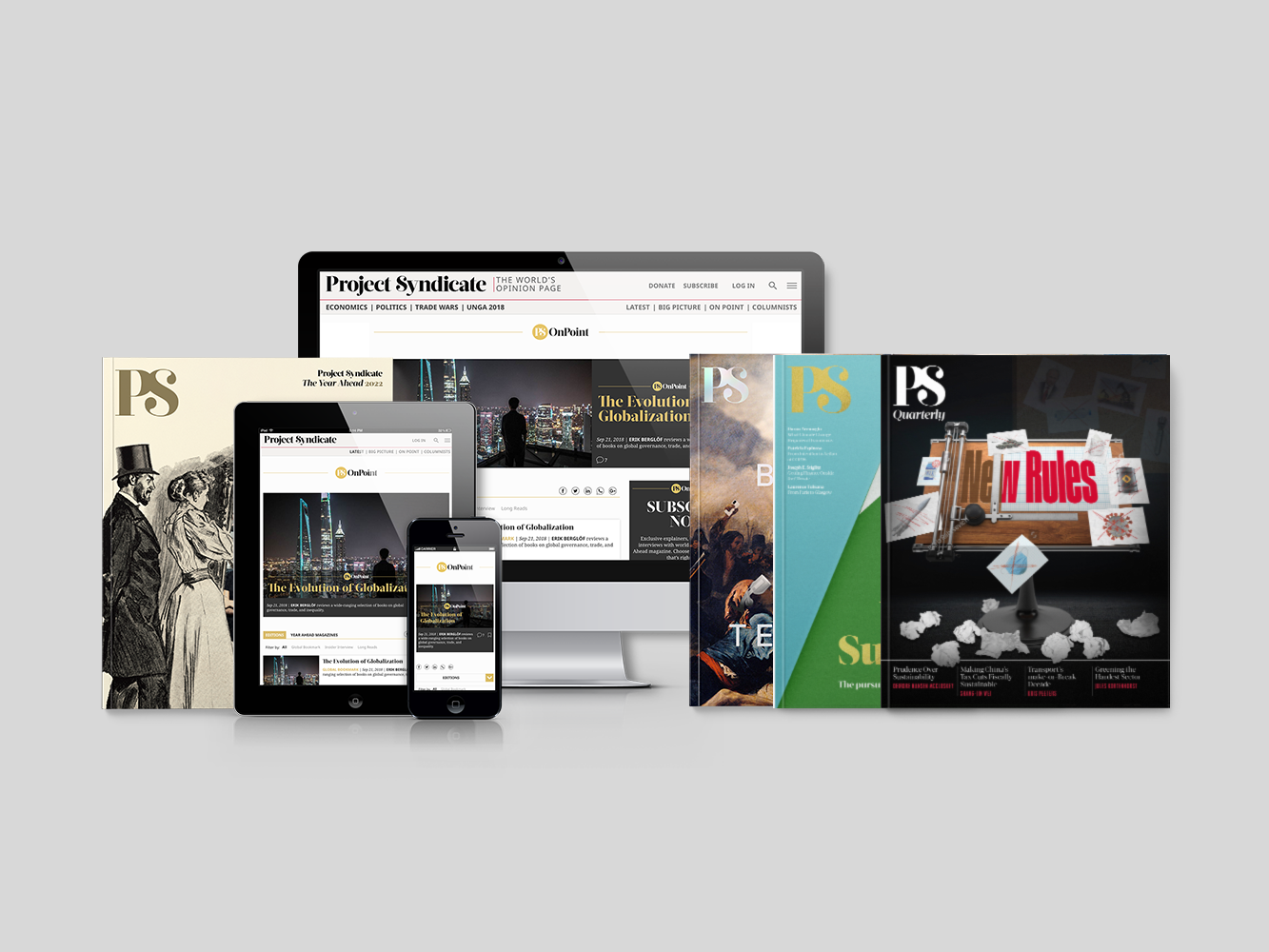 Subscribe to Project Syndicate
Enjoy unlimited access to the ideas and opinions of the world's leading thinkers, including long reads, book reviews, topical collections, short-form analysis and predictions, and exclusive interviews; every new issue of the PS Quarterly magazine (print and digital); the complete PS archive; and more. Subscribe now to PS Premium.
Ein Grund, warum Kennedy Präsident werden wollte, war seine Verzweiflung über die Armut und Ungleichheit, die er im Mississippi-Delta, in den Appalachen und in Bedford-Stuyvesant erlebt hatte. Seitdem sind die USA sogar noch ungleicher geworden. Unsere Ehrfurcht vor dem BIP, die sich nicht darum kümmert, wie das Wachstum verteilt wird, hat die Ungleichheit auf das höchste Niveau seit 50 Jahren getrieben. Für jene von uns, die im Kampf gegen COVID-19 an vorderster Front stehen, sind die Folgen offensichtlich: Die bedürftigen und farbigen Menschen tragen eine überproportionale Krankheitsbelastung. Schwarze Amerikaner sterben mit dreimal so hoher Wahrscheinlichkeit wie weiße. Aber die Ironie in Amerika ist, dass der Protestruf "Ich kann nicht atmen" nichts mit COVID-19 zu tun hat. Stattdessen ist er der Aufschrei eines ganzen Volkes, das unter dem kollektiven Knie des Rassismus erstickt.
Kennedys kulturelle Diagnose bleibt weiterhin richtig: Durch ihre Fixierung auf das BIP entscheiden sich die Amerikaner für einen Indikator, in dem die "Gesundheit unserer Kinder, die Qualität ihrer Ausbildung und die Freude ihres Spiels" nicht vorgesehen ist – und noch weniger "die Schönheit unserer Poesie, die Stärke unserer Ehen, die Intelligenz unserer öffentlichen Debatte oder die Integrität unserer Beamten". Dies ist eine Messzahl, so fuhr er fort, die "weder unseren Verstand noch unseren Mut misst, weder unsere Weisheit noch unser Wissen, weder unser Mitgefühl noch unsere Hingabe an unser Land" – eine Zählweise, die "kurz gesagt alles misst, nur das nicht, was unser Leben lebenswert macht".
Drei Monate nach Kennedys Rede von Kansas waren sowohl er als auch Martin Luther King Jr. ermordet. Im August überschatteten die Zusammenstöße zwischen Demonstranten und Polizei den nationalen Parteitag der Demonstranten in Chicago. Und heute, über 50 Jahre später, ist das Unrecht, das Kennedy und King (der in der Nacht vor seinem Tod – vor den streikenden Müllmännern von Memphis – eine seiner denkwürdigsten Reden hielt) anprangern wollten, immer noch ein Teil des amerikanischen Lebens.
Wie bereits damals drehen sich unsere nationalen Gespräche auch heute um ein angebliches Nullsummenspiel, das auf einer falschen Dichotomie zwischen der öffentlichen Gesundheit und der wirtschaftlichen Rettung beruht, als wären die beiden nicht zwei Lebenszeichen des gleichen Patienten. Was COVID-19 betrifft, mangelt es uns an einem breiten Konsens darüber, dass öffentliche Gesundheit und Sicherheit der einzige Weg hin zu einer schnellen wirtschaftlichen Erholung sind. Und was unsere Kultur betrifft, scheinen sich die Amerikaner mehr um die vereinzelte Plünderung von Geschäften zu sorgen, als um die jahrzehntelange Plünderung des Schwarzen Amerika.
Amerikas Pathologie reicht weit über die Biologie hinaus. Eine Heilung über das Virus hinaus erfordert einen kulturellen Umbau, der unsere Prioritäten und die Spaltungen zwischen uns berücksichtigt. Um Kennedys Worte zu wiederholen: Wir brauchen dringend eine Erneuerung – mit einem neuen Sinn dafür, was wirklich bedeutsam ist. Und gleichzeitig müssen wir uns um unsere tiefsten Verletzlichkeiten kümmern – mit Messzahlen für unsere eigenen Ziele anstatt jener, die uns von einer überkommenen Kultur auferlegt wurden.
Wir könnten damit beginnen, unsere öffentlichen Gesundheitseinrichtungen und die Expertise unserer wissenschaftlichen Gemeinschaften schätzen zu lernen – was unglaublich partisanisch ist. Während wir uns weiterhin sozial distanzieren, könnten wir auch erkennen, dass marginalisierte und farbige Gemeinschaften schon seit langem in sozialer und wirtschaftlicher Distanz leben. Und wenn wir wieder zueinander finden, müssen wir die Gelegenheit nutzen, uns einen anderen Weg nach vorn zu überlegen.
Aus dem Englischen von Harald Eckhoff