De bedrieglijkheid van geo-engineering
BERLIJN – Terwijl de wereld worstelt de uitstoot van klimaatveranderende gassen en de opwarming van de planeet te beperken vindt een nieuw technologisch wondermiddel steeds meer medestanders. Geo-engineering – de grootschalige manipulatie van de natuurlijke systemen op aarde – is populair geworden als manier om de negatieve effecten van klimaatverandering teniet te doen.
Voorstanders van deze wetenschap voeden de illusie dat er een manier bestaat om een exit uit de klimaatcrisis te engineeren, aan de doelen van het klimaatakkoord van Parijs uit 2015 te voldoen, en tegelijk aan een zwaar consumptieve levensstijl vast te kunnen blijven houden.
Maar deze oplossing is niet zo simpel als voorstanders ons willen doen geloven. Het wedden op klimaat-engineering – ofwel als planetaire verzekeringspolis ofwel als laatste redmiddel om stijgende temperaturen te bestrijden – is niet alleen riskant; het leidt ook de aandacht af van de enige oplossing waarvan we zeker weten dat deze zal werken – het verminderen van de koolstofuitstoot.
Alle manipulerende technologieën die besproken worden brengen gevaren en onzekerheden met zich mee. De enige manier bijvoorbeeld om de effectiviteit van solar radiation management (SRM) op mondiale schaal te testen zou experimenteren met de natuur zijn – ofwel door partikels de atmosfeer in te pompen of door het wolkendek kunstmatig aan te passen. Alhoewel ontworpen om te bepalen of SRM genoeg zonlicht weerkaatst om de planeet af te koelen zouden zulke testen onherstelbare schade aan de planeet kunnen veroorzaken. De huidige modellen voorspellen dat de inzet van SRM de mondiale neerslagpatronen zou veranderen, de ozonlaag aan zou tasten, en de levens van miljoenen mensen op het spel zou zetten.
Afgezien van de ecologische gevaren waarschuwen critici ervoor dat SRM wanneer eenmaal mondiaal ingezet krachtige wapens zou kunnen voortbrengen die staten, bedrijven, of individuen de macht zouden geven om het klimaat voor strategisch voordeel te manipuleren (een idee dat zelfs Hollywood niet kan weerstaan). Maar de belangrijkste kritiek is wellicht een politieke: hoe moeten mondiale ecologische interventies in een wereld waar het multilateralisme onder druk staat geleid worden?
Er bestaan overeenkomstige vragen rond de andere grote groep klimaat-engineering technologieën waarover men debatteert; zogeheten carbon dioxide removal (CDR). Voorstanders van deze technologieën stellen voor om CO₂ uit de atmosfeer te halen en deze onder de grond of in oceanen op te slaan. Bepaalde CDR-benaderingen zijn reeds verboden, vanwege zorgen over mogelijke consequenties voor het milieu. Zo is het bemesten van oceanen met koolstofabsorberend plankton bijvoorbeeld verboden door het Londen protocol ter voorkoming van zeeverontreiniging uit 2008. De partijen die hier mee instemden maakten zich zorgen over de mogelijke schade aan het zeeleven.
Subscribe to PS Digital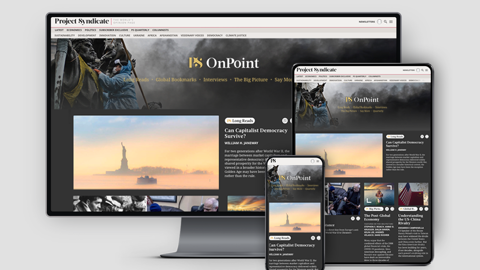 Subscribe to PS Digital
Access every new PS commentary, our entire On Point suite of subscriber-exclusive content – including Longer Reads, Insider Interviews, Big Picture/Big Question, and Say More – and the full PS archive.
Maar andere benaderingen van CDR krijgen steeds meer steun. Een van de meest besproken ideeën heeft tot doel om biomassa te integreren met koolstofafvang en -opslag (CCS) technieken. Zogeheten 'bio-energie met CCS,' ofwel BECCS, probeert de CO₂-absorptie technieken van snelgroeiende planten te combineren met het ondergronds opslaan van CO₂. Voorstanders betogen dat BECCS zelfs tot 'negatieve' uitstoot zal leiden.
Toch zijn deze beloften, net als bij de andere engineering-oplossingen, simpelweg te mooi om waar te zijn. Zo zouden er bijvoorbeeld grote hoeveelheden energie, water, en mest nodig zijn om BECCS-systemen succesvol te laten werken. De effecten op het landgebruik zouden waarschijnlijk leiden tot het verlies van diersoorten die op het land leven, en de concurrentie om land en verdrijving van lokale bevolkingen in de hand werken. Sommige voorspellingen suggereren zelfs dat de landontginning en bouwactiviteiten geassocieerd met deze projecten tot een netto verhogingvan de uitstoot van broeikasgassen kan leiden, tenminste op de korte termijn.
Dan is er nog het schaalprobleem. Om BECCS de uitstootvermindering gezet door het akkoord van Parijs te laten behalen zou er voor benodigde vegetatie tussen de 430 miljoen en 580 miljoen hectare land nodig zijn. Dat is een gigantische één derde van al het bebouwbare land op aarde .
Simpel gezegd zijn er veiliger – en bewezen – manieren om CO₂ uit de atmosfeer te halen. In plaats van het creëren van kunstmatige 'kwekerijen' voor CO₂-binding zouden regeringen zich moeten concentreren op het beschermen van bestaande natuurlijke ecosystemen en het herstellen van beschadigde. Regenwouden, oceanen, en veengebieden (zoals moerassen) hebben enorme CO₂-opslag capaciteiten en vergen geen niet geteste technologische manipulatie.
Door onbewezen technologieën als medicijn voor alle klimaatveranderende ziekten te promoten suggereren de voorstanders dat de wereld een onvermijdelijke keuze te wachten staat: geo-engineering of rampspoed. Maar dit is een drogkeuze. Politieke voorkeuren, en niet wetenschappelijke of ecologische noodzaak, verklaren de aantrekkingskracht van geo-engineering.
Helaas zijn de huidige debatten over klimaat-engineering ondemocratisch en worden ze gedomineerd door technocratische wereldvisies, perspectieven uit de natuurkunde en bouwkunde, en gevestigde belangen uit de fossiele brandstoffen industrie. Ontwikkelingslanden, oorspronkelijke bewoners, en lokale gemeenschappen moeten een prominente stem krijgen, zodat alle risico's volledig in overweging genomen kunnen worden voordat enige geo-engineering technologie wordt getest of geïmplementeerd.
Dus wat is dan de discussie die we over geo-engineering moeten voeren?
Om te beginnen moeten we het bestaande bestuurslandschap heroverwegen. In 2010 kwamen deelnemers aan de United National Convention on Biological Diversity (CBD) een de facto internationaal moratorium op klimaatgerelateerde geo-engineering overeen. Maar nu machtige voorstanders zoveel druk uitoefenen om geo-engineering buiten het laboratorium in te zetten, zijn informele verboden niet langer afdoende. De wereld behoeft urgent een eerlijk debat over het onderzoek, de inzet, en het beheer van deze technologieën; het CBD en het Londen Protocol zijn voor deze bestuurlijke discussies het essentiële startpunt.
Onder de technologieën die het meeste onderzoek vereisen zijn CDR-projecten die het land van lokale bevolkingen, de voedselveiligheid, en de beschikbaarheid van water bedreigen. Zulke grootschalige technologische programma's moeten grondig gereguleerd worden, om te garanderen dat oplossingen voor klimaatverandering geen negatief effect op duurzame ontwikkeling of mensenrechten hebben.
Hiernaast zou het in de natuur testen en inzetten van SRM-technologieën vanwege hun potentieel om mensenrechten, democratie, en de wereldvrede te ondergraven onmiddellijk verboden moeten worden. Dit verbod zou overzien moeten worden door een robuust en aansprakelijk multilateraal mondiaal bestuursmechanisme.
Een wondermiddel tegen klimaatverandering hebben we nog niet gevonden. En terwijl geo-engineering technologieën vooral hypothetisch blijven bestaan er al bewezen opties voor verzachting die krachtig kunnen en moeten worden geïmplementeerd. Hieronder vallen het opschalen van hernieuwbare energie, het uitfaseren van fossiele brandstoffen (inclusief een VUT-pensioen voor de bestaande fossiele infrastructuur), een grotere verspreiding van duurzame agro-ecologische landbouw, en een rendabeler gebruik van energie en hulpbronnen in onze economie.
We kunnen het ons niet veroorloven om te pokeren met de toekomst van onze planeet. Zolang we een serieuze discussie voeren over ecologisch duurzame en sociaal rechtvaardige maatregelen om het klimaat van onze planeet te beschermen zal er geen noodzaak zijn om te bluffen met geo-engineering.
Vertaling Melle Trap