Geoinženýrství a klimatické změny
MALMÖ – Dokonce i klimatičtí aktivisté stále častěji uznávají, že vzletné řeči o celosvětové dohodě na snížení emisí skleníkových plynů, uzavřené před více než rokem v Paříži, nebudou odpovídat skutečnému dopadu daných slibů na teploty. To by nás mělo vést k úvahám o chytrých alternativních řešeních. Jednou z těchto alternativ, geoinženýrstvím, se však mnozí lidé odmítají zabývat.
Geoinženýrství znamená záměrnou manipulaci s klimatem na Zemi. Zní to jako ze science fiction. Má ovšem smysl přemýšlet o tomto řešení jako o prozíravé a dostupné pojistce.
Ani řada po sobě jdoucích klimatických summitů nedokázala ovlivnit globální teploty, a to z jednoho prostého důvodu. Sluneční a větrná energie jsou stále příliš drahé a neefektivní na to, aby mohly nahradit naši závislost na fosilních palivech. Převažující přístup ztělesněný pařížskou klimatickou dohodou vyžaduje od vlád, aby se pokoušely vynucovat ve světě nedozrálé a nekonkurenceschopné zelené technologie. To je nesmírně drahé a neúčinné.
Loni ohlášený fond Billa Gatese s názvem Breakthrough Energy Ventures nám dal důvod k naději. Těžištěm jakékoliv reakce na globální oteplování musí být důraz na otázku, jak prostřednictvím výzkumu a vývoje zlevnit obnovitelnou energii a učinit ji konkurenceschopnou. Jakmile inovace stlačí cenu zelených energií pod úroveň fosilních paliv, přejdou na ni všichni. Proto je zapotřebí mnohem více financí do výzkumu.
Inovace si však vyžádají nějaký čas. A právě zde by se mohlo uplatnit geoinženýrství.
Letos poprvé americký vládní úřad, který dohlíží na federálně financované klimatické studie, oficiálně doporučuje výzkum geoinženýrství. Tento krok má podporu někdejšího poradce prezidenta Baracka Obamy pro vědu Johna Holdrena, jenž prohlásil, že na geoinženýrství "je třeba se podívat". Jedenáct klimatologů loni prohlásilo, že pařížská dohoda ve skutečnosti posunula boj proti klimatickým změnám zpátky, protože "stojíme zády ke zdi a musíme zahájit proces přípravy na geoinženýrství".
Subscribe to PS Digital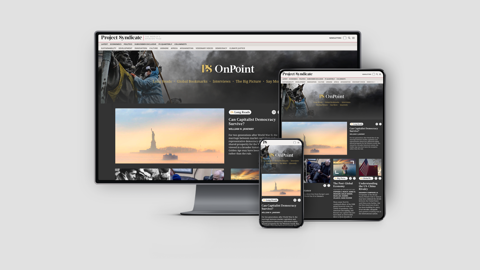 Subscribe to PS Digital
Access every new PS commentary, our entire On Point suite of subscriber-exclusive content – including Longer Reads, Insider Interviews, Big Picture/Big Question, and Say More – and the full PS archive.
Klíčový přínos spojený se zkoumáním geoinženýrství spočívá v tom, že tento přístup nabízí jediný způsob, jak rychle snížit globální teplotu. Realizace jakékoliv standardní politiky omezování fosilních paliv potrvá několik desetiletí a dalšího půl století potrvá, než tato politika začne mít viditelný dopad na klima. Naproti tomu geoinženýrství dokáže teploty snížit doslova během několika hodin a dní. Proto pouze geoinženýrství, nikoliv investice do obnovitelných zdrojů, může být pojistkou.
Geoinženýrství navíc slibuje, že bude výjimečně levné, takže pravděpodobnost jeho zavedení do praxe je mnohem vyšší než v případě nákladných uhlíkových škrtů. To zároveň znamená, že k němu s vyšší pravděpodobností přikročí jediná země, nebo dokonce i nějaký samorostlý miliardář. Vzhledem k tomu je nezbytné, abychom předem seriózně prozkoumali jeho dopady a zajistili, že bude fungovat a nepřinese nečekané negativní důsledky.
Abychom si rozuměli: netvrdím, že bychom měli s geoinženýrstvím začít ještě dnes nebo i v tomto desetiletí. Tento přístup si však zaslouží seriózní výzkum, zejména s ohledem na omezení pařížské klimatické dohody.
Co přesně by se tedy mělo zkoumat? Navržena byla řada metod atmosférického inženýrství.
Nejdiskutovanější proces čerpá inspiraci z přírody. Když v roce 1991 vybuchla sopka Mount Pinatubo, dostalo se do stratosféry přibližně 15 milionů tun oxidu siřičitého – ten reagoval s vodou a vytvořil mlžnou vrstvu, která se rozšířila po celé zeměkouli. Roztroušení a pohlcení dopadajícího slunečního světla mělo za následek ochlazování povrchu zeměkoule po dobu téměř dvou let. Tento efekt bychom mohli napodobit aplikací aerosolu do stratosféry – v podstatě bychom tam vystřelili materiál typu oxidu siřičitého nebo sazí.
Nejhospodárnějším a nejméně invazivním přístupem je zřejmě proces zvaný "bělení mořských mraků", kdy se do mraků nad mořem nastříkají kapičky mořské vody, čímž se mraky lehce vybělí a odrážejí více slunečního světla. Tím by se zesílil přirozený proces, kdy sůl z oceánů poskytuje kondenzační částice pro vodní páru, což vytváří a zvyšuje bělost mraků.
Výzkum provedený pro mozkový trust Kodaňský konsensus, v jehož čele stojím, ukázal, že výdaje ve výši pouhých 9 miliard dolarů do 1900 lodí stříkajících do ovzduší mořskou vodu by mohly zabránit globálnímu oteplování v celkovém objemu předpokládaném pro toto století. Přínos spojený s odvrácením jakéhokoliv teplotního zvýšení by měl hodnotu zhruba 20 bilionů dolarů. To odpovídá užitku v hodnotě přibližně 2000 dolarů za každý vynaložený dolar.
Abychom to zasadili do kontextu, splnění slibů daných pařížskou klimatickou dohodou bude stát přes bilion dolarů ročně a přinese odbourání uhlíku, které má mnohem nižší hodnotu – s největší pravděpodobností tak za každý vynaložený dolar zabráníme klimatickým škodám v hodnotě pár centů.
Lidé jsou z geoinženýrství pochopitelně nervózní. Mnoho rizik se ovšem zveličuje. Například bělení mořských mraků jen zesiluje přírodní proces a nevedlo by k trvalým atmosférickým změnám – ukončení celého procesu by během pár dní navrátilo svět k původnímu stavu. Metoda by se dala používat pouze v případě potřeby.
Argumenty pro seriózní výzkum geoinženýrství jsou přesvědčivé. Stále větší počet vědců si uvědomuje, že planeta potřebuje další příležitosti k řešení globálního oteplování. Jsou-li dopady na klima tak slabé a nákladné jako v případě pařížské dohody, pak na tyto příležitosti bylo už včera pozdě.
Z angličtiny přeložil Jiří Kobělka.