Een klimaatvriendelijke respons op Trumps protectionisme
BERLIJN – Nu president van de VS Donald Trump zijn 'America First' strategie vertaalt in importtarieven en de Europese Unie zich bezint op tegenmaatregelen die de wereldeconomie richting een handelsoorlog duwen wordt de echte uitdaging waar deze twee economieën – en de hele wereld – mee te maken hebben genegeerd. Die uitdaging bestaat eruit om de wereldeconomie inclusief de handel zo vorm te geven dat deze eindelijk de natuurlijke grenzen van de planeet zal respecteren.
De handelsagenda van Trump laat progressieven in een paradoxale positie. Vele jaren lang hebben ze het huidige handelssysteem afgedaan als zowel onrechtvaardig als ecologisch destructief. Maar nu we te maken hebben met Trumps nationalistische protectionisme dat fatale missers uit de jaren dertig echoot voelen sommigen zich nu genoodzaakt het huidige systeem te verdedigen.
Neoliberale verdedigers van de status quo ontwaren nu een politieke kans. Door de progressieven op een lijn met Trump te stellen als zijnde 'protectionisten' wijzen ze de gerechtvaardigde breed gedragen protesten van het maatschappelijk middenveld tegen super-regionale overeenkomsten zoals de Comprehensive Economic and Trade Agreement (CETA) tussen de EU en Canada en het Transatlantic Trade and Investment Partnership (TTIP) tussen de EU en de Verenigde Staten af.
Om de progressieve politiek succesvol te laten zijn moeten de voorstanders ervan verder gaan dan het bestaande handelssysteem te verdedigen tegen Trump. Ze moeten in de tegenaanval gaan, wat betekent dat ze zich hard moeten maken voor hervormingen die erop zijn gericht om een rechtvaardige, billijke, en op regels gebaseerde internationale handelsorde te creëren. Anders zal het economische nationalisme à la Trump blijven resoneren onder een groot deel van de bevolking, zowel in de VS als elders.
Om te beginnen is het nu de EU tegenmaatregelen bediscussieert tegen de Amerikaanse heffingen van 10% op aluminium en 25% op staal de moeite waard om eens verder te kijken dan de economische significantie van dit dispuut en de ecologische aspecten van de grondstoffen in overweging te nemen. De staalproductie bijvoorbeeld die metallurgische of cokes kolen gebruikt is verantwoordelijk voor ongeveer 5% van de mondiale CO₂-uitstoot.
Maar dit is niet onvermijdelijk. Staal kan vervangen worden door alternatieve materialen die minder uitstootintensief zijn. Ook kan het geproduceerd worden met veel minder uitstoot. Zweedse producenten onderzoeken een vrijwel CO₂-vrije staalproductie die gebruikt maakt van elektriciteit en waterstof die gewonnen worden uit hernieuwbare bronnen. En de Duitse multinational thyssenkrupp ontwikkelt een proces dat uitlaatgassen van de staalproductie gebruikt als basis voor chemische producten en synthetisch aardgas, waarmee de koolstofvervuiling wordt gereduceerd.
Subscribe to PS Digital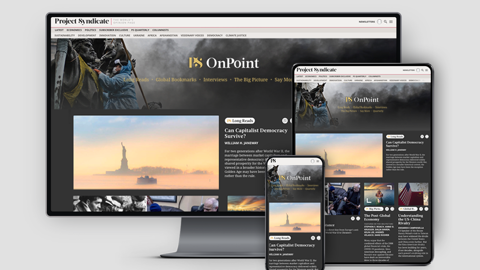 Subscribe to PS Digital
Access every new PS commentary, our entire On Point suite of subscriber-exclusive content – including Longer Reads, Insider Interviews, Big Picture/Big Question, and Say More – and the full PS archive.
Maar deze alternatieven zullen niet levensvatbaar zijn zolang de gevestigde staalindustrie wordt toegestaan om de atmosfeer als gratis stortplaats voor CO₂-uitstoot te gebruiken. Economen uit het hele economische spectrum zijn het er over eens dat een sleutel tot het beperken van de uitstoot van broeikasgassen is om het duurder voor bedrijven te maken om ze te produceren – zo duur dat klimaatvriendelijke opties in vergelijking goedkoper worden, en dus concurrerender. Dat is de reden dat de Groenen in Duitsland roepen om een bodemprijs voor CO₂ als onderdeel van het systeem voor de handel in emissierechten van de EU. De staat Californië doet dit al in zijn eigen emissierechtensysteem. Wij willen hier binnen Europa samen met Frankrijk nu de leiding in nemen.
Dit soort voortellen heeft met grote tegenstand te maken. Velen betogen dat een hoge prijs voor uitstoot in Europa buitenlandse producenten een concurrerend voordeel op de Europese markt zouden geven. Omdat de productie bovendien simpelweg naar het buitenland zou verdwijnen zo is de logica die ze hanteren zou het milieu uiteindelijk helemaal niet beter af zijn.
Ondanks de zwakten ervan zijn de Europese beleidsmakers onder de indruk van deze argumenten. Maar er is een duidelijke manier om hier om heen te werken: er kan een accijns worden opgelegd aan emissie-intensieve import – zoals op staal, cement, en aluminium – aan de grenzen van de EU. Dit zou een belangrijke stap zijn richting een eerlijk klimaatresponsief handelssysteem. Deze accijns zouden redelijk zijn omdat de milieuregels zouden gelden voor zowel Europese producten als die van daarbuiten. En zolang als dezelfde belastingen zouden worden opgelegd aan lokaal geproduceerde goederen zou zo een 'grensaanpassing voor koolstof' niet de regels van de Wereldhandelsorganisatie overtreden.
Door landen die zijn geëngageerd aan bescherming van de natuur in staat stellen zich teweer te stellen tegen landen die dat niet zijn zou deze strategie het wereldhandelssysteem meer op een lijn met ecologische imperatieven weten te brengen. Beleid zoals een importheffing op koolstof is geen vorm van eng nationaal protectionisme, maar een noodzakelijke reactie van landen die zijn toegewijd aan natuurbescherming. Ook is het geen nieuw idee: elke klimaatwetsvoorstel dat het niet haalde in het Amerikaanse Congres in 2009 bevatte al zo een mechanisme.
In plaats van zich te laten meeslepen in de destructieve handelsspelletjes van Trump zou de EU een grensaanpassing voor koolstof moeten instellen om een klimaatvriendelijk systeem te voeden. De Franse president Emmanuel Macron heeft zijn steun al uitgesproken. Een groep onderzoekers die het Massachusetts Institute of Technology (MIT) en het Duitse Instituut voor Internationale en Veiligheidszaken vertegenwoordigt zowel als andere leidende instituties heeft al een reeks concrete voorstellenopgesteld voor implementatie van zo een programma. Door dit te doen zou de EU lichtend voorbeeld voor een eerlijker en schonere handel worden.
Door te demonstreren dat een gebrek aan toewijding aan klimaatbescherming hoge kosten meebrengt zou zo een respons ook elders verandering kunnen aanjagen, inclusief in de VS. Het zou de regering-Trump bijvoorbeeld kunnen aanmoedigen om haar terugtrekking uit het klimaatverdrag van Parijs van 2015 te heroverwegen, vooral als Europese actoren hun zullen hand uitsteken naar gelijkgestemde progressieven in bijvoorbeeld Californië of New York. Zelfs wanneer Trump onbewogen blijft kan een belasting op CO₂ wellicht wel zijn potentiele imitators elders afschrikken.
Met zo een gekalibreerde en vooruitziende respons op het bekrompen protectionisme van Trump zou de EU zijn rol als voorganger in de queeste naar een eerlijker en duurzamer handelssysteem bekrachtigen. In dit proces zou de EU niet alleen helpen het milieu waar we allemaal zo van afhankelijk te beschermen maar ook zijn eigen internationale invloed vergroten. En dat is wat de wereld nu nodig heeft in plaats van een handelsoorlog.
Vertaling Melle Trap