Anthony D'Agostino is a researcher at the Centre on Asia and Globalisation at the Lee Kuan Yew School of Public Policy in Singapore.

Massimo D'Alema, who was Italy's Prime Minister from 1998-2000, is President of the Foundation for European Progressive Studies and of the Fondazione Italianieuropei. He also chairs COPASIR, the Italian Parliamentary Committee for the Security of the Republic.

Mercedes D'Alessandro, a former national director of economy, equality, and gender at Argentina's Ministry of Economy, is a Salzburg Global Fellow and Director of the economics program at the Metropolitan University of Education and Labor in Argentina.

Anil D'Cruz, Director of Oncology at Apollo Hospitals, is President of the Union for International Cancer Control.

Bernerd Da Santos is Executive Vice President and Chief Operating Officer of the AES Corporation.

Director of the Centre's Program in Applied Ethics and Biotechnology and a member of the Ethics Committee of the Human Genome Organisation.

Marek Dabrowski, a non-resident fellow at Bruegel, is a visiting professor at the Central European University in Vienna and a fellow at the Center for Social and Economic Research in Warsaw. He was first deputy minister of finance under Poland's first post-communist government.

Yves Daccord, a co-founder of Edgelands Institute and a fellow at Harvard's Berkman Klein Center for Internet and Society, is a former director general of the International Committee of the Red Cross.

David Dadge is Director of the Vienna-based International Press Institute, the global network for free media. http://www.freemedia.at

Yamide Dagnet is Director for Climate Justice at Open Society Foundations, a former climate negotiator for the United Kingdom and the European Union, and director of climate negotiations at the World Resources Institute.

Ralf Dahrendorf (1929-2009), was the author of numerous acclaimed books and a European Commissioner from Germany, member of the British House of Lords, Director of the London School of Economics, and Warden of St. Antony's College, Oxford.

Mansoor Dailami is lead author of Global Development Horizons, and Manager of the Emerging Global Trends Team of the Development Prospects Group at the World Bank.

Galip Dalay is a visiting scholar at the University of Oxford and a former IPC-Mercator Fellow at the German Institute for International and Security Affairs (SWP).

Maria Damanaki, former EU Commissioner for Maritime Affairs and Fisheries, is Global Managing Director for Oceans at The Nature Conservancy.

Brian Dames is CEO of Eskom Holdings.
Our Pick
The Rage of the Outsiders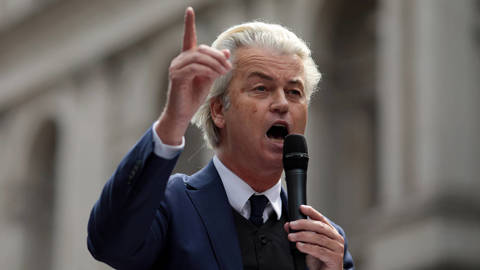 Ian Buruma
shows what Geert Wilders has in common with other ultra-nationalist politicians, past and present.