Elias Bou Saab is a former Lebanese education minister.

Roberto Saba is executive director of the Association for Civil Rights in Argentina.

Charles F. Sabel is Professor of Law at Columbia University.

Hannah Sachs is studying Cuban history at Yale University.

Jeffrey D. Sachs, University Professor at Columbia University, is Director of the Center for Sustainable Development at Columbia University and President of the UN Sustainable Development Solutions Network. He has served as adviser to three UN Secretaries-General, and currently serves as an SDG Advocate under Secretary-General António Guterres. His books include The End of Poverty, Common Wealth, The Age of Sustainable Development, Building the New American Economy, A New Foreign Policy: Beyond American Exceptionalism, and, most recently, The Ages of Globalization.


Lisa Sachs is Director of the Columbia Center on Sustainable Investment.

Josefa Leonel Sacko is Commissioner for Agriculture, Rural Development, Blue Economy, and Sustainable Environment at the African Union Commission.

Samm Sacks is Cyber Policy Fellow at New America and Senior Fellow at Yale Law School's Paul Tsai China Center. She also convenes the US-China Women's Tech Summit.

Bharati Sadasivam is the United Nations Development Programme's regional gender adviser for Eastern Europe and Central Asia.

Former Executive Director of United Nations Population Fund; Ob/gyn from Dow Medical College in Karachi.

Fatima Sadiqi is Professor of Linguistics and Gender Studies at the University of Fez, Morocco, and a recipient of a Woodrow Wilson Center Fellowship.

Karim Sadjadpour is an associate at the Carnegie Endowment for International Peace.

John Z. Sadler is Professor of Psychiatry at the University of Texas Southwestern Medical Center, and the author of Values and Psychiatric Diagnosis. He co-edits the journal Philosophy, Psychiatry, & Psychology and International Perspectives in Philosophy and Psychiatry.

Emmanuel Saez is Director of the Center for Equitable Growth at the University of California at Berkeley and a co-director of the World Inequality Database. His latest book (with Gabriel Zucman) is The Triumph of Injustice: How the Rich Dodge Taxes and How to Make Them Pay.
Our Pick
The Rage of the Outsiders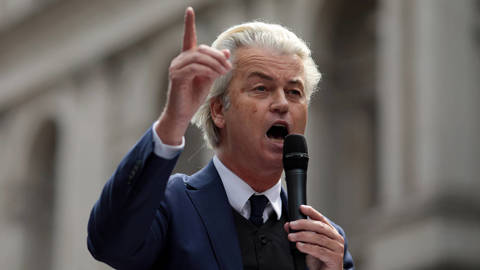 Ian Buruma
shows what Geert Wilders has in common with other ultra-nationalist politicians, past and present.