Barry Eichengreen, Professor of Economics and Political Science at the University of California, Berkeley, is a former senior policy adviser at the International Monetary Fund. He is the author of many books, including In Defense of Public Debt (Oxford University Press, 2021).


Bill Emmott, a former editor-in-chief of The Economist, is Chair of the International Institute for Strategic Studies and the Japan Society of the United Kingdom.

Uffe Ellemann-Jensen is a former Minister for Foreign Affairs of Denmark.

Sylvester Eijffinger is Professor of Financial Economics at Tilburg University in the Netherlands.

Václav Havel is a former president of the Czech Republic; His Holiness the Dalai Lama is the spiritual leader of Tibetan Buddhism; André Glucksmann is a philosopher; Vartan Gregorian is President of Carnegie Corporation of New York; Mike Moore is a former Director of the World Trade Organization; Karel Schwarzenberg is a former foreign minister of the Czech Republic; Desmond Tutu is a Nobel Peace Prize laureate; Grigory Yavlinsky is Chairman of the Russian United Democratic Party, Yabloko.

Alexander Etkind, a former reader in Russian Literature and Cultural History at King's College, Cambridge, is a professor of history at the European University Institute in Florence.

Mohamed ElBaradei, Director General Emeritus of the International Atomic Energy Agency, is a Nobel Peace Prize Laureate.

Patricia Espinosa, Chair of the Latin America and Caribbean Advisory Board of the Glasgow Financial Alliance for Net Zero, is a member of the Global Energy Alliance for People and Planet's Global Leadership Council and Chief Executive Officer and Founding Partner of onepoint5, an ESG consulting firm specializing in climate change.

María Fernanda Espinosa, a former president of the UN General Assembly, is Executive Director of GWL Voices and Co-Chair of the Debt Relief for a Green and Inclusive Recovery Project.
Our Pick
The Rage of the Outsiders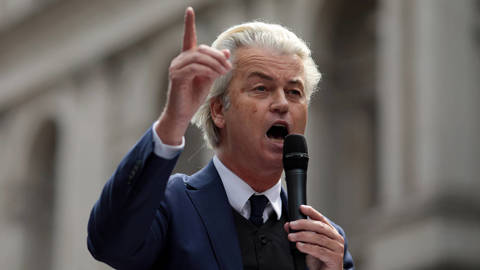 Ian Buruma
shows what Geert Wilders has in common with other ultra-nationalist politicians, past and present.