Takatoshi Ito, a former Japanese deputy vice minister of finance, is a professor at the School of International and Public Affairs at Columbia University and a senior professor at the National Graduate Institute for Policy Studies in Tokyo.

Otmar Issing, former chief economist and member of the board of the European Central Bank, is Honorary President of the Center for Financial Studies at Goethe University Frankfurt.

Sri Mulyani Indrawati, Finance Minister of Indonesia, is Co-Chair of the Coalition of G20 Finance Ministers for Climate Action.

Wolfgang Ischinger, former German Ambassador to the United States, is Chairman of the Munich Security Conference and Professor for Security Policy and Diplomatic Practice at the Hertie School of Governance in Berlin.

Saad Eddin Ibrahim is Professor of Political Sociology at the American University in Cairo and Chairman of the Ibn Khaldun Center for Development Studies. Dr. Ibrahim gained global attention after he was sentenced to seven years imprisonment at a trial Amnesty International described as politically motivated to punish him for his human rights activism. His conviction was overturned in 2003.

Igor S. Ivanov, former Russian Foreign Minister and Secretary of the Security Council of the Russian Federation from 2004 to 2007, is President of the Russian International Affairs Council.

Vladislav Inozemtsev is Founder and Director of Moscow's Centre for Post-Industrial Studies.

Mo Ibrahim is Chair and Founder of the Mo Ibrahim Foundation.

Lili Yan Ing, Secretary General of the International Economic Association, is Lead Adviser for the Southeast Asian region at the Economic Research Institute for ASEAN and East Asia.

Hindou Oumarou Ibrahim, President of the Association for Indigenous Women and Peoples of Chad, is a member of the United Nations Permanent Forum for Indigenous Issues and the Indigenous Peoples of Africa Coordinating Committee.

Arthur Ituassu is Professor of International Relations at the Pontifícia Universidade Católica, Rio de Janeiro.

Oleg Itskhoki is a professor of economics and international affairs at Princeton University.

Toomas Hendrik Ilves is President of Estonia.

Bjørn Ihler, an Extremely Together Young Leader at the Kofi Annan Foundation, co-founder of the Khalifa Ihler Institute, and One Young World Ambassador, is an international counter extremism expert, technologist, and activist.
Our Pick
The Rage of the Outsiders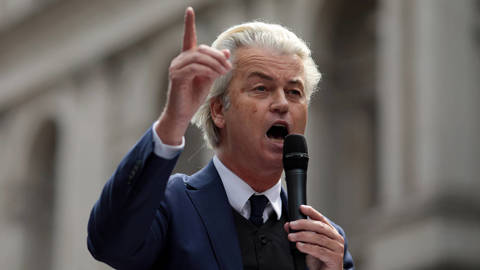 Ian Buruma
shows what Geert Wilders has in common with other ultra-nationalist politicians, past and present.