Christopher T. Mahoney is a former Vice Chairman of Moody's.

Mariana Mazzucato, Professor in the Economics of Innovation and Public Value at University College London, is Founding Director of the UCL Institute for Innovation and Public Purpose, Chair of the World Health Organization's Council on the Economics of Health For All, and a co-chair of the Global Commission on the Economics of Water. She is the author of The Value of Everything: Making and Taking in the Global Economy (Penguin Books, 2019), Mission Economy: A Moonshot Guide to Changing Capitalism (Penguin Books, 2022), and, most recently, The Big Con: How the Consulting Industry Weakens Our Businesses, Infantilizes Our Governments and Warps Our Economies (Penguin Press, 2023). A tenth anniversary edition of her book The Entrepreneurial State: Debunking Public vs. Private Sector Myths was published by Penguin in September.

Jan-Werner Mueller, Professor of Politics at Princeton University, is the author, most recently, of Democracy Rules (Farrar, Straus and Giroux, 2021; Allen Lane, 2021).

Lenny Mendonca, Senior Partner Emeritus at McKinsey & Company, is a former chief economic and business adviser to Governor Gavin Newsom of California and chair of the California High-Speed Rail Authority.


Lucy P. Marcus, founder and CEO of Marcus Venture Consulting, Ltd., is Professor of Leadership and Governance at IE Business School and a non-executive board director of Atlantia SpA.

Kishore Mahbubani, a distinguished fellow at the Asia Research Institute at the National University of Singapore, is the author of Has China Won? (PublicAffairs, 2020) and the open-access book The Asian 21st Century, which has been downloaded more than 3.3 million times since its release in January 2022.

Mahmoud Mohieldin, a former Egyptian minister for investment, is Egypt's High-Level Climate Champion for COP27 in Sharm El-Sheikh, an executive director at the International Monetary Fund, and Facilitator of the Green Climate Fund's second replenishment process.

Dalia Marin, Professor of International Economics at the School of Management of the Technical University of Munich, is a research fellow at the Centre for Economic Policy Research and a non-resident fellow at Bruegel.

Anu Madgavkar is a partner at the McKinsey Global Institute.

Sanou Mbaye, a former member of the senior management team of the African Development Bank, is a Senegalese investment banker and the author of L'Afrique au secours de l'Afrique (Africa to the Rescue of Africa).
Our Pick
The Rage of the Outsiders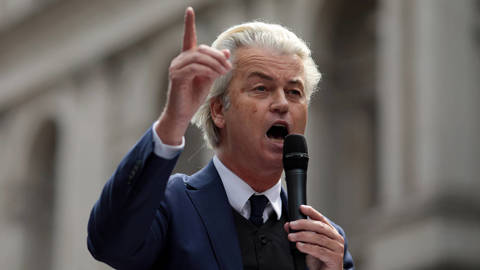 Ian Buruma
shows what Geert Wilders has in common with other ultra-nationalist politicians, past and present.