Andrés Velasco, a former finance minister of Chile, is Project Director of the G30 Working Group on Latin America and Dean of the School of Public Policy at the London School of Economics and Political Science.

Yanis Varoufakis, a former finance minister of Greece, is leader of the MeRA25 party and Professor of Economics at the University of Athens.

Xavier Vives, Professor of Economics and Finance at IESE Business School, is the co-author (with Darrell Duffie, Thierry Foucault, and Laura Veldkamp) of the report Technology and Finance.

Álvaro de Vasconcelos is Director of Projects for the Arab Reform Initiative (ARI), a consortium of 16 think tanks in the Arab world and the West, and coordinator of the Global Governance Group (GG 10). He was formerly Director of the European Union Institute for Security Studies, Paris, and the Institute of Strategic and International Studies (IEEI) in Lisbon.

Mabel van Oranje, a former CEO of The Elders, is Co-Founder of Girls Not Brides.

Vaira Vīķe-Freiberga, a former president of Latvia (1999-2007), is Co-Chair of the Nizami Ganjavi International Center in Baku.

Ulrich Volz, Professor of Economics and Director of the Centre for Sustainable Finance at SOAS, University of London, is a senior research fellow at the German Institute of Development and Sustainability and Co-Chair of the Debt Relief for Green and Inclusive Recovery project.


Margrethe Vestager is Executive Vice President of the European Commission.

Ursula von der Leyen is President of the European Commission.

Rick van der Ploeg is Professor of Economics and Research Director of the Oxford Centre for the Analysis of Resource-Rich Economies at the University of Oxford.

Huw van Steenis, a former senior adviser to Bank of England Governor Mark Carney, is Chair of Sustainable Finance at UBS and a member of the World Economic Forum's Global Future Council on Financial and Monetary Systems.

Cobus van Staden is a senior foreign policy researcher at the South African Institute of International Affairs.

Antonio Vitorino is a former Portuguese EU Commissioner for Justice and Home Affairs.

Jeroen van der Veer, Chief Executive of Royal Dutch Shell plc, is Energy Community leader of the World Economic Forum energy industry partnership in 2007-2008 and this year's chairman of the Energy Summit in Davos. He also chairs the Energy and Climate Change working group of the European Round Table of Industrialists.
Our Pick
The Rage of the Outsiders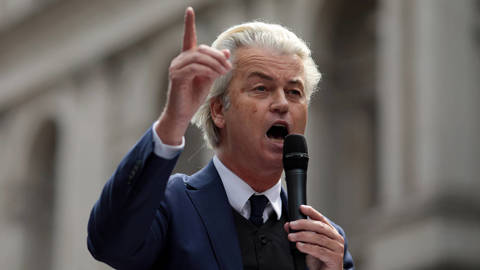 Ian Buruma
shows what Geert Wilders has in common with other ultra-nationalist politicians, past and present.