Een koolstofdividend is beter dan een koolstofbelasting
SARASOTA – De klimaatverandering is het meest dringende probleem op aarde. In de Verenigde Staten neemt links het in ieder geval serieus. Eerder dit jaar introduceerden afgevaardigde Alexandria Ocasio-Cortez uit New York en senator Edward Markey van Massachusetts, allebei Democraten, een resolutie over een Green New Deal (GND), die een blauwdruk biedt voor het koolstofvrij maken van de Amerikaanse economie. Maar hoewel een toenemend aantal Democratische presidentskandidaten het voorstel steunt, blijven centristische Democraten en Republikeinen vasthouden aan een andere benadering van het klimaatbeleid.
De kern van dit centristische beleid is, conform het heersende neoliberale model, een koolstofbelasting. Het idee is eenvoudig: als je fossiele brandstoffen belast op het punt dat zij de economie binnenkomen – bij een boorput, een mijn of een haven – kun je de sociale kosten van de vervuiling volledig compenseren. In economische termen is dit een Pigouviaanse belasting, omdat zij bedoeld is om een onwenselijke marktuitkomst te corrigeren, of wat de Britse econoom Arthur Pigou een negatieve externaliteit noemde – in dit geval de broeikasgassen die verantwoordelijk zijn voor de opwarming van de aarde.
Als reactie op de klimaatverandering is een koolstofbelasting enorm populair onder economen door het hele politieke spectrum heen. Zij kan ook een belangrijke rol spelen, maar is verre van toereikend. Voor het in rap tempo koolstofvrij maken van de economie, op een manier die economisch rechtvaardig en politiek haalbaar is, zal een samenhangend pakket op grote schaal nodig zijn. Dat houdt het combineren in van een paar op de markt gebaseerde beleidsmaatregelen met grootschalige investeringen van de particuliere en publieke sector, en zorgvuldig ontworpen milieumaatregelen.
Maar ook dan gaat het in het pakket opnemen van een standaard-koolstofbelasting gepaard met zekere risico's. Vraag het maar aan de Franse president Emmanuel Macron, wiens land maandenlang geplaagd is door demonstraties die aanvankelijk werden uitgelokt door een nieuwe belasting op diesel. De les die uit de wekelijkse betogingen van de "gele hesjes" kan worden getrokken is duidelijk: tenzij het milieubeleid rekening houdt met de grote ongelijkheid vandaag de dag, zullen de kiezers het verwerpen.
Niettemin zullen progressieven, nu zij aandringen op méér groene investeringen, naar een koolstofbelasting kijken als een mogelijke inkomstenbron. Afhankelijk van de omvang kan zo'n belasting immers bijna een biljoen dollar per jaar opbrengen. Maar in plaats van een eenvoudige heffing zouden ze het implementeren van een koolstofdividend moeten overwegen, waarbij koolstof ook zou worden belast, maar de opbrengst ervan evenredig over de mensen zou worden verdeeld. Ja, dit zou een financieringsmogelijkheid voor de GND uitsluiten, maar tevens garanderen dat de transitie naar een koolstofvrije economie op koers blijft, door de inkomens van lagere- en middenklassehuishoudens te beschermen.
Een gebruikelijk bezwaar tegen een koolstofdividend is dat het het oorspronkelijke doel van een koolstofbelasting zou tegengaan, namelijk het stimuleren van mensen om de uitstoot te verminderen. Maar dit is niet waar. Om te begrijpen waarom, moet je je indenken dat je een Amerikaan met een laag inkomen bent, die momenteel $75 per maand uitgeeft aan bezine. Ervan uitgaand dat je rijgedrag niet verandert, zou een koolstofbelasting van $230 per ton – het niveau dat nodig is om ons op een pad te zetten naar een beperking van de opwarming van de aarde tot niet meer dan 2,5º C boven pre-industrieel niveau – je maandelijkse brandstofkosten met $59, ofwel 79%, doen stijgen – naar $134. In dat geval zou je je ongetwijfeld armer voelen. Dit is wat economen een "inkomenseffect" noemen.
Subscribe to PS Digital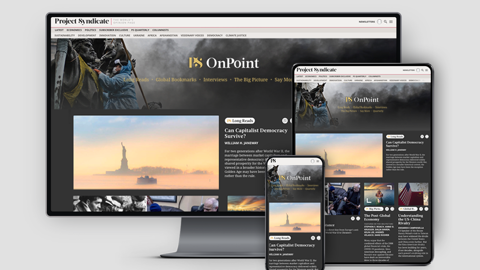 Subscribe to PS Digital
Access every new PS commentary, our entire On Point suite of subscriber-exclusive content – including Longer Reads, Insider Interviews, Big Picture/Big Question, and Say More – and the full PS archive.
Stel je nu eens voor dat er een koolstofdividend komt: je zou een maandelijks bedrag van $187 kunnen bijschrijven, dat de prijsstijging ruimschoots compenseert, waardoor je je rijker zult voelen. Maar zou dit je niet juist een grotere prikkel geven om nóg meer benzine te gaan gebruiken? Volgens de economische theorie niet.
Dat de benzineprijs stijgt wil nog niet zeggen dat al het andere in de economie ook duurder zal worden. Goederen en diensten die veel koolstofdioxide-uitstoot produceren zullen relatief duurder worden dan goederen en diensten die dat niet doen. Daardoor zou je de keuze hebben tussen het gebruik van het dividend om meer te rijden en het gebruik ervan om je consumptie van andere dingen te vergroten, zoals diners met vrienden of nieuwe renschoenen. Die sociale samenkomsten en die schoenen zijn je prikkel om minder koolstof te gebruiken. Dit is wat economen het "substitutie-effect" noemen.
Op deze manier zou een koolstofdividend mensen, grote bedrijven en de overheid er geleidelijk aan toe aanzetten zich weg te bewegen van een koolstofintensieve consumptie, naar activiteiten en investeringen die de uitstoot omlaag brengen. Net zo belangrijk is dat een koolstofdividend de armen zou beschermen. Een regelrechte koolstofbelasting is inherent regressief, omdat zij dezelfde kosten aan de armen oplegt als aan de rijken. Maar een koolstofdividend keert dit effect om, omdat iedere dollar die terugkomt voor een huishouden met een laag inkomen meer waard is dan voor een rijk huishouden.
Bovendien zijn het de rijken die de hele wereld over vliegen, enorme huizen moeten verwarmen en koelen, en in inefficiënte sportwagens rijden. Omdat zij een levensstijl hebben dan alle anderen, zouden ze per hoofd van de bevolking veel meer bijdragen aan het koolstofdividend. Nóg helderder verwoord: ze zouden veel méér betalen dan ze terugkrijgen, terwijl de armste 60% van de Amerikanen meer zouden terugkrijgen dan zij erin stoppen.
Kortom: een koolstofdividend zou geld distribueren van overwegend rijke, grote vervuilers naar overwegend kleine vervuilers met een laag of een middeninkomen, terwijl de CO2-uitstoot omlaag gebracht zou worden. Op zichzelf zou dit een verstandige stap in de juiste richting zijn – een stap die geen "gele hesjes"-reactie zou uitlokken. Maar laat niemand je vertellen dat dit een zilveren kogel is. Als het om de klimaatverandering gaat, bestaat die niet.
Vertaling: Menno Grootveld