Realisme over techno-optimisme
NEW YORK – De technologie zal ons redden! Nee, niet waar!
Telkens wanneer het debat over het klimaatbeleid gaat over specifieke economische sectoren, potentiële koolstofverminderingstechnologieën of energiestrategieën, rijst steeds weer dezelfde fundamentele vraag: in hoeverre kunnen we vertrouwen op 'eenvoudige,' bij voorkeur 'goedkope' technische oplossingen? Kunnen we de klimaatverandering aanpakken door erop te rekenen dat mensen overschakelen op koolstofarmere technologieën, of zijn er fundamentelere veranderingen nodig in de manier waarop we leven en ons als samenleving organiseren?
Dit zijn niet alleen filosofische of academische vragen. In de huidige politieke cultuur behoren ze tot de kwesties die rechts en links het meest verdelen. De ene kant vertrouwt erop dat markten en nieuwe technologieën alles oplossen, terwijl de andere erop staat dat overheidsbeleid een leidende rol moet spelen. Ja, deze karikatuur is veel te grof. Maar als we inzien dat dit de manier is waarop veel politici, polemisten en hun volgelingen de zaak inkaderen, kunnen we beter analyseren en verbeteren hoe nieuwe ontwikkelingen op het gebied van schone technologie worden ontvangen.
Neem de schijnbare wetenschappelijke doorbraak in kernfusie vorige maand. Langlopende debatten over kernenergie traden weer op de voorgrond. Techno-optimisten sprongen op het idee dat we misschien een bron van werkelijk onbeperkte schone energie hebben ontsloten. Dat zou in ieders belang zijn, ongeacht het politieke standpunt, en het lijkt te bevestigen dat menselijk vernuft de sleutel is tot onze redding.
Maar zelfs de meest fervente techno-optimisten kunnen niet beweren dat alleen technologie ons zal kunnen redden. Per slot van rekening vond deze allereerste fusieontsteking plaats in het Lawrence Livermore National Laboratory, een Amerikaanse federale onderzoeksfaciliteit waar overheidswetenschappers experimenten uitvoeren die met belastinggeld worden betaald.
Ja, er zijn ook start-ups die aan fusie werken, in de hoop in het komende decennium de eerste demonstratie-installaties te kunnen lanceren. Maar ook zij schreeuwen om overheidsgeld, of het nu gaat om directe subsidies of om de kredietgaranties van het ministerie van Energie die door de Inflation Reduction Act mogelijk zijn gemaakt. Het beeld is niet anders in het Verenigd Koninkrijk of elders, noch beperkt het zich tot de fusietechnologie. Silicon Valley, dat bastion van het techno-libertarisme, is meer dan veel andere industrieën afhankelijk van overheidsfinanciering en gunstig beleid.
Subscribe to PS Digital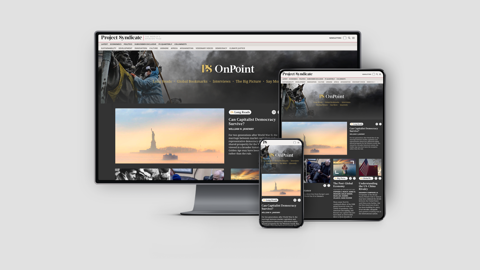 Subscribe to PS Digital
Access every new PS commentary, our entire On Point suite of subscriber-exclusive content – including Longer Reads, Insider Interviews, Big Picture/Big Question, and Say More – and the full PS archive.
Dit alles zal niet als een verrassing komen voor degenen die in de energiesector werken, waartoe enkele van de meest gereguleerde, belaste en gesubsidieerde industrieën ter wereld behoren. Regeringen wijzen voortdurend winnaars aan, en lobbyen speelt daarbij een belangrijke rol.
Kijk nu eens naar een tweede recente episode. Kooktoestellen zijn in het centrum van de Amerikaanse cultuuroorlogen terechtgekomen, na een verklaring van een federaal agentschap voor consumentenbescherming dat zich zorgen maakt over hun gevolgen voor de luchtkwaliteit in huis. Inductie vertegenwoordigt de nieuwe technologie, gas de oude, en het debat bevat zowel te veel nuance als te veel onzin voor het publiek om er makkelijk wijs uit te worden.
In dit geval kiezen velen ter rechterzijde – die gewoonlijk op de technologie zouden vertrouwen om ons te redden – de kant van de oude technologie, uit naam van het verzet tegen de 'overreach' van de overheid. Maar anders dan in het verleden kunnen ze niet langer tegen inductie pleiten omdat het meer zou kosten. Je kunt nu een inductieplaat kopen bij IKEA voor zeventig dollar.
De overstap van gas naar inductie kan worden beschouwd als grotendeels symbolisch in de strijd tegen de klimaatverandering. Ja, de meeste huizen in gematigde en koude klimaten gebruiken aanzienlijk meer gas voor verwarming dan voor koken. Maar deze stap gaat veel verder dan louter symboliek in huishoudens waar hij betekent dat de gasleiding helemaal wordt afgesloten.
De debatten over kernfusie en kooktoestellen laten zien waarom het op waarde inschatten van technologie méér om het lijf heeft dan simplistische ja-nee discussies. In het algemeen zou niemand mogen betwisten dat we zowel nieuwe technologieën als nieuw beleid nodig hebben om de uitstoot van kooldioxide in het vereiste tempo en op de vereiste schaal terug te dringen. Vraag het maar aan de Texas Land and Liberty Coalition, een belangengroep die traditioneel conservatieve boeren en ranchers vertegenwoordigt. De groep roept op tot beleid om hernieuwbare energieprojecten in de hele staat te bevorderen.
Alle techno-optimisten zouden hetzelfde moeten doen. Als je gelooft dat nieuwe technologieën het antwoord zijn op de klimaatverandering, zou je willen dat de staat beleidshefbomen gebruikt om de invoering van die technologieën te versnellen. Maar het probleem is dat velen die voor een dergelijk beleid lobbyen, dat achter gesloten deuren doen, terwijl degenen die tegen nieuwe technologieën lobbyen, zich veel luider laten horen. Daardoor blijft het publieke debat een karikatuur.
Met een genuanceerder debat zou het publiek inzien dat niet alle technologische oplossingen gelijk zijn. Inductieplaten, warmtepompen (het efficiëntere elektrische alternatief voor gas), retrofitting en zonne- en windenergie kunnen allemaal onmiddellijk op grote schaal worden toegepast. Maar andere technologieën – vooral kernfusie, maar ook groene vloeibare brandstoffen voor toepassingen waarbij elektrificatie veel efficiënter is – zijn dat niet. Die zijn in het beste geval een afleiding of, erger nog, een excuus om niets te doen. Met meer geld voor onderzoek en ontwikkeling kunnen ze in de toekomst nog steeds voordelen opleveren, maar dat mag geen afbreuk doen aan het terugdringen van de CO2-uitstoot dit decennium.
De grap luidt dat kernfusie al tientallen jaren lang over dertig jaar een feit zal zijn. Nu het in een laboratoriumsetting is gelukt, zouden die dertig jaar wel eens waar kunnen zijn. Dat betekent dat de technologie in de tweede helft van deze eeuw een essentieel onderdeel zou kunnen worden van de koolstofarme elektriciteitsmix. Maar gezien die tijdlijn zal niemand die de klimaatwetenschap begrijpt kernfusie voorstellen als de enige technofix. Ongeveer zeven miljoen mensen sterven nu reeds elk jaar door luchtverontreiniging, die grotendeels wordt veroorzaakt door de verbranding van fossiele brandstoffen, en ons vermogen om de klimaatverandering in toom te houden hangt af van wat we doen tussen nu en 2030, en vervolgens tussen 2030 en 2050.
Geen enkele oplossing op zichzelf is voldoende. Maar een snellere invoering van reeds bewezen en schaalbare technologieën is een noodzakelijk doel, vooral wanneer de vele verborgen kosten van fossiele brandstoffen worden meegerekend, en zal nieuw beleid vergen om de investeringen in de juiste richting te sturen. Techno-optimisten zouden de luidste pleitbezorgers daarvan moeten zijn.
De technologie alleen zal ons niet redden. Maar er is ook niets anders dat dat op eigen kracht wél kan.
Vertaling: Menno Grootveld