De pandemie als redding?
HAY-ON-WYE – COVID-19 heeft wereldwijd ruim 500.000 mensen gedood en miljoenen anderen ziek gemaakt, en blijft ravage aanrichten. Maar zoals het gezegde luidt – en zonder deze menselijke tragedie ook maar enigszins te willen bagatelliseren: er zijn weinig dingen zó slecht dat niemand er iets aan heeft. Als we de juiste keuzes maken nu de lockdowns versoepeld worden, zou wel eens kunnen blijken dat de pandemie de mensheid een reddingslijn heeft toegeworpen bij het omgaan met het nog veel grotere probleem van de klimaatverandering.
Vóórdat het coronavirus toesloeg hadden activisten zoals ik vrijwel alle hoop opgegeven dat we zouden kunnen voldoen aan de doelstelling van het klimaatverdrag van Parijs – het beperken van de opwarming van de aarde tot 1,5 à 2°C boven pre-industrieel niveau. Het leek er eerder op dat de wereld met 3 à 4°C zou opwarmen.
Dat zou een planetaire ramp teweegbrengen. We zouden alle koraalriffen verliezen, evenals het grootste deel van de regenwouden, terwijl veel van de dichtstbevolkte gebieden ondragelijk heet zouden worden. De voedselproductie zou kelderen, en er zou hongersnood dreigen omdat de oogsten in de belangrijkste graanregio's zouden mislukken.
Maar nu blijkt dat niets daarvan echt hoeft te gebeuren. Het coronavirus heeft ons gedwongen onze economieën zózeer op slot te gooien dat de koolstofdioxide-uitstoot is gekelderd. We hebben allemaal de bewijzen gezien, in de vorm van blauwere luchten, smogvrije steden, en voetgangers en fietsers die de plek innemen van vervuilende auto's. Wetenschappers schatten dat de mondiale CO2-emissies dit jaar met wel 7% zouden kunnen afnemen, en dat het behoud van dit niveau van de jaarlijkse uitstoot de wereld weer op het spoor zou kunnen zetten van het halen van de doelstelling van Parijs. Dat zou op zijn beurt weer de koraalriffen en de regenwouden redden, een mondiale vluchtelingencrisis afwenden, de stijging van de zeespiegel aan banden leggen en de ijskap van de Noordpool grotendeels intact laten.
Maar hoewel de COVID-19-crisis ons een onverwachte kans heeft geboden om het klimaat te redden, kunnen we uiteraard niet voorgoed in een lockdown blijven zitten. Miljoenen mensen zitten momenteel zonder werk, en een lange economische lockdown zou desastreuze gevolgen hebben voor de levensomstandigheden, waarbij de lasten grotendeels op de schouders van de armen terecht zouden komen.
Gelukkig gaat de keuze waarmee we geconfronteerd worden niet tussen een economische ineenstorting en een klimaatramp. Dankzij een buitengewoon gelukkig toeval moet de wereld dringend biljoenen dollars investeren in het koolstofvrij maken van de economie, net nu de wereldeconomie een even urgente impuls nodig heeft om mensen weer aan het werk te krijgen.
Subscribe to PS Digital Now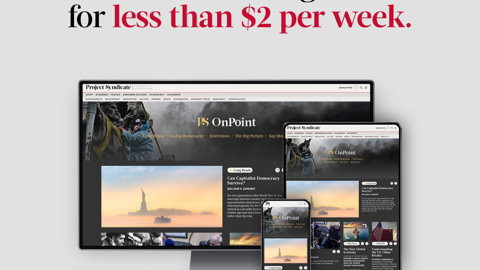 Subscribe to PS Digital Now
Access every new PS commentary, our entire On Point suite of subscriber-exclusive content – including Longer Reads, Insider Interviews, Big Picture/Big Question, and Say More – and the full PS archive.
Om deze maatregelen te helpen financieren, moeten landen als de Verenigde Staten en Groot-Brittannië staatsobligaties met een lange looptijd uitgeven, van vijftig of zelfs honderd jaar. Nu de rente op de staatsobligaties van een paar hoogontwikkelde economieën momenteel negatief is, kunnen de ministeries van Financiën van deze landen grote hoeveelheden geld binnenhalen tegen zeer lage kortetermijnkosten. En omdat deflatie momenteel een veel groter risico is dan inflatie zou het scheppen van extra geld via obligatie-uitgiftes helpen om een mogelijke mondiale economische depressie af te wenden.
Sommigen zouden er op morele gronden bezwaar tegen kunnen hebben dat overheden leningen afsluiten die door onze kinderen en kleinkinderen moeten worden terugbetaald. Maar het uitgeven van staatsobligaties met een lange looptijd, om een uitdaging voor de hele beschaving het hoofd te kunnen bieden, is niet zonder precedent. Groot-Brittannië heeft bijvoorbeeld zijn laatste resterende schulden uit de Eerste Wereldoorlog pas in 2014 afbetaald, en de Britse burgers zijn vandaag de dag per hoofd van de bevolking ongeveer vijf maal zo rijk als de generatie die in die oorlog heeft gevochten. En als we ervan uitgaan dat de economische groei de komende eeuw blijft voortduren, zullen onze nakomelingen nóg beter af zijn, waardoor toekomstige schuldenlasten minder zwaar worden.
Greta Thunberg en miljoenen jonge klimaatstakers over de hele wereld zijn terecht met morele vermaningen gekomen om de hedendaagse leiders ervan te overtuigen de belangen van toekomstige generaties serieus te nemen. Maar nu moeten we het ook over geld hebben.
Voor het aanpakken van de klimaatverandering zijn grote kapitaaluitgaven nodig. Om te beginnen vergt het garanderen van een leefbaar klimaat in de tweede helft van deze eeuw het opschalen van duurzame energietechnologieën zoals zonne- en windenergie, zodat zij fossiele brandstoffen kunnen vervangen als de belangrijkste leveranciers van primaire energie.
Bovendien zullen we, op een nog grotere schaal dan elektriciteit, vloeibare brandstoffen moeten produceren – het meest waarschijnlijk ammonia en synthetische koolwaterstoffen, om de scheepvaart, de luchtvaart en industriële processen als de staalproductie koolstofvrij te maken. Nucleaire technologieën van de volgende generatie, zoals geavanceerde modulaire reactoren, zullen een cruciale rol spelen bij deze inspanning.
Grote investeringen in infrastructuur zijn van nature langetermijnprojecten, en de kapitaalkosten zullen moeten worden verlaagd als schone technologieën willen kunnen concurreren met fossiele brandstoffen. Overheden kunnen de benodigde bedragen tegen een veel lagere rente lenen dan de particuliere sector, en de daaruit voortvloeiende investeringen zullen miljoenen banen scheppen ter vervanging van de banen die verloren gaan in de vervuilende industrieën, en helpen de wereldeconomie na de pandemie nieuw leven in te blazen.
De Britse regering heeft al voor £72 mrd aan obligaties uitgegeven, met een looptijd van vijftig jaar of langer, die vanaf 2055 moeten worden afgelost. Groot-Brittannië en andere landen kunnen wel vijftig maal zoveel obligaties uitgeven – ter waarde van £3-4 bln – die later deze eeuw moeten worden afgelost, om de investeringen te helpen financieren die noodzakelijk zijn om de klimaatverandering te overwinnen.
Dergelijke obligaties met een lange looptijd kunnen een veilige belegging zijn voor pensioenfondsen en andere langetermijnbeleggers, en hen tevens een manier bieden om permanent te desinvesteren uit fossiele brandstoffen. Er zullen immers geen ʻveilige beleggingen' meer zijn in een wereld van toenemende klimaatschade.
Ik stel niet voor dat overheden schone technologieën oneindig lang financieel moeten ondersteunen. De uitdaging is eerder om de kosten ervan terug te dringen – zoals met scucces is gedaan met zonne-energie – via onderzoek en ontwikkeling, en grootschalige vroegtijdige implementatie, totdat schone technologie goedkoper wordt dan fossiele brandstoffen en de energietransitie zichzelf zal kunnen bedruipen.
De COVID-19-crisis heeft de noodzakelijke ingrepen op het gebied van het klimaat en de economie dichter bij elkaar gebracht dan ooit tevoren. Als we deze historische kans aangrijpen, zullen toekomstige generaties zich 2020 herinneren als het jaar waarin de mensheid een pandemie versloeg en de planeet redde.
Vertaling: Menno Grootveld