Wartość Odporności po Pandemii
SZTOKHOLM – Jeśli pandemia COVID-19 nauczyła świat jednej rzeczy to jest to wysoka cena, jaką płacimy - stracone życie, zniszczona gospodarka i zmarnowany potencjał ludzki - gdy nie doceniamy odporności. Stosując tę lekcję, możemy wzmocnić naszą zdolność przetrwania przyszłych wstrząsów.
W ciągu ostatnich kilku stuleci społeczeństwa znalazły prostą formułę postępu i dobrobytu: wzrost gospodarczy. Stały wzrost produkcji i produktywności wydaje się panaceum na wszelkie problemy, w tym brak bezpieczeństwa żywnościowego, ubóstwo i choroby. Ale czy doszliśmy teraz do punktu, w którym strategia wzrostu staje się pułapką, generując nowe problemy na coraz większą skalę?
Na to wygląda. W niedawnym raporcie opublikowanym przed pierwszym Szczytem Nagrody Nobla pod tytułem "Nasza planeta, nasza przyszłość," który odbędzie się w tym miesiącu, moi koledzy i ja twierdzimy, że niepowodzenie w docenieniu społecznej i ekologicznej odporności świata oznacza, że wstrząsy w tym stuleciu będą bardziej niszczące i będą miały długotrwałe skutki na przestrzeni wieków, a nawet tysiącleci. Możemy jednak budować odporność społeczną promując równość, zaufanie i współpracę oraz odporność ekologiczną, podkreślając różnorodność i złożoność ponad łatwość i wydajność.
Pandemia w okrutny sposób uwydatniła ryzyko ignorowania odporności. Nasze gospodarki stały się tak bardzo zależne od siebie, że los jednej gospodarki zależy od wyników gospodarek na drugim końcu świata. Nasze miasta - centra przemysłu i innowacji - stały się ogniskami chorób. Nasze systemy transportowe są doskonale zaprojektowane do transportu patogenów po całej planecie. Niektóre z naszych głównych sieci komunikacyjnych przedkładają kłamstwa i dezinformację nad prawdę, co utrudnia odróżnienie faktów od fikcji.
Ekstremalne poziomy nierówności zmniejszają odporność społeczną, często w oczywisty sposób. Biedniejsze kraje, z mniejszą liczbą szpitali, mniejszymi możliwościami badawczymi i słabszymi rządami, mają mniejsze możliwości radzenia sobie z pandemią. W bogatych społeczeństwach biedniejsi ludzie są często najbardziej narażeni, ponieważ ich czynniki ryzyka są większe. Są narażeni na większe zanieczyszczenie powietrza, częściej cierpią na otyłość i żyją w bardziej zatłoczonych warunkach niż osoby zamożne. W ten sposób pandemia uderza w nich mocniej i szybciej się rozprzestrzenia.
Jednak nierówności ekonomiczne mogą również osłabić odporność na inne sposoby. Zaufanie do rządów jest zwykle niższe w nierównych społeczeństwach; częściowo dlatego, że biedniejsi obywatele uważają, że politycy służą głównie interesom elit. Może to zachęcić do rozwoju populistycznych przywódców i utrudnić prowadzenie długoterminowej polityki, która ma wpływ na wszystkich obywateli w społeczeństwach.
Subscribe to PS Digital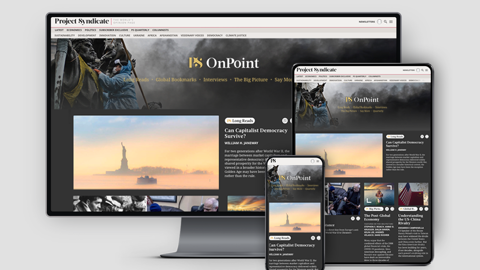 Subscribe to PS Digital
Access every new PS commentary, our entire On Point suite of subscriber-exclusive content – including Longer Reads, Insider Interviews, Big Picture/Big Question, and Say More – and the full PS archive.
Wszystko to jest trudne. Jednak w naszym raporcie dochodzimy do wniosku, że zdecydowanie największe prawdopodobne wstrząsy w tym stuleciu wynikają z naszego toksycznego związku z naturą. Biosfera - strefa blisko powierzchni Ziemi, w której kwitnie życie - ma co najmniej 3,5 miliardów lat. Jednak w ciągu jednego życia, w dużej mierze od lat pięćdziesiątych XX wieku, ludzkość systematycznie zmniejszała odporność własnego domu, powodując zmiany klimatyczne i utratę różnorodności biologicznej.
Ludzie rozdrabniają i upraszczają biosferę. Zarządzamy 75 procentami gruntów na Ziemi, które nadają się do zamieszkania. Przejęliśmy około jednej czwartej całej energii z roślin na lądzie, a ludzie i ich inwentarz żywy stanowią 96% wagi wszystkich ssaków. Kiedy przedzieramy się przez lasy, tereny podmokłe i łąki, najbardziej odpornymi gatunkami - tymi, które potrafią się najszybciej przystosować, a nawet dobrze się rozwijają w środowisku człowieka - są często gatunki, jak nietoperze i szczury, które są żywymi śmiertelnymi patogenami.
Odporność biosfery - jej zdolność do przetrwania, pochłaniania wstrząsów i rozwoju w ciągle zmieniających się warunkach - zależy od różnorodności i zdolności do regeneracji materiałów i ewolucji w nowy sposób w obliczu niepewności. Zwiększanie tej odporności wymaga od nas poszanowania granic planety i wspierania różnorodności ekologicznej. Ale przede wszystkim musimy docenić globalne dobra wspólne w nowy sposób.
Stoimy w obliczu idealnej burzy. Nasze przetrwanie na Ziemi będzie wymagało ponownego przemyślenia naszego podejścia do doceniania odporności naszej globalnej cywilizacji, zaczynając od uznania, że jest ona osadzona w biosferze i od niej zależna. Musimy rozpocząć współpracę z planetą, na której żyjemy. Nie możemy obliczyć wartości lasów deszczowych Amazonii w ten sam sposób, w jaki ocenimy firmę o tej samej nazwie. Podobnie, stabilność cyrkulacji oceanicznej lub Antarktydy - obie wykazują oznaki słabości - nie mogą być wyceniane w taki sam sposób, jak dobra konsumpcyjne. Musimy także cenić spójne społeczeństwa, inkluzywność, współpracę i zaufanie.
Pandemia COVID-19 to przełomowy moment. Wiemy, że musimy zmniejszyć o połowę emisje gazów cieplarnianych do 2030 r. Wiemy, że rozpoczęłasięczwarta rewolucja przemysłowa. Od czasu globalnego kryzysu finansowego w 2008 r. wiemy, że powrót do normalnej działalności nie jest sposobem na budowanie dostatniej i zrównoważonej przyszłości.
Musimy teraz przekształcić nasze gospodarki, aby przedkładać różnorodność i odporność ponad łatwość i wydajność. Oznacza to przede wszystkim wyjście poza łatwe i destrukcyjne strategie wzrostu, które nie pomagają planecie, którą nazywamy naszym domem. Zamiast tego rządy muszą skierować dynamikę gospodarczą w kierunku zapewnienia odporności zarówno ludziom, jak i ich środowisku naturalnemu. Ostatecznie docenianie odporności oznacza docenianie naszej przyszłości.
Z angielskiego przetłumaczyła Marz McNamer