The Big Picture brings together a range of PS commentaries to give readers a comprehensive understanding of topics in the news – and the deeper issues driving the news. The Big Question features concise contributor analysis and predictions on timely topics.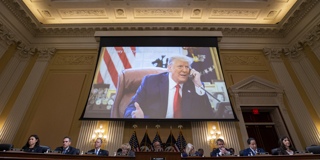 PS Commentators Respond: Will Trumpism Win or Wane in 2023?
While the defeat of most of the candidates he endorsed in last year's midterm US elections have tarnished Donald Trump's image among Republicans, and the threat of criminal indictment continues to grow, a number of polls show him leading the field among potential GOP presidential candidates ahead of next year's election. But even if Trump's nomination bid fails, there is no shortage of Republicans eager to pick up his mantle.
In this Big Question, we ask Ruth Ben-Ghiat, Ian Buruma, Reed Galen, and Alex Hinton whether Trump's brand of right-wing populism is on its way out or set for a resurgence.
Featured in this Big Question
https://prosyn.org/xlsqDly;