Chris Patten, the last British governor of Hong Kong and a former EU commissioner for external affairs, is Chancellor of the University of Oxford and the author of The Hong Kong Diaries (Allen Lane, 2022).

Ana Palacio, a former minister of foreign affairs of Spain and former senior vice president and general counsel of the World Bank Group, is a visiting lecturer at Georgetown University.

Jean Pisani-Ferry, a senior fellow at the Brussels-based think tank Bruegel and a senior non-resident fellow at the Peterson Institute for International Economics, holds the Tommaso Padoa-Schioppa chair at the European University Institute.

Minxin Pei, Professor of Government at Claremont McKenna College, is a non-resident senior fellow at the German Marshall Fund of the United States.

Edmund S. Phelps, the 2006 Nobel laureate in economics and Director of the Center on Capitalism and Society at Columbia University, is author of Mass Flourishing and co-author of Dynamism.

Eric Posner, a professor at the University of Chicago Law School, is the author of How Antitrust Failed Workers (Oxford University Press, 2021).

Volker Perthes is Special Representative of the United Nations Secretary-General for Sudan.

Raj Persaud is a psychiatrist and author of The Mental Vaccine for COVID-19 (Amberley Publishing, 2021).

Thitinan Pongsudhirak is a professor at Chulalongkorn University's Faculty of Political Science and a senior fellow at its Institute of Security and International Studies.

Yannos Papantoniou was Greece's Economy and Finance Minister from 1994 to 2001. He is currently President of the Center for Progressive Policy Research, an independent think-tank.

Andrei Piontkovsky is a Russian political scientist and a visiting fellow at the Hudson Institute in Washington, DC.

Jiří Pehe, once Chief Political Advisor to former Czech President Václav Havel, is a political analyst and Director of New York University in Prague.

Dr. Thomas I. Palley is an economist living in Washington DC.
Our Pick
The Rage of the Outsiders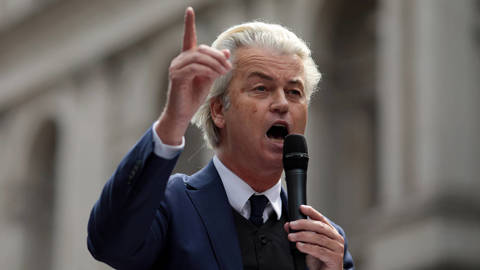 Ian Buruma
shows what Geert Wilders has in common with other ultra-nationalist politicians, past and present.