Właściwe Ustalanie Kosztów Społecznych Emisji Dwutlenku Węgla
LONDYN/NOWY JORK – Prezydent USA Joe Biden zasługuje na gratulacje za zobowiązanie Stanów Zjednoczonych do ponownego przyłączenia się do globalnych wysiłków na rzecz walki ze zmianami klimatycznymi. Ameryka i świat muszą skutecznie odpowiedzieć na to wyzwanie. Szczególnie ważnym krokiem jest dekret Bidena z 20 stycznia ustanawiający Międzyagencyjną Grupę Roboczą ds. Społecznych Kosztów Gazów Cieplarnianych.
Zadaniem tej grupy jest lepsze oszacowanie dolarowego kosztu dla społeczeństwa (i planety) każdej tony dwutlenku węgla lub innych gazów cieplarnianych emitowanych do atmosfery. Liczba ta, zwana społecznym kosztem emisji dwutlenku węgla (SCC), daje decydentom i agencjom rządowym podstawę do oceny korzyści płynących z publicznych projektów i przepisów mających na celu ograniczenie emisji CO2 - lub wszelkich projektów czy przepisów, które mogą pośrednio wpływać na emisje.
Jeśli grupa robocza zdecyduje się na niską liczbę, wiele projektów i przepisów ograniczających emisje nie będzie kontynuowanych, ponieważ ich ceny przekroczą szacowane korzyści klimatyczne. Tak więc ważne jest, aby uzyskać właściwą liczbę - to znaczy wyższą niż była w przeszłości.
Ogólnie rzecz biorąc, istnieją dwa sposoby obliczenia tego kosztu. Jedna z metod, stosowana przez administrację prezydenta Baracka Obamy, to próba bezpośredniego oszacowania przyszłych szkód spowodowanych emisją dodatkowej jednostki węgla.
Niestety właściwe wdrożenie tej techniki jest niezwykle trudne. Sposób, w jaki zrobiła to administracja Obamy, był głęboko wadliwy, co doprowadziło do oszacowania zbyt niskiego SCC na poziomie 50 USDzatonędo 2030 r. (w dolarach z 2007 r.). Dlatego nawet zanim Donald Trump został prezydentem, świat - a zwłaszcza Stany Zjednoczone - był na dobrej drodze, by zrobić zbyt mało w kwestii zmian klimatycznych.
Problem polegał na zastosowaniu przez administrację Obamy zintegrowanych modeli oceny, które, jak sama nazwa wskazuje, integrują ekonomię i nauki o środowisku w celu obliczenia przebiegu gospodarki i klimatu w następnym stuleciu lub dłużej. Integracja ekonomii i środowiska ma sens, ale jak to się mówi "diabeł tkwi w szczegółach." Modele te okazały się niewiarygodne, generując bardzo zróżnicowane zakresy szacunków, które są bardzo wrażliwe na określone założenia.
Subscribe to PS Digital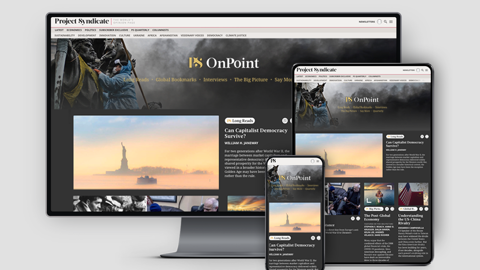 Subscribe to PS Digital
Access every new PS commentary, our entire On Point suite of subscriber-exclusive content – including Longer Reads, Insider Interviews, Big Picture/Big Question, and Say More – and the full PS archive.
Na przykład ważnym wynikiem jednej z popularnych wersji tych modeli jest to, że powinniśmy zaakceptować globalne ocieplenie o 3,5 stopniaCelsjusza w stosunku do poziomów sprzed epoki przemysłowej. To znacznie więcej niż limit 1,5–2°C przyjęty przez społeczność międzynarodową w porozumieniu paryskim z 2015 r. W rzeczywistości Międzyrządowy Zespół ds. Zmian Klimatu podkreślił, że ryzyko związane z globalnym ociepleniem o 2°C jest znacznie większe niż przy 1,5°C, a więc ryzyko przy 3,5°C jest oczywiście dużo większe.
Wzrost temperatury o 3,5°C wynika z założeń przyjętych w modelu, w tym z niebezpiecznego zaniechania poważnego traktowania ekstremalnych zagrożeń, jakie niezarządzane zmiany klimatyczne stanowią dla naszego środowiska, życia i gospodarki. Ponadto zintegrowane modele oceny nie uwzględniają odpowiednio potencjalnej roli innowacji i rosnących korzyści w działaniach na rzecz klimatu.
Kolejnym problemem związanym z metodologią Obamy jest to, że ustawiła ona przyszłe pokolenia w niekorzystnej sytuacji. Duża część korzyści z ograniczenia emisji teraz polega na unikaniu ryzyka niebezpiecznych zmian klimatycznych w przyszłości. Oznacza to, że musimy zapytać, jak bardzo zależy nam na naszych dzieciach i wnukach. Jeśli odpowiedź brzmi "niewiele," to nie musimy robić zbyt wiele. Ale jeśli nam na nich zależy, musi to znaleźć odpowiednie odzwierciedlenie w naszych obliczeniach.
Formalnie metodologia rządu Obamy rozwiązała tę kwestię, przyjmując założenia dotyczące dyskontowania, pokazując o ile mniej będzie wart dolar w przyszłym roku (i rok później) w porównaniu z dniem dzisiejszym. Zastosowano roczną stopę dyskontową w wysokości 3%, co oznacza, że aby zaoszczędzić 1 dolara w ciągu 50 lat, bylibyśmy gotowi wydać dziś tylko 22 centy; aby zaoszczędzić 1 dolara w ciągu 100 lat, bylibyśmy skłonni wydać mniej niż pięć centów.
Nie ma etycznego uzasadnienia dla przywiązywania tak małej wagi do dobrobytu przyszłych pokoleń. Nie ma również ekonomicznego uzasadnienia, gdy weźmiemy pod uwagę ryzyko.
Dziś płacimy składki ubezpieczeniowe, aby jutro uniknąć strat - innymi słowy, aby ograniczyć ryzyko. Zwykle płacimy, powiedzmy, 1,20 dolara, aby średnio odzyskać 1 dolara w przyszłym roku, ponieważ firma ubezpieczeniowa dostarcza pieniądze, kiedy ich potrzebujemy - na przykład po wypadku samochodowym czy pożarze domu. Przy wydatkach, które obniżają przyszłe ryzyko, odpowiednia stopa dyskontowa jest niska lub może być ujemna, jak w tym przykładzie, gdy potencjalne skutki mogą wiązać się z ogromnymi zniszczeniami.
Dzisiejsze wydawanie pieniędzy na działania w dziedzinie klimatu jest jak zakup polisy ubezpieczeniowej, ponieważ zmniejsza to ryzyko przyszłych katastrof klimatycznych. Zatem ryzyko przekłada się na niższą stopę dyskontową i wyższą cenę emisji dwutlenku węgla.
Teraz, gdy administracja Bidena zobowiązała się do realizacji międzynarodowego celu ograniczenia globalnego ocieplenia do 1,5-2°C powinna także obrać drugi, bardziej niezawodny sposób obliczania SCC. Jest to po prostu cena, za jaką będziemy w stanie ograniczyć emisje na tyle, aby zapobiec niebezpiecznemu nagrzewaniu się świata.
To cena, która zachęci do inwestycji niskoemisyjnych i innowacji, których potrzebujemy oraz pomoże uczynić nasze miasta mniej zatłoczonymi i zanieczyszczonymi. Koniecznych będzie wiele innych uzupełniających się polis, w tym inwestycje i regulacje rządowe. Jak podkreśliła Międzynarodowa Komisja ds. Ustalania Cen Węgla, której współprzewodniczyliśmy w swoim raporcie z 2017 r.: im skuteczniejsze są te polisy w ograniczaniu emisji CO2, tym niższa może być cena węgla w przyszłości. Ale prawdopodobny SCC byłby bliższy 100 USDzatonędo 2030 r. niż 50 USD za tonę szacowaną przez rząd Obamy (przy stopie dyskontowej 3%). SCC na górnym końcu przedziału 50-100 USD, który sugerowaliśmy w 2017 r., jest całkowicie odpowiedni, biorąc pod uwagę, że cele porozumienia paryskiego słusznie stały się bardziej ambitne - ograniczenie ocieplenia o 1,5° C i zerowej emisji netto do 2050 r.
Może się wydawać, że kwestie techniczne najlepiej pozostawić ekspertom. Jednak zbyt wielu ekspertów nie rozważyło w wystarczającym stopniu skali zagrożeń klimatycznych, dobrobytu przyszłych pokoleń oraz możliwości działań na rzecz klimatu przy odpowiednich zachętach.
Administracja Bidena musi wycenić zanieczyszczenie węglem na wystarczająco wysoką cenę, aby podkreślić skalę i pilność działań niezbędnych do wypełnienia zobowiązań, jakie podjęto wobec Amerykanów i reszty świata. Od tego zależy przyszłość naszej planety.
Z angielskiego przetłumaczyła Marz McNamer