Nie Ma Odwrotu od Konferencji w Sprawie Klimatu
SHARM EL-SHEIKH - Istnieją obawy, że tegoroczna Konferencja Narodów Zjednoczonych w Sprawie Zmian Klimatu - która odbędzie się tutaj w dniach 6-18 listopada - będzie niezamierzoną ofiarą napięć geopolitycznych i wyzwań gospodarczych, z którymi boryka się obecnie świat. Uważam, że będzie wręcz przeciwnie: COP27 stanowi wyjątkową i aktualną okazję dla świata do zjednoczenia się, uznania naszych wspólnych interesów i przywrócenia wielostronnej współpracy.
Ludzkie koszty zmian klimatycznych niemal codziennie trafiają na pierwsze strony gazet. Globalne ocieplenie nie jest już odległym czy teoretycznym zagrożeniem, ale bezpośrednim zagrożeniem materialnym - zjawiskiem, które dotyka każdego z nas, nasze rodziny i naszych sąsiadów. Żadne społeczeństwo nie pozostało bez szwanku z powodu częstszych i intensywniejszych susz, pożarów, burz i powodzi. Miliony ludzi już teraz walczą o przetrwanie.
I to przy wzroście temperatury o zaledwie 1,1° Celsjusza w stosunku do poziomu sprzed epoki przemysłowej. Międzyrządowy Panel na temat Zmian Klimatu pokazał, że każda dodatkowa dziesiąta część stopnia pogarsza sytuację. Zmiany niezbędne do zapobieżenia katastrofie nie są jednak wprowadzane (a przynajmniej nie w wystarczającym tempie), podczas gdy kraje rozwijające się są coraz bardziej sfrustrowane odmową krajów bogatych do zapłacenia należnej im części za kryzys, za który ponoszą ogromną odpowiedzialność.
Są jednak powody do nadziei. W rozmowach z delegacjami z całego świata widzę ich determinację, by konferencja COP27 zakończyła się sukcesem. Już teraz pojawiają się działania. Adaptacja do zmian klimatu i nowe formy współpracy zyskują na znaczeniu, a inwestycje w technologie klimatyczne przeżywają rozkwit. Dotyczy to nowych technologii usuwania dwutlenku węgla, rozwiązań w zakresie transportu elektrycznego oraz energii odnawialnych. W rezultacie ceny czystej energii wciąż spadają: prawie dwie trzecie energii odnawialnej dodanej w krajach G20 w 2021 r. będzie kosztować mniej niż najtańsze opcje węglowe. Mój kraj - Egipt - jest na dobrej drodze do wytworzenia 42% energii ze źródeł odnawialnych do 2035 roku.
Jednocześnie społeczeństwo obywatelskie opracowuje mechanizmy pociągania firm i rządów do odpowiedzialności, ochrony przed "greenwashingiem" i zapewnienia sprawiedliwej transformacji. Pojawił się nowy nacisk na odbudowę przyrody.
Potrzebne są większe ambicje, skala i szybkość, a zasady pozostają niejasne lub kwestionowane, ale proces jest w toku i nie ma już odwrotu. Nawet w krajach, które mogą wydawać się chwiejne w swoich zobowiązaniach - na przykład inwestując w infrastrukturę paliw kopalnych - urzędnicy nalegają, aby nie mylić środków tymczasowych - koniecznych ze względu na nagłe wyzwania - ze strategiami długoterminowymi. Nikt nie wątpi w to, że czeka nas bardziej ekologiczna droga.
Subscribe to PS Digital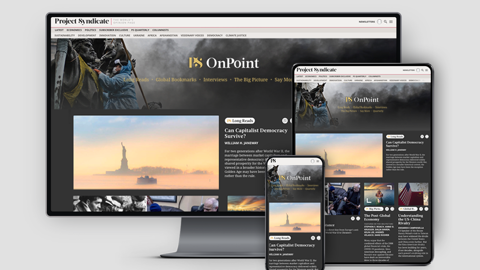 Subscribe to PS Digital
Access every new PS commentary, our entire On Point suite of subscriber-exclusive content – including Longer Reads, Insider Interviews, Big Picture/Big Question, and Say More – and the full PS archive.
Pytanie do tych z nas, którzy wezmą udział w COP27 jest proste: Jak możemy wykorzystać szansę, jaką daje konferencja, aby stworzyć poczucie wspólnego wysiłku, zapobiec krokom wstecz oraz zainspirować podejście oparte na nauce, zaufaniu, sprawiedliwości i równości?
Działania na rzecz klimatu to w istocie targowanie się. Kraje rozwijające się zgodziły się w dobrej wierze pomóc w walce z kryzysem, którego nie spowodowały, przy założeniu, że wsparcie - zwłaszcza finansowe - zostanie udzielone w celu uzupełnienia ich własnych wysiłków, które często są ograniczone ze względu na ich niewielkie zasoby i konkurencyjne potrzeby rozwojowe. Kraje rozwinięte muszą dotrzymać swojej części umowy, wspierając zarówno działania łagodzące, jak i dostosowawcze, wypełniając w ten sposób swoje obowiązki przewidziane w porozumieniu paryskim.
Jeśli chodzi o łagodzenie skutków zmian klimatu, musimy przejść od retoryki do działania w zakresie ograniczania emisji gazów cieplarnianych i usuwania węgla z naszej atmosfery. Wszystkie kraje muszą przyjąć bardziej ambitne zobowiązania krajowe, a następnie przełożyć te zobowiązania na programy. Musimy działać teraz, aby zapewnić krajom rozwijającym się odpowiednie środki, które pozwolą im uwolnić ich potencjał.
Jednocześnie musimy opracować transformacyjny program adaptacyjny, aby społeczności - zwłaszcza w regionach podatnych na zmiany klimatu - mogły chronić się przed skutkami, które są już nieuniknione. Rachunek za ten program musi być sprawiedliwie podzielony.
Jak dotąd nieproporcjonalnie duża część środków finansowych przeznaczonych na walkę ze zmianą klimatu została przeznaczona na łagodzenie skutków zmian klimatu, pozostawiając kraje rozwijające się w dużej mierze samym sobie w zakresie finansowania inwestycji związanych z dostosowaniem do zmian klimatu. Jednak nawet środki finansowe przeznaczone na łagodzenie skutków zmian klimatu są dalece niewystarczające i nie zostały dostarczone za pomocą odpowiednich sposobów.
W 2009 roku kraje rozwinięte zobowiązały się do zapewnienia 100 mld dolarów rocznie na działania klimatyczne w krajach rozwijających się do 2020 roku. To tylko niewielka część z ponad 5,8 biliona dolarów, które są potrzebne (do 2030 roku), według Stałego Komitetu Finansowego Ramowej Konwencji Narodów Zjednoczonych w Sprawie Zmian Klimatu. A jednak ta kwota nie została dostarczona. Potrzebujemy zwiększenia skali zobowiązań finansowych - zwłaszcza w zakresie adaptacji - na COP27, w porównaniu do tych złożonych na COP26 w Glasgow.
Kraje rozwinięte muszą również dotrzymać złożonego w ubiegłym roku zobowiązania do podwojenia finansowania adaptacji do 2025 r. i powinny zapewnić gwarancje niezbędne do nowego zasilenia Zielonego Funduszu Klimatycznego.
Nadszedł też czas, aby zająć się stratami i szkodami poniesionymi przez kraje, które nie spowodowały kryzysu klimatycznego. Kwestia ta pozostaje sporna, ale wierzę, że możemy podejść do niej konstruktywnie, kierując się priorytetami krajów rozwijających się, i z korzyścią dla wszystkich.
Sprawiedliwa transformacja musi uwzględniać potrzeby różnych regionów. Na przykład kraje afrykańskie są zasadniczo zobowiązane do przyjęcia energii odnawialnej i powstrzymania się od eksploatacji swoich zasobów paliw kopalnych. Jednak 600 milionów ludzi w Afryce - 43% populacji kontynentu - nie ma obecnie elektryczności, a około 900 milionów nie ma dostępu do czystych paliw do gotowania. Okazja do działania na rzecz klimatu wymaga, aby zająć się tym problemem i zaspokoić szersze potrzeby rozwojowe kontynentu w sposób zrównoważony.
Wszystkie te imperatywy należy realizować wspólnie, za pomocą starannie opracowanego pakietu działań, a nie poprzez środki fragmentaryczne. Są one filarami sprawiedliwej transformacji. Jeśli brakuje jednego z nich, cały gmach się zawali.
​​Przed COP 2015 w Paryżu niewielu wierzyło, że uda się osiągnąć porozumienie. Jednak delegaci z całego świata zebrali się razem i dzięki umiejętnościom i wytrwałości osiągnęli przełomowe porozumienie. W 2022 roku czekają nas jeszcze większe przeszkody, więc musimy pracować jeszcze ciężej, aby je pokonać. Jeśli nam się to uda, zapoczątkujemy nową erę czystej energii, wymiany innowacji, bezpieczeństwa żywności i wody oraz większej sprawiedliwości klimatycznej.
Jakkolwiek wyzwanie to jest zniechęcające, nie mamy innego wyboru, jak tylko stawić mu czoła. Musimy negocjować między sobą, ponieważ nie można negocjować z klimatem.
Z angielskiego przetłumaczyła Marz McNamer