Naar een klimaatvriendelijk financieel systeem
PEKING/FRANKFURT – De klimaatconferentie die nu gaande is in Katowice in Polen is aangekondigd als de meest gevolgrijke sinds de top uit 2015 die de klimaatovereenkomst van Parijs produceerde. Onder ongekende publieke bezorgdheid over de dreiging die klimaatverandering vormt – gevoed door een alarmerend recent rapport door het Intergovernmental Panel on Climate Change (IPCC) van de VN, vernietigende natuurrampen over de hele wereld nog daargelaten – proberen de onderhandelaars regels op te stellen om aan de engagementen van Parijs te voldoen. Maar zoals zo vaak zal het welslagen hiervan van de financiën afhangen.
's Werelds geavanceerde economieën hebben in eerdere klimaatonderhandelingen grote financiële toezeggingen gedaan. Toch is het verre van zeker dat ze aan hun beloften zullen voldoen, te beginnen met de jaarlijkse provisie van 100 miljard dollar aan ontwikkelingslanden vanaf 2020. Volgens het Standing Committee on Finance van de UN Framework Convention on Climate Change kwam de publieke financiering vanuit ontwikkelde tot ontwikkelingslanden om de verzachting van en aanpassing aan klimaatverandering te ondersteunen in 2016 neer op 57 miljard dollar. Wanneer we de private fondsen gemobiliseerd door publieke steun hier nog bij optellen waren de geldstromen in 2016 meer dan 70 miljard dollar waard.
Dat is echter nog maar een fractie van 2,4 biljoen dollar die de wereld tussen nu en 2035 jaarlijks in schone energie moet investeren om de wereldwijde temperatuur volgens de berekeningen van het IPCC onder de 1,5 graden Celsius boven pre-industriële niveaus te houden. Of de rijke landen hun toezeggingen voor klimaatfinanciering die ze in eerdere onderhandelingen gedaan hebben nakomen en de mate waarin ontwikkelingslanden flexibiliteit kunnen accepteren in hoe deze geldstromen gemeten worden zullen cruciaal zijn om de klimaatonderhandelingen op dit kritieke moment vooruit te helpen. Maar bovenal zullen klimaatrisico's en het in acht nemen van duurzaamheid op de lange termijn verankerd moeten worden in het mondiale financiële systeem – van banken, vermogensbezitters, en managers tot verzekeringsmaatschappijen en de kapitaalmarkten die de transacties van financiële actoren faciliteren.
Het goede nieuws is dat de wereld al in deze richting beweegt, gedeeltelijk dankzij de Task Force on Climate-related Financial Disclosures (TCFD), in 2015 opgezet door de Raad voor Financiële Stabiliteit en de Sustainable Finance Study Group van de G20. De taskforce heeft al veel ondernomen om financiële instituties en bedrijven aan te moedigen om de omvang van de klimaatrisico's waar ze mee te maken hebben te begrijpen, in te schatten, en openbaar te maken.
Deze raamwerken en hulpmiddelen krijgen steeds meer momentum en inspireren concrete actie. De China-United Kingdom Green Finance Taskforce bijvoorbeeld heeft een groep Britse en Chinese financiële instituties bijeengebracht om de TCFD-rapportage te beproeven. Ook heeft deze een reeks 'groene investeringsprincipes' ontwikkeld om koolstofarme investeringen in het gebied van de Chinese Nieuwe Zijderoute te bevorderen.
Dan is er nog Climate Action 100+ een door investeerders geleid initiatief dat bedrijven wil motiveren om de doelstellingen van het akkoord van Parijs te behalen door het ondernemingsbestuur wat betreft klimaatverandering, het terugbrengen van uitstoot, en het vergroten van klimaatgerelateerde financiële transparantie te verbeteren. Tot nu toe hebben 310 investeerders met meer dan 32 biljoen dollar aan activa in beheer het initiatief ondertekend.
Subscribe to PS Digital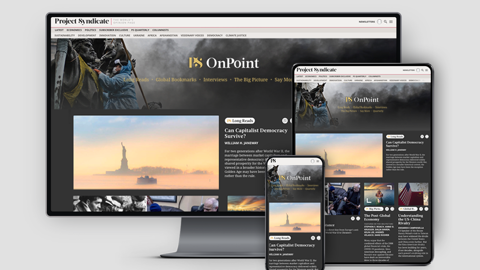 Subscribe to PS Digital
Access every new PS commentary, our entire On Point suite of subscriber-exclusive content – including Longer Reads, Insider Interviews, Big Picture/Big Question, and Say More – and the full PS archive.
Maar alhoewel marktgerichte initiatieven belangrijke aandrijvers van innovatie zijn hebben regeringen en regelgevers ook een vitale rol te spelen in het activeren van groene financiën en het verzekeren dat klimaatrisico's accuraat gemeten en gerapporteerd worden. Op dit vlak springen stappen genomen door de Europese Unie en China om de financiële wereld richting koolstofarme activa te bewegen in het oog.
Het Actieplan van de EU voor een groenere en schonere economie heeft een ambitieuze agenda om de transitie naar een duurzaam financieel systeem te bevorderen aangespoord. Er is een blauwdruk ontworpen voor regelgeving om financiële actoren aan te moedigen om duurzaamheidsrisico's in te schatten en openbaar te maken, ondertussen bewegend naar het instellen van algemene normen om financiële instrumenten – zoals groene obligaties – te promoten die financiering kunnen helpen kanaliseren naar milieuvriendelijke projecten en bedrijven. De ministers van Financiën van de EU zijn ook net overeengekomen om van banken te gaan eisen dat ze hun milieu-, sociale, en bestuursrisico's (ofwel ESG: environment, social, governance) binnen drie jaar openbaar maken.
Wat China betreft kondigde de staatsraad in 2016 een reeks uitgebreide richtlijnen voor groene financiën aan, en de centrale bank en een aantal lokale overheden hebben monetaire en fiscale stimuli voor groene leningen en obligaties ingevoerd. Bovendien heeft de Vermogensbeheer Associatie van de Chinese beurstoezichthouder CSRC recent groene investeringsrichtlijnen geïntroduceerd voor de vermogensbeheerindustrie, die ESG-overwegingen willen integreren in de besluitvorming van institutionele investeerders. De CSRC heeft ook een plan aangekondigd om van alle beursgenoteerde bedrijven te eisen om in 2020 informatie over hun ecologische voetafdruk vrij te geven.
Op internationaal niveau is er het Central Banks and Supervisors Network for Greening the Financial System. Eind vorig jaar opgericht brengt de NGFS financiële regelgevers en centrale banken uit 21 landen – waaronder Frankrijk, China, en Duitsland – bijeen, die de dreiging voor de financiële stabiliteit veroorzaakt door klimaatverandering erkennen en de noodzaak om dat risico in te schatten en te beheersen, gedeeltelijk door zorgvuldige supervisie. Een centraal element van dit soort risicomanagement is dat banken en investeerders hun portfolio's verschuiven van bedrijven en projecten met een hoge uitstoot naar koolstofarme activa.
Zoals het huidige rapport van het IPCC duidelijk maakt vereist het voorkomen van de ergste effecten van klimaatverandering actie op ongekende schaal – en per direct. Beleidsmakers in nationale hoofdsteden moeten ervoor zorgen dat zowel publieke als private geldstromen op een lijn komen met de klimaatagenda en dat de juiste condities worden gecreëerd om de mondiale financiële sector tot facilitator in plaats van obstakel voor een koolstofarme toekomst te maken.
Vertaling Melle Trap