Decydowanie o Przyszłości Ludzkości
SZTOKHOLM – Na ostatnim szczycie G7 w Kornwalii Sir David Attenborough opisałdecyzje, przed którymi stoją obecnie najbogatsze kraje świata, jako "najważniejsze w historii ludzkości." Ma on rację. Szczyt odbył się w kontekście kryzysów, w tym: pandemii, zmian klimatycznych, utraty bioróżnorodności, rosnących nierówności i "infodemii" dezinformacji.
Wyzwania te sprawiły, że jest to decydująca dekada dla globalnych działań. Chociaż z zadowoleniem przyjmujemy nowe zobowiązanie G7 do zmniejszenia o połowę emisji dwutlenku węgla i stania się "pozytywnym przyrodniczo" poprzez odwrócenie utraty różnorodności biologicznej do 2030 r., kroki te stanowią minimum tego, czego wymaga się od najbogatszych krajów.
Jak zauważa 126 laureatów Nagrody Nobla w niedawnym wezwaniudodziałania: "Przyszłość wszelkiego życia na tej planecie, w tym ludzi i naszych społeczeństw, wymaga, abyśmy stali się skutecznymi zarządcami globalnych dóbr wspólnych." Ten konsensus wyłonił się podczas pierwszego w historii Szczytu Nagrody Nobla, "Nasza Planeta, Nasza Przyszłość," którego współgospodarzami były nasze organizacje pod koniec kwietnia. Laureaci Nagrody Nobla i inni eksperci z całego świata zebrali się, aby ocenić zagrożenia, jakie stwarza nasz świat. W epoce charakteryzującej się przyspieszeniem, skalą i wstrząsami systemowymi zbadaliśmy, co można osiągnąć teraz i w nadchodzących latach, aby skierować świat na bardziej zrównoważoną ścieżkę.
Wyzwanie jest zarówno trudne, jak i proste. Jeśli nie podejmiemy działań transformacyjnych w tej dekadzie, podejmiemy kolosalne ryzyko dla przyszłości ludzkości. Łącznie nie doceniamy wartości odporności społecznej i środowiskowej, pozwalając na nieodwracalne zmiany na dużą skalę w biosferze Ziemi. Biorąc pod uwagę stawkę oraz ambicje, które rządy wnoszą na listopadową konferencję ONZ w sprawie zmian klimatu (COP26) w Glasgow, muszą być współmierne do skali i pilności wyzwania.
Pędzimy w kierunku niebezpiecznych punktów krytycznych. Wiemy to nie tylko z teorii naukowych i skomplikowanych równań popartych modelami komputerowymi, ale z tego, co możemy zobaczyć na własne oczy. Topnieją główne części lądolodu Antarktydy i Grenlandii. Główne zapasywęgla w korzeniach, pniach i glebach lasów deszczowych Amazonii oraz w regionach wiecznej zmarzliny słabną i potencjalnie się destabilizują. Cyrkulacja atlantycka (tzw. AMOC - The Atlantic Meridional Overturning Circulation), która rozprowadza ciepło na całym świecie, zwalnia.
Jednocześnie polityka wielu krajów jest destabilizowana przez wysoki poziom nierówności społecznych i ekonomicznych oraz zwiększone rozprzestrzenianie się dezinformacji. Ponieważ proces ten został w pełni uprzemysłowiony przez technologie i platformy cyfrowe, infodemia zagraża naszej zdolności do skutecznego reagowania na globalne kryzysy.
Subscribe to PS Digital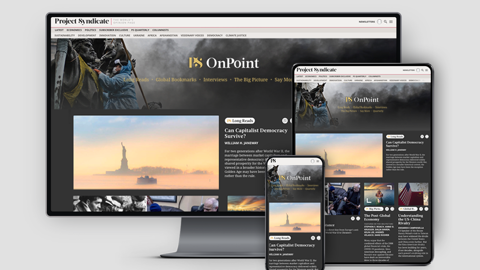 Subscribe to PS Digital
Access every new PS commentary, our entire On Point suite of subscriber-exclusive content – including Longer Reads, Insider Interviews, Big Picture/Big Question, and Say More – and the full PS archive.
Spotkanie Nasza Planeta, Nasza Przyszłość podkreśliło potrzebę większych inwestycji w naukę, abyśmy mogli zrozumieć świat i napędzać innowacje korzystne dla społeczeństwa Szczepionki COVID-19 zostały opracowane w rekordowym czasie, ponieważ zainwestowaliśmy już w ponad dekadę podstawowych badań nad informacyjnym RNA i immunogenami. Rządy G7 zobowiązały się teraz do bliższej współpracy międzynarodowej w zakresie badań i rozwoju. Ale będziemy też musieli zbadać nowe modele biznesowe, aby przyspieszyć dzielenie się wiedzą naukową i inwestycje w podstawowe badania.
Większe inwestycje będą również potrzebne dla międzynarodowych sieci instytucji naukowych. Uniwersytety powinny włączyć koncepcje zarządzania planetarnego do swoich programów nauczania. A edukacja w każdym wieku powinna kłaść silny nacisk na charakter dowodów i metody naukowe, aby pomóc budować odporność na dezinformację rozpowszechnianą przez grupy specjalnego zainteresowania i media partyjne.
Koniec ery paliw kopalnych pociąga za sobą monumentalną transformację gospodarczą, która już jest w toku. Ale bez dynamizmu gospodarczego nie dokonamy postępu, którego potrzebujemy. Chociaż kraje G7 zasygnalizowały zamiar wycofania węgla, większość nie określiła jeszcze konkretnej daty oraz strategii. Przy gwałtownie malejącym budżecie węgla, takie roztrząsanie nie jest zgodne z utrzymaniem stabilności klimatu na poziomie ocieplenia o 1,5 stopnia Celsjusza lub niższym w stosunku do poziomów sprzed epoki przemysłowej.
Wszystkie kraje powinny uznać, że rosnące rozbieżności między bogatymi i biednymi pobudzają niechęć i nieufność, jednocześnie podważając umowy społeczne, które są potrzebne do trudnych, długoterminowych wspólnych decyzji. Aby złagodzić te zagrożenia, powinniśmy uzupełnić PKB innymi wskaźnikami, które lepiej oddają dobrostan ludzi i przyrody. Dzisiejsi przywódcy muszą odważnie służyć ostatecznemu wyrazowi sprawiedliwości: prawu przyszłych pokoleń do życia w biosferze.
Długoterminowe przetrwanie ludzkości zależy od decyzji, które podejmujemy w tej chwili. Światowi przywódcy zgromadzeni na tegorocznych szczytach G7, G20 oraz na szczytach bioróżnorodności i klimatu muszą myśleć w kategoriach wieków i pokoleń, a nie lat czy miesięcy. Podobnie jak w przypadku Nagrody Nobla, powinniśmy kierować się jednym pytaniem: Co jest największą korzyścią dla ludzkości?
Carl Folke, dyrektor naukowy StockholmResilienceCenter i dyrektor Beijer Institute of Ecological Economics KrólewskiejSzwedzkiejAkademiiNauk, oraz Richard J. Roberts, laureat Nagrody Nobla i dyrektor naukowy New England Biolabs, również przyczynili się do powstania tego komentarza.
Z angielskiego przetłumaczyła Marz McNamer