Správný způsob boje proti globálnímu hladu
BERLÍN – Globální potravinový systém je nefunkční. Ačkoliv produkuje víc než dost kalorií na to, aby uživil každého, až 811 milionů lidí – více než 10% světové populace – chodí každý večer do postele hladových. Efektivní řízení, které by zajistilo přístup k potravinám pro všechny, bohužel stále schází. Globálně koordinované úsilí o vyřešení krátkodobých i dlouhodobých aspektů potravinové krize proto musí být prvořadou prioritou.
Všechny čtyři rozměry potravinové bezpečnosti – dostupnost, přístup, stabilita a využití – jsou dnes v ohrožení kvůli kombinovaným negativním vlivům klimatických změn, konfliktů, nemoci covid-19 a nákladů. Tyto čtyři aspekty narušují globální obchod a šroubují ceny potravin vzhůru, čímž vytvářejí krátkodobý problém stále rozšířenějšího hladu. Klimatická krize vyvolaná člověkem zároveň představuje střednědobou až dlouhodobou hrozbu.
Klimatické změny už začaly ovlivňovat prostředí, v němž lze produkovat potraviny. Mimořádná sucha, vlny veder a záplavy podkopávají zemědělskou činnost v tak odlišných regionech, jako jsou Africký roh a Středozápad Spojených států. Nedávná šestá hodnotící zpráva Mezivládního panelu pro změnu klimatu nenechává nikoho na pochybách: klimatická krize bude mít stále ničivější důsledky pro potravinové systémy po celém světě.
Ruská válka proti Ukrajině tuto strašlivou situaci dále zhoršuje. Ozbrojené konflikty jsou už dlouho hlavními příčinami hladu, obvykle na regionální úrovni. Na Ukrajině však spolu válčí dva z největších producentů zemědělských komodit, což pokřivuje globální obchod. V důsledku toho dosáhl Index cen potravin, který sestavuje Organizace OSN pro výživu a zemědělství, v březnu absolutního maxima.
Ceny základních komodit, jako jsou mouka nebo rostlinný olej, se v některých regionech od začátku války ztrojnásobily. Producenti potravin zároveň čelí prudce rostoucím cenám hnojiv na bázi fosilních paliv, mezi jejich největší exportéry patří právě Rusko. V silně dotčených zemích mohou rostoucí ceny potravin ohrozit sociální stabilitu. Když ceny potravin raketově vzrostly v roce 2008, více než 20 zemí hlásilo sociální nepokoje a nestabilitu.
A pak je zde covid-19. Podle OSN způsobila pandemie hladovění desítek milionů lidí. A uzávěry zavedené v rámci boje proti viru narušily nabídkové řetězce, což dále přispělo k tlaku na ceny potravin.
Subscribe to PS Digital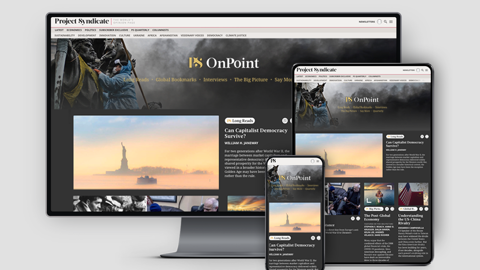 Subscribe to PS Digital
Access every new PS commentary, our entire On Point suite of subscriber-exclusive content – including Longer Reads, Insider Interviews, Big Picture/Big Question, and Say More – and the full PS archive.
Naše potravinové systémy čelí i dalším problémům. Nadměrná spotřeba levných kalorií, kterou umožnil globální obchod s komoditami a se vstupy založenými na fosilních palivech, vede k rozšířené obezitě a způsobuje vážné ekologické problémy. Negativní dopady výrobních systémů na životní prostředí jsou však často považovány za ekonomické externality, a proto se ignorují.
Obecněji platí, že nehledě na summit OSN o potravinových systémech loni v září existuje velmi málo celostních přístupů k transformaci potravinového systému. Všemu dál vládne průmyslové zemědělství.
To znamená, že je třeba učinit řadu věcí. Ohrožení globální potravinové bezpečnosti se však jen prohloubí, pokud budou politici snažící se zažehnat bezprostřední potravinovou krizi dál ignorovat krize klimatu a biodiverzity a odkládat kroky, které jsou nezbytné ke zvýšení trvalé udržitelnosti potravinových systémů. Například odklad zavádění unijní strategie "od zemědělce ke spotřebiteli", který někteří lidé navrhují, neposkytne v nadcházejících měsících potřebné množství potravin a dál podkopá odolnost evropského zemědělství.
V době, kdy rizik pro potravinovou bezpečnost stále přibývá, nemůžeme vyloučit možnost, že zemědělská produkce, od potravin a krmiv až po dřevo a paliva, nebude stačit k uspokojení poptávky. Nedostatek dodávek a narušení globálního obchodu nás přinutí dělat nepříjemná rozhodnutí.
Překonání dopadů války na Ukrajině i čtyř výše zmíněných aspektů si vyžádá globálně koordinovanou reakci. Klíčová otázka zní, zda multilaterální systém dokáže poskytnout aktivní platformu, na níž budou státy i všichni protagonisté schopni tyto výzvy efektivně řídit. Nebudou-li stávající multilaterální mechanismy pro tento úkol dostatečné, pak globální solidarita vyžaduje rychlou reakci ze strany G7.
Skupina G7 už skutečně začala situaci řešit a uzavírají se nové závazky, které zavedou multilaterální finanční mechanismy na podporu potřebných zemí. Státy G7 by navíc měly učinit pevný závazek, že se s chudšími ekonomikami rozdělí o obilí, které se v současné době používá jako krmivo a biopalivo.
Takový krok by demonstroval, že bohatý svět si vzal ponaučení z pandemie covid-19, kdy s chudšími zeměmi sdílel příliš málo testů, vakcín i dalších dodávek. Dohoda na úrovni G7 by poskytla rychlé řešení a vybudovala důvěru, díky čemuž by mohla podnítit multilaterální systém k aktivním krokům, a to jak nyní, tak i na odvrácení budoucích potravinových krizí.
I zde je nesmírně důležité, aby bezprostřední reakce na současnou potravinovou krizi zároveň podporovaly dlouhodobou transformaci našich potravinových systémů. Albert Einstein údajně definoval šílenství jako opakování stejné věci v očekávání odlišného výsledku. Proč se tedy v čase krize snažit oživit nefunkční systém? Iniciativa G7 by vytvořila výchozí bod pro tolik potřebnou proměnu potravinových systémů všude na světě. Alternativou je rostoucí hlad a další nestabilita.
Z angličtiny přeložil Jiří Kobělka