Właściwy Sposób Walki z Głodem na Świecie
BERLIN - Światowy system żywnościowy jest uszkodzony. Mimo, że produkuje on więcej niż wystarczającą ilość kalorii, aby wyżywić wszystkich, aż 811 milionów ludzi - ponad 10% światowej populacji - kładzie się spać głodnych co noc. Niestety, nadal brakuje skutecznego zarządzania, które zapewniłoby wszystkim dostęp do żywności. Dlatego priorytetem muszą być skoordynowane na poziomie światowym wysiłki mające na celu rozwiązanie zarówno krótkoterminowych jak i długoterminowych aspektów kryzysu głodowego.
Obecnie wszystkie cztery wymiary bezpieczeństwa żywnościowego - dostępność, dostęp, stabilność i wykorzystanie - są zagrożone z powodu połączonych negatywnych skutków zmian klimatycznych, konfliktów, pandemii COVID-19 oraz kosztów. Zakłócając światowy handel i podnosząc ceny żywności, te cztery "C" (po angielsku: climate change, conflict, COVID-19, and cost) tworzą krótkoterminowe wyzwanie, jakim jest rosnący głód. Jednocześnie kryzys klimatyczny spowodowany działalnością człowieka stanowi zagrożenie średnio i długoterminowe.
Zmiany klimatyczne już zaczęły wpływać na środowisko, w którym produkowana jest żywność. Wyjątkowe susze, fale upałów i powodzie zagrażają rolnictwu w regionach tak różnych jak Róg Afryki czy środkowy zachód Stanów Zjednoczonych. Szósty raport Międzyrządowego Zespołu do spraw Zmian Klimatu nie pozostawia wątpliwości: Kryzys klimatyczny będzie miał coraz bardziej niszczące konsekwencje dla systemów żywnościowych na całym świecie.
Najazd Rosji na Ukrainą pogarsza tę i tak już tragiczną sytuację. Konflikty zbrojne od dawna są główną przyczyną głodu, zazwyczaj na poziomie regionalnym. Jednak wojna na Ukrainie - w którą zaangażowane są dwaj najwięksi producenci surowców rolnych na świecie - zakłóca światowy handel. W rezultacie indeks cen żywności opracowany przez Organizację Narodów Zjednoczonych do Spraw Wyżywienia i Rolnictwa osiągnął w marcu rekordowo wysoki poziom.
Od początku wojny ceny podstawowych towarów (jak mąka czy olej roślinny) wzrosły w niektórych regionach trzykrotnie. Producenci żywności borykają się również z rosnącymi cenami nawozów sztucznych opartych na paliwach kopalnych, których Rosja jest jednym z największych eksporterów. W krajach poważnie dotkniętych kryzysem rosnące ceny żywności mogą zagrozić stabilności społecznej. Kiedy w 2008 roku ceny żywności gwałtownie wzrosły, w ponad 20 krajach odnotowano niepokoje społeczne i niestabilność.
I jest jeszcze COVID-19. Według ONZ pandemia spowodowała, że dziesiątki milionów ludzi cierpi z powodu głodu. Blokady mające na celu zwalczanie wirusa zakłóciły łańcuchy dostaw, zwiększając presję na wzrost cen żywności.
Subscribe to PS Digital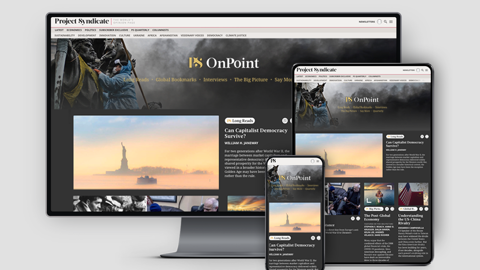 Subscribe to PS Digital
Access every new PS commentary, our entire On Point suite of subscriber-exclusive content – including Longer Reads, Insider Interviews, Big Picture/Big Question, and Say More – and the full PS archive.
Nasze systemy żywnościowe stoją przed kolejnymi wyzwaniami. Nadmierna konsumpcja tanich kalorii - możliwa dzięki globalnemu handlowi towarami i surowcami pochodzącymi z paliw kopalnych - doprowadziła do powszechnej otyłości i spowodowała poważne problemy środowiskowe. Negatywny wpływ systemów produkcji na środowisko był jednak często traktowany jako ekonomiczny efekt zewnętrzny i przez to ignorowany.
Ogólnie rzecz biorąc, pomimo wrześniowego Szczytu Narodów Zjednoczonych poświęconego systemom żywnościowym, istnieje bardzo niewiele holistycznych podejść do transformacji systemu żywnościowego. Rolnictwo uprzemysłowione nadal króluje.
Oznacza to, że jest jeszcze wiele do zrobienia. Jednak zagrożenia dla światowego bezpieczeństwa żywnościowego wzrosną, jeśli decydenci próbujący powstrzymać kryzys związany z bezpośrednim głodem będą ignorować kryzys klimatyczny i kryzys bioróżnorodności oraz opóźniać podjęcie niezbędnych kroków w celu uczynienia systemów żywnościowych bardziej zrównoważonymi. Na przykład odłożenie w czasie wdrożenia unijnej strategii "od pola do stołu," co proponują niektórzy, nie zapewni takiej ilości żywności, jaka będzie potrzebna w najbliższych miesiącach, i jeszcze bardziej osłabi odporność europejskiego rolnictwa.
W miarę narastania zagrożeń dla bezpieczeństwa żywnościowego nie możemy wykluczyć, że produkcja rolna w sektorach żywności, pasz, włókien i paliw będzie niewystarczająca, aby zaspokoić popyt. Niedostateczne dostawy i zakłócenia w handlu światowym zmuszą nas do dokonywania wyborów.
Przeciwdziałanie skutkom wojny na Ukrainie oraz wspomnianych "czterech C" będzie wymagało skoordynowanej reakcji na poziomie globalnym. Kluczowym pytaniem jest, czy system wielostronny będzie w stanie zapewnić aktywną platformę, dzięki której państwa i wszystkie zainteresowane strony będą mogły skutecznie radzić sobie z tymi wyzwaniami. Jeśli istniejące mechanizmy wielostronne nie sprostają temu zadaniu, światowa solidarność wymaga szybkiej reakcji grupy G7.
W rzeczywistości grupa G7 zaczęła zajmować się tą sytuacją i podjęto nowe zobowiązania w celu wyposażenia wielostronnych mechanizmów finansowych we wsparcie dla krajów będących w potrzebie. Ponadto kraje G7 powinny zdecydowanie zobowiązać się do dzielenia się z biedniejszymi gospodarkami ziarnami wykorzystywanymi obecnie na paszę dla zwierząt i biopaliwa.
Taki krok pokazałby, że bogaty świat wyciągnął wnioski z pandemii COVID-19, kiedy to podzielił się z biedniejszymi krajami zbyt małą ilością testów, szczepionek i innych materiałów. Porozumienie G7 zapewniłoby szybkie rozwiązanie, wzbudziłoby zaufanie, a tym samym mogłoby pobudzić system wielostronny do działania, zarówno teraz, jak i w celu zapobieżenia przyszłym kryzysom żywnościowym.
Jest niezwykle ważne, aby natychmiastowe reakcje na obecny kryzys głodu wspierały także długoterminową transformację naszych systemów żywnościowych. Albert Einstein podobno zdefiniował szaleństwo jako wielokrotne robienie tej samej rzeczy i oczekiwanie innych rezultatów. Po co więc w czasach kryzysu próbować ożywiać zepsuty system? Inicjatywa G7 stworzyłaby punkt wyjścia dla potrzebnej transformacji systemów żywnościowych na całym świecie. Alternatywą jest rosnący głód i dalsza niestabilność.
Z angielskiego przetłumaczyła Marz McNamer