Jak fungovat ve světě stiženém šokem
PAŘÍŽ – Nenechte se mýlit: už nežijeme ve stabilním řádu založeném na mezinárodních pravidlech. Dny unipolarity a globálního liberalismu jsou tytam a my dnes čelíme souběhu šoků, které se nedají srovnat s ničím, co většina z nás v životě zažila. Letadlo letí bez pilota a to, co se nejvíce blíží kokpitu, tedy skupina G20, vězí rozdrobené na mrtvém bodě, přestože se Indonésie v roli letošní předsedající země hrdinně snaží.
Mezinárodní instituce, normy a postupy, na které se dál spoléháme, se stále více ocitají ve stínu geopolitiky. Ať už je jejich rétorika jakákoliv, Čína, Rusko i Spojené státy ztratily víru v globální instituce, a kdykoliv to vyhovuje jejich zájmům, bez váhání stahují svou podporu. A přestože Evropská unie, Japonsko, Velká Británie, Kanada i velcí hráči z globálního Jihu dál podporují multilateralismus, globální řízení jednoduše nelze udržet bez účasti největších ekonomik a globálních mocností světa.
A aby toho nebylo málo, svět dnes čelí nejméně osmi systémovým problémům současně. Jak ve své knize The Next Age of Uncertainty (Další éra nejistoty) vysvětluje bývalý guvernér kanadské centrální banky Stephen Poloz, "když na ekonomiku současně působí vícečetné dlouhodobé síly, mezi nimiž existuje vzájemná interakce, může se ekonomika samotná začít chovat nevyzpytatelně a jevit nestabilitu". Za takových podmínek predikce a konvenční politické nástroje přestávají fungovat.
Prvním velkým problémem je ruská válka na Ukrajině, jejíž konec stále není na dohled (nehledě na nedávné zisky ukrajinských ozbrojených sil). Zlomyslné používání ekonomických vazeb jako zbraně vyvolalo obrovský hospodářský šok, který letos na podzim ještě prohloubí sociální a politické krize v Evropě i ve světě. Ačkoliv skupina G7, Austrálie a Jižní Korea podnikly kroky k vytěsnění Ruska z globálního dolarového systému a mezibankovní sítě SWIFT, mocnosti globálního Jihu se k sankčnímu režimu nepřipojily, takže skupina G20 zůstává v této otázce rozpolcená.
Za druhé je americká demokracie navzdory nedávným legislativním průlomům Bidenovy administrativy v hluboké krizi. Většinu rozhodovacího procesu ochromují legislativní pat a aktivistický Nejvyšší soud, přičemž extremismus je na vzestupu. Expertka na mezinárodní vztahy Barbara F. Walterová ve své nedávné knize varuje, že v USA bliká řada dobře známých indikátorů blížící se občanské války. Velký průzkum zveřejněný v listopadu 2021 zjistil, že 30% republikánů a 18% Američanů celkově souhlasí s tímto konstatováním: "Protože už věci sešly příliš na scestí, budou se skuteční američtí vlastenci možná muset uchýlit k násilí, aby zachránili naši zemi."
Za třetí stojí Čína na křižovatce. Dvacátý sjezd strany letos v říjnu téměř jistě upevní vládu prezidenta Si Ťin-pchinga a na dalších pět nebo i více let obsadí klíčové funkce. Pak uvidíme, zda režim zamýšlí zvýšit své úsilí v otázce nacionalistické mobilizace a zintenzivnit sociální kontrolu nad občany – včetně ekonomicky katastrofální politiky "nulového covidu", uzavřených hranic a dalších omezení.
Introductory Offer: Save 30% on PS Digital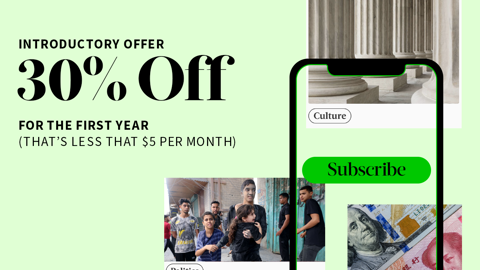 Introductory Offer: Save 30% on PS Digital
Subscribe now to gain greater access to Project Syndicate – including every commentary and our entire On Point suite of subscriber-exclusive content – starting at less than $5 per month.
Prohloubí Čína svou novou izolaci, anebo podnikne kroky zpět k mezinárodní provázanosti a hospodářské liberalizaci? Odpověď na tuto otázku předurčí řadu dalších odpovědí. V současnosti americká i čínská politická trajektorie přiživují konfrontační přístup, který pro žádnou ze stran nemůže skončit dobře.
Za čtvrté EU po určité době pozoruhodně jednotné reakce na ruskou invazi na Ukrajinu vstupuje do mimořádně riskantního období spojených energetických, ekonomických a sociálních šoků. Italové mají zřejmě nakročeno k tomu, že na konci září zvolí pravicovou nacionalistickou vládu; francouzská vládní moc je rozpolcená a členské státy na východě zůstávají zranitelné vůči ruským hrozbám.
Za páté se celosvětově zintenzivňují katastrofy související s klimatem – daleko dříve, než se čekalo. V celé jižní Asii, Pacifiku, Číně, Evropě, Africe i obou částech Ameriky narušují vlny veder, sucha, lesní požáry a obrovské záplavy životy lidí, omezují nabídku potravin (která už byla ohrožená ruskou válkou) a štěpí společnost.
Za šesté zde stále přetrvává hluboká postpandemická nejistota ve vztahu k nabídkovým řetězcům, energetickým i potravinovým trhům a inflaci. Můžeme jen hádat, co globální finanční trhy letos na podzim udělají, ale už dnes se hovoří o nepříznivějších finančních podmínkách a recesi.
Za sedmé tyto potravinové, energetické, klimatické a ekonomické šoky pravděpodobně vyvolají v mnoha částech světa sociální a demokratický kolaps, zvláště pokud se skupina G20 nedokáže dohodnout na záchranných opatřeních, jako je odpuštění dluhu. Libanon, Srí Lanka, Pákistán a Etiopie se už dnes zmítají v politickém a společensko-ekonomickém chaosu.
A konečně se nadcházející měsíce stanou dosud nevídanou zatěžkávací zkouškou mechanismů globálního řízení. Všechny zraky se budou upírat na summit G20 na Bali ve dnech 15.-16. listopadu, na summit Asijsko-pacifického hospodářského společenství v Thajsku ve dnech 18.-19. listopadu a na klimatickou konferenci COP27, která proběhne 6.-18. listopadu v egyptském Šarm aš-Šajchu. Bohužel od těchto setkání lze mít jen těžko velká očekávání.
Co by se tedy mělo dělat?
Za prvé musíme k těmto vzájemně na sebe působícím šokům přistupovat nikoliv ideologicky, nýbrž s pragmatismem a uvědomit si, že neschopnost společného postupu ohrozí samotnou budoucnost lidské civilizace. Protože jsme stále úzce propojení prostřednictvím technologií, klimatu, cestování a širší světové ekonomiky, globální řízení formou zakládání exkluzivních regionálních či ideologických klubů jednoduše nebude stačit.
Za druhé musí političtí lídři projevit stejnou představivost, jakou v posledních desetiletích projevují lídři v oblasti podnikání a technologií. Existují obrovské nevyužité možnosti, které lze zkoumat prostřednictvím alternativních přístupů ke globálnímu a společnému řízení. Patří mezi ně nové platformy typu Pařížského mírového fóra, iniciativy Global Solutions nebo Čedžuského fóra za mír a prosperitu, které sdružují řadu různých aktérů s cílem koncipovat nové modely, případně meziregionální uskupení, jako je Aliance za multilateralismus. Skupina G20 by pak měla iniciovat založení pracovního týmu řešícího společné dlouhodobé existenční otázky a vzájemná nepochopení. Naléhavě potřebujeme soutěž v hledání nových myšlenek směrem zdola nahoru.
Za třetí mají velcí a systémově důležití hráči historickou zodpovědnost udržet na uzdě vlastní vojenskou a bezpečnostní rivalitu a podpořit země, které kvůli chování velkých mocností čelí těžké situaci. V minulosti jsme nacházeli cesty, jak rozptýlit hrozbu vzájemného ohrožení pravidelnými globálními setkáváními a platformami typu stockholmské Konference o opatřeních k posílení důvěry a bezpečnosti a o odzbrojení v Evropě; dnes to musíme dělat znovu.
A pokud jde o všechny ostatní země, společnosti, nadace, skupiny občanské společnosti a nevládní organizace, úkolem dneška je generovat myšlenky a vytvářet sítě a koalice se zaměřením na budování odolnosti a vývoj posilujících systémů. Nedokážou-li velcí hráči sehrát svou roli, mohou být tito "střední" protagonisté naší poslední nadějí.
Z angličtiny přeložil Jiří Kobělka