Poruszanie się po Świecie w Szoku
PARYŻ - Nie popełnijcie błędu: Nie żyjemy już w stabilnym międzynarodowym porządku opartym na zasadach. Dni jednobiegunowości i globalnego liberalizmu minęły, a teraz stoimy w obliczu splotu wstrząsów niepodobnych do niczego, co większość z nas widziała w swoim życiu. Samolotem nie kieruje żaden pilot: najbliższe stanowisko do pilota - G20 - jest podzielone i pogrążone w martwym punkcie, pomimo dzielnych wysiłków Indonezji jako tegorocznego przewodniczącego.
Instytucje międzynarodowe, normy i praktyki, na których wciąż polegamy, są coraz bardziej odsuwane na bok przez geopolitykę. Niezależnie od retoryki, Chiny, Rosja i Stany Zjednoczone straciły wiarę w globalne instytucje, wycofując swoje wsparcie, gdy tylko odpowiada to ich interesom. Podczas gdy Unia Europejska, Japonia, Wielka Brytania, Kanada i główni gracze z globalnego Południa nadal wspierają multilateralizm, globalne zarządzanie nie może być naprawdę utrzymane bez udziału największych gospodarek świata i potęg militarnych.
Co gorsza, świat stoi przed co najmniej ośmioma wyzwaniami systemowymi jednocześnie. Jak wyjaśnia były prezes kanadyjskiego banku centralnego Stephen Poloz w swojej książce "The Next Age of Uncertainty": "kiedy wiele długoterminowych sił oddziałuje na gospodarkę w czasie, a także oddziałuje na siebie nawzajem, sama gospodarka może zachowywać się nieregularnie i sprawiać wrażenie niestabilnej." W takich warunkach prognozy i konwencjonalne narzędzia polityczne przestają działać.
Pierwszym poważnym wyzwaniem jest wojna Rosji na Ukrainie, której końca nie widać (niezależnie od ostatnich zdobyczy ukraińskich sił zbrojnych). Uzbrojenie w broń powiązań gospodarczych wygenerowało ogromny globalny szok energetyczny, który tej jesieni pogłębi kryzysy społeczne i polityczne w Europie i na całym świecie. Podczas gdy G7, Australia i Korea Południowa podjęły kroki w celu wykluczenia Rosji z globalnego systemu dolarowego i sieci komunikatów międzybankowych (SWIFT), potęgi Globalnego Południa nie przyłączyły się do reżimu sankcji, powodując podział w G20 w tej kwestii.
Po drugie, pomimo ostatnich przełomów legislacyjnych administracji Bidena, demokracja amerykańska znajduje się w głębokim kryzysie. Większość procesów decyzyjnych jest sparaliżowana przez impas legislacyjny i aktywistyczny Sąd Najwyższy, podczas gdy ekstremizm przybiera na sile. W swojej ostatniej książce, badaczka stosunków międzynarodowych Barbara F. Walter ostrzega, że wiele znanych wskaźników zbliżającej się wojny domowej miga w USA na czerwono. Duży sondaż opublikowany w listopadzie 2021 roku wykazał, że 30% Republikanów, a 18% Amerykanów ogółem, zgadza się ze stwierdzeniem: "Ponieważ sprawy zaszły tak daleko, prawdziwi amerykańscy patrioci mogą być zmuszeni do uciekania się do przemocy, aby uratować nasz kraj."
Po trzecie, Chiny znajdują się na rozdrożu. XX Zjazd Partii w październiku tego roku niemal na pewno ugruntuje rządy prezydenta Xi Jinpinga i zainstaluje kluczowe osoby odpowiedzialne za władzę na następne pięć lat lub dłużej. Zobaczymy wtedy, czy reżim zamierza podwoić swoją nacjonalistyczną mobilizację i nasilić kontrolę społeczną - w tym katastrofalną ekonomicznie politykę "zero-COVID," zamknięte granice i inne ograniczenia.
Introductory Offer: Save 30% on PS Digital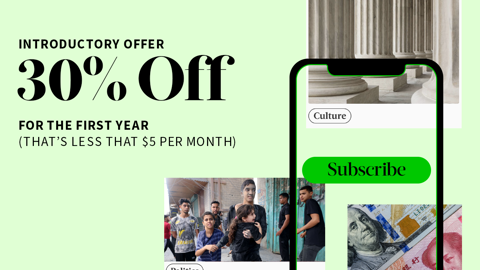 Introductory Offer: Save 30% on PS Digital
Subscribe now to gain greater access to Project Syndicate – including every commentary and our entire On Point suite of subscriber-exclusive content – starting at less than $5 per month.
Czy Chiny zapieczętuje swoją nową izolację, czy też zrobią kilka kroków wstecz w kierunku międzynarodowej łączności i liberalizacji gospodarczej? Odpowiedź na to pytanie zdeterminuje odpowiedzi na wiele innych pytań. W obecnej sytuacji trajektorie polityczne USA i Chin napędzają spiralę konfrontacji, która nie może zakończyć się dobrze dla żadnej ze stron.
Po czwarte, po okresie niezwykłej jedności w odpowiedzi na inwazję Rosji na Ukrainę, UE wchodzi w niezwykle ryzykowny okres przeplatających się wstrząsów energetycznych, gospodarczych i społecznych. Włosi są gotowi wybrać w tym miesiącu prawicowo-nacjonalistyczny rząd, francuskie rządy są podzielone, a wschodnie państwa członkowskie pozostają wrażliwe na rosyjskie zagrożenie.
Po piąte, klęski związane z klimatem nasilają się na całym świecie - i to znacznie wcześniej niż oczekiwano. W Azji Południowej, na Pacyfiku, w Chinach, Europie, Afryce i obu Amerykach fale upałów, susze, dzikie pożary i wielkie powodzie przerywają życie, zmniejszają dostawy żywności (które już wcześniej były zagrożone przez wojnę w Rosji) i rozbijają społeczeństwa.
Po szóste, nadal istnieje głęboka niepewność po pandemii w odniesieniu do łańcuchów dostaw, rynków energii i żywności oraz inflacji. Nikt nie wie, jak zachowają się tej jesieni globalne rynki finansowe, ale mówi się o zaostrzeniu warunków finansowych i recesji.
Po siódme, te wstrząsy żywnościowe, energetyczne, klimatyczne i gospodarcze prawdopodobnie spowodują załamanie społeczne i demokratyczne w wielu częściach świata, zwłaszcza jeśli G20 nie będzie w stanie uzgodnić środków bezpieczeństwa, takich jak redukcja zadłużenia. Liban, Sri Lanka, Pakistan i Etiopia już teraz pogrążone są w politycznym i społeczno-gospodarczym chaosie.
Wreszcie, w nadchodzących miesiącach mechanizmy globalnego zarządzania zostaną poddane próbie jak nigdy dotąd. Wszystkie oczy będą zwrócone na szczyt G20 w dniach 15-16 listopada na Bali, szczyt Współpracy Gospodarczej Azji i Pacyfiku w Tajlandii w dniach 18-19 listopada oraz konferencję klimatyczną COP27 w Sharm El-Sheikh w Egipcie w dniach 6-18 listopada. Niestety, po żadnym z tych spotkań trudno się wiele spodziewać.
Co należy zrobić?
Po pierwsze, z tymi wzajemnie oddziałującymi na siebie wstrząsami należy zmierzyć się raczej z pragmatyzmem niż ideologią, uznając, że brak wspólnego działania grozi przyszłości ludzkiej cywilizacji. Ponieważ pozostajemy ściśle połączeni poprzez technologię, klimat, podróże i szerszą gospodarkę światową, globalne zarządzanie poprzez ekskluzywne kluby regionalne lub ideologiczne po prostu nie wystarczy.
Po drugie, przywódcy polityczni i decydenci muszą wymyślić, jak dorównać wyobraźni, jaką w ostatnich dekadach wykazali się liderzy biznesu i technologii. Istnieją ogromne niewykorzystane możliwości, które można zbadać poprzez alternatywne podejścia do globalnego i zbiorowego zarządzania. Należą do nich nowe platformy, takie jak Paryskie Forum Pokoju, Inicjatywa Rozwiązań Globalnych oraz Jeju Forum for Peace and Prosperity, które skupiają wiele podmiotów w celu inkubacji nowych modeli, lub grupy międzyregionalne, takie jak Sojusz na rzecz Wielostronności. G20 powinna zainicjować grupę zadaniową zajmującą się wspólnymi długoterminowymi pytaniami egzystencjalnymi i wzajemnymi błędnymi wyobrażeniami. Pilnie potrzebujemy konkurencyjnego, oddolnego poszukiwania nowych pomysłów.
Po trzecie, duże, systemowo ważne podmioty ponoszą historyczną odpowiedzialność za opanowanie własnej rywalizacji militarnej i bezpieczeństwa oraz wspieranie krajów, które borykają się z trudnościami wynikającymi z działań dużych mocarstw. W przeszłości znaleźliśmy sposoby na rozładowanie zagrożenia wzajemnym brakiem bezpieczeństwa poprzez regularne spotkania globalne i platformy takie jak konferencja sztokholmska w sprawie środków budowy zaufania i bezpieczeństwa oraz rozbrojenia w Europie; dziś musimy to zrobić ponownie.
​​Jeśli chodzi o wszystkie pozostałe kraje, firmy, fundacje, grupy społeczeństwa obywatelskiego i organizacje pozarządowe, zadaniem jest teraz generowanie pomysłów oraz tworzenie sieci i koalicji, z naciskiem na budowanie odporności i rozwijanie twardych systemów. Jeśli wielcy gracze nie zrobią tego, co do nich należy, nasza ostatnia szansa może spoczywać na tych interesariuszach pośrodku.
Z angielskiego przetłumaczyła Marz McNamer