Bahan Bakar Masa Depan
BERLIN – Hidrogen hijau (green hydrogen) sangat populer akhir-akhir ini. Pada Konferensi Perubahan Iklim PBB (COP27) pada bulan November di Mesir, Kanselir Jerman Olaf Scholz mengumumkan bahwa Jerman akan menginvestasikan lebih dari €4 miliar ($4,3 miliar) untuk mengembangkan pasar produk tersebut. Di Amerika Serikat (AS), pemerintahan Presiden Joe Biden menjadikan hidrogen "ramah lingkungan" sebagai inti dari UU Pengurangan Inflasi AS, yang memberikan subsidi bagi energi terbarukan. Tiongkok juga banyak berinvestasi pada elektrolisis dan beberapa pengamat sudah mengkhawatirkan bahwa hal ini akan mengambil alih pasar, sama seperti panel fotovoltaik. Dan bahkan perusahaan seperti raksasa pertambangan Australia Fortescue juga bertaruh bahwa hidrogen hijau akan menjadi industri bernilai multi-miliar dolar.                         
Ketika sebuah teknologi digembar-gemborkan seperti itu, banyak aktivis lingkungan yang cenderung jadi gelisah. Apakah "hidrogen ramah lingkungan" hanya sebuah cara untuk melakukan greenwash hidrogen "biru" dan "pink", yang masing-masing dihasilkan dari gas alam atau energi nuklir? Apakah ini sebuah upaya untuk memproduksi solusi tekno ajaib yang membenarkan ekses seperti wisata luar angkasa dan penerbangan hipersonik, di saat kelas menengah dan atas harus mengurangi konsumsi energi dan sumber daya mereka? Atau apakah ini merupakah tahap selanjutnya dari ekstraktivisme, mengambil lahan dan air masyarakat berpenghasilan rendah dengan kedok melawan perubahan iklim?
Jawaban singkat dari pertanyaan-pertanyaan tersebut adalah ya. Tapi bukan berarti hal-hal tersebut tidak bisa dihindari atau merupakan keseluruhan cerita yang ada. Memang benar kalau mimpi hidrogen hijau bisa berubah menjadi mimpi buruk jika kita tidak melakukannya dengan benar. Tapi, hal tersebut merupakan dasar penting transisi ekonomi global dari bahan bakar fosil yang menghancurkan iklim ke model yang berkelanjutan yang berdasarkan 100% energi terbarukan. Mungkin sulit untuk menerima ambiguitas ini, tapi ini diperlukan untuk menjawab kebutuhan mendesak untuk mencegah bencana iklim.         
Mengingat banyak potensi aplikasi hidrogen, beberapa pakar ternama memperkirakan bahwa hal tersebut bisa berkontribusi sebesar 20-30 persen terhadap konsumsi energi global pada pertengahan abad ini. Tapi hal ini tidak menjadikannya pilihan yang paling efisien. Baterai listrik, misalnya, memerlukan lebih sedikit kilowatt per jam per kilometer yang ditempuh untuk menjalankan mobil dan truk dibandingkan sel bahan bakar hidrogen e-Fuel. Sama juga dengan pompa kalor yang lebih efisien dibandingkan mengubah boiler gas menjadi hidrogen. Alternatif organik untuk pupuk nitrogen juga harus lebih banyak dipertimbangkan.            
Tapi ada beberapa sektor penting yang punya sedikit alternatif nol karbon yang layak secara ekonomi dibandingkan hidrogen hijau dan produk-produk turunannya, termasuk perkapalan jarak jauh dan penerbangan, kimia, dan pembuatan baja. Terlepas dari gembar-gembor yang ada, banyak industri yang jelas akan memerlukan hidrogen hijau dalam jumlah besar untuk mencapai emisi net-zero pada tahun 2050. Untuk menggambarkan skala dari tantangan yang ada, pendiri Bloomberg New Energy Finance Michael Liebreich baru-baru ini memperkirakan bahwa hanya menggantikan hidrogen "tidak ramah lingkungan" – yang diproduksi dari bahan bakar fosil – akan memerlukan 143% dari energi angin dan surya yang saat ini ada. 
Beberapa negara Selatan diberkati dengan potensi energi surya dan angin kelas dunia, sehingga memungkinkan mereka untuk memproduksi energi hijau dengan harga yang sangat rendah. Beberapa negara, seperti Namibia, sudah mengembangkan strategi pengembangan industri mereka berdasarkan keunggulan kompetitif ini. Tapi bagaimana perdagangan internasional dari hidrogen hijau dan produk-produk turunannya bisa menjadi jalur menuju kemakmuran? Dan bagaimana negara-negara berkembang bisa menghindari perangkap ekstraktivisme dan memastikan bahwa perdagangan adil dan berkelanjutan?
Subscribe to PS Digital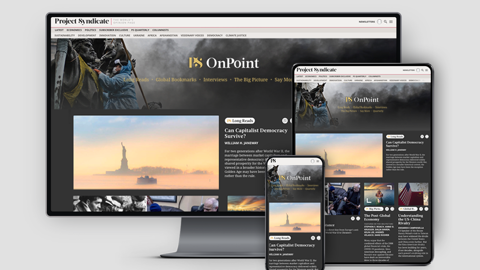 Subscribe to PS Digital
Access every new PS commentary, our entire On Point suite of subscriber-exclusive content – including Longer Reads, Insider Interviews, Big Picture/Big Question, and Say More – and the full PS archive.
Serangkaian konsultasi dan penelitian di Chile, Argentina, Brasil, Kolombia, Afrika Selatan, Maroko, dan Tunisia sudah mempelajari pertanyaan-pertanyaan tersebut secara lebih lanjut. Sebuah laporan baru oleh Heinrich Böll Foundation dan Bread for the World menyatukan hasil temuan mereka dan menyoroti pentingnya prinsip tidak merugikan. Untuk mencegah mimpi hidrogen hijau berubah menjadi mimpi buruk, kita harus mengembangkan sektor dengan perencanaan teritorial, dan standar serta kebijakan yang jelas, serta menjunjung hak masyarakat lokal untuk memberikan persetujuan berdasarkan informasi awal. Untuk mencapai janji pembangunan pasca bahan bakar fosil dan mendorong ekonomi berkelanjutan, pemerintah harus merancang strategi industri yang ambisius dan realistis. Dan strategi tersebut harus menggunakan pendekatan sistemis untuk pembangunan berkelanjutan dan transisi energi. Selain itu, kita harus mempertimbangkan cara hidrogen digunakan – tidak hanya siapa yang mampu membelinya.    
Semua ini tidak akan tercapai dengan sendirinya. Mencapai masa depan yang berkelanjutan adalah sebuah pilihan politik yang memerlukan kepemimpinan dan kerja sama. Beberapa negara harus membantu menjadikan perdagangan hidrogen hijau yang adil dan berkelanjutan sebuah kenyataan. Namibia, Chile, Kolombia, dan sekarang (di bawah kepemimpinan Presiden Luiz Inácio Lula da Silva) Brasil, misalnya, mempunyai kondisi politik yang tepat untuk menyeimbangkan produksi hidrogen dengan standar lingkungan dan sosial yang kuat. Seiring waktu, Argentina dan Afrika Selatan juga bisa masuk ke daftar negara-negara tersebut dan menjadi negara produsen.
Sebagai calon importir dan konsumen yang besar dari hidrogen hijau, Jerman harus membentuk kemitraan dengan negara-negara produsen, berdasarkan standar lingkungan dan sosial yang kuat. Dan mengingat pemerintahan Jerman yang progresif, kemitraan tersebut bisa menjadi cara untuk bekerja sama dengan mitra jangka panjang tidak hanya sebagai penyedia sumber daya, tapi juga sebagai sesama negara yang berusaha mencapai keberlanjutan dan kemakmuran yang inklusif.      
Oleh karena itu, Jerman dan negara-negara importir energi lain juga harus mendukung negara-negara eksportir dalam upaya mereka untuk melokalisasi penciptaan nilai. Dengan cara ini, perdagangan internasional hidrogen hijau yang baru berkembang bisa menjadi pertanda sebuah hubungan dagang yang baru dan adil antara negara-negara Utara dan Selatan. Ini adalah sebuah masa depan yang layak diperjuangkan, dan energi terbarukan merupakan kuncinya.