Revolusi Hijau yang Dimotori Pemerintah
LONDON – Diskusi tentang membangun masa depan yang hijau cenderung berfokus pada perlunya meningkatkan produksi energi dari sumber-sumber energi terbarukan, namun itu baru awalnya saja. Menemukan mekanisme yang lebih baik untuk menyimpan dan melepaskan energi – ketika matahari tidak bersinar, angin tidak bertiup, atau mobil listrik sedang bergerak – juga penting. Dan berlawanan dengan kepercayaan umum, justru sektor publik yang memimpin jalan menuju solusi yang efektif.
Sejak pengembangan baterai lithium-ion secara komersial – baterai isi ulang yang umum terdapat pada barang elektronik yang digunakan sehari-hari – di awal tahun 1990-an, isu mengenai penyimpanan dan pelepasan tenaga secara efektif agar sumber energi terbarukan bisa menggantikan bahan bakar fosil masih menjadi tantangan yang menyulitkan. Berbagai upaya dilakukan pengusaha-pengusaha miliarder seperti Bill Gates dan Elon Musk untuk mengatasi tantangan ini telah menjadi fokus spekulasi media yang terlalu heboh. Jadi sebetulnya berapa banyak miliarder yang diperlukan untuk mengganti baterai?
Ternyata jawabannya adalah nihil. Minggu ini, Ellen Williams, Direktur Advanced Research Projects Agency-Energy (ARPA-E), bagian dari Departemen Energi Amerika Serikat, mengumumkan bahwa kantornya telah mendahului para miliarder ini. ARPA-E menurut pernyataannya telah menemukan "cawan suci dalam baterai" yang memungkinkan kita "merancang pendekatan baru dalam teknologi baterai, membuatnya berfungsi, menjadikannya layak secara komersial."
Meskipun memuji prestasi Musk, Williams menarik perbedaan tajam antara kedua pendekatan. Musk berperan dalam produksi skala besar "teknologi baterai terkini yang bertenaga kuat." Sebaliknya ARPA-E mengupayakan inovasi teknologi dalam artian murni: "menemukan cara-cara baru melakukan pekerjaan". Keduanya "cukup yakin" bahwa teknologi mereka "berpotensi menjadi lebih baik".
Bagi banyak orang perkembangan ini tampak mengejutkan. Bagaimanapun juga, sejak dahulu sektor swasta dipandang sebagai sumber utama inovasi dalam perekonomian. Tetapi persepsi ini tidak sepenuhnya benar.
Bahkan, tokoh-tokoh pengusaha besar dalam sejarah sering berdiri di bahu negara sebagai pelaku usaha/ekonomi (standing on the shoulder of the entrepreneurial state). Almarhum Steve Jobs, pendiri dan CEO Apple, adalah pengusaha yang cerdas namun teknologi yang menjadikan iPhone "ponsel cerdas" dikembangkan dengan dana publik. Itu sebabnya Gates mengatakan hanya negara, dalam bentuk lembaga publik seperti ARPA-E, yang dapat memimpin cara menuju terobosan dalam energi.
Subscribe to PS Digital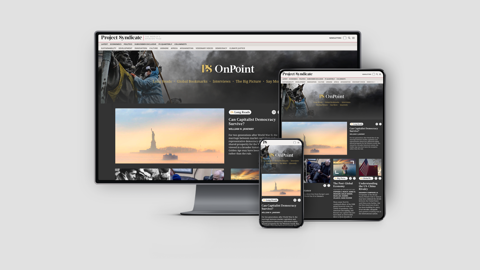 Subscribe to PS Digital
Access every new PS commentary, our entire On Point suite of subscriber-exclusive content – including Longer Reads, Insider Interviews, Big Picture/Big Question, and Say More – and the full PS archive.
Penting untuk dipahami bahwa disini bukan negara sebagai pengatur yang berperan; tapi negara sebagai pelaku ekonomi (entrepreneurial state) yang bertindak dan menciptakan pasar, bukan sekedar memperbaikinya. Melalui pendekatan berorientasi pada misi dan kebebasan bereksperimen – dengan memahami bahwa kegagalan tidak dapat dihindari dan bahkan diterima sebagai bagian dari proses pembelajaran – negara akan mampu menarik orang-orang berbakat dan mengejar inovasi radikal.
Tentu saja memimpin revolusi hijau tidak akan mudah. Lembaga-lembaga negara harus mengatasi tantangan-tantangan sulit untuk menjadikan perubahan ini berhasil.
Ambil contoh ARPA-E, badan yang didirikan pada tahun 2009 sebagai bagian dari paket stimulus ekonomi Presiden Barack Obama. Meskipun masih di tahap awal perkembangan, badan ini – berdasarkan model Defense Advanced Research Projects Agency (DARPA) yang beroperasi sejak lama – sudah menciptakan harapan-harapan baru. Sejalan dengan komitmen yang dibuat Presiden Obama dan 19 pemimpin negara lainnya di Paris pada bulan Desember lalu dalam konferensi perubahan iklim untuk melipatgandakan investasi publik pada riset energi hijau, ARPA-E nampaknya siap menerima tambahan dana.
Tetapi ARPA-E masih kekurangan kapasitas untuk membuat dan membentuk pasar baru yang katakanlah mampu dilakukan DARPA. Hal ini menjadi tantangan besar sebab badan ini bekerja dalam industri yang masih berada di tahap awal. Meskipun perkembangan teknologi tenaga angin dan surya mendapat dorongan kuat di awal tahun 1970-an, keduanya masih diwarnai dengan ketidakpastian pasar dan teknologi. Infrastruktur energi yang melekat masih mempertahankan keuntungan dan posisi kuat, dan pasar tidak memberi nilai tinggi pada keberlanjutan atau tidak menetapkan harga yang adil terkait limbah dan polusi.
Dalam menghadapi ketidakpastian tersebut, sektor bisnis tidak akan memasuki pasar hingga investasi-investasi paling berisiko dan padat modal sudah dilakukan, atau sampai pesan-pesan politik yang koheren dan sistematik sudah dikomunikasikan. Dengan demikian pemerintah harus bertindak tegas untuk membuat investasi yang diperlukan dan memberikan sinyal yang tepat.
Yang terpenting, pemerintah juga harus menerapkan instrumen pengamanan (safeguards) untuk memastikan negara sebagai pelaku ekonomi akan memperoleh keuntungan sebagai imbalan upayanya. Dahulu, hal ini dimungkinkan melalui "imbasan pajak" (tax spillover). Namun tarif pajak marginal terbesar sekarang jauh di bawah tarif pada tahun 1950-an, ketika NASA, contoh terkemuka atas inovasi disponsori negara, didirikan di Amerika Serikat. (Saat itu, tarif pajak marginal tertinggi adalah 91%) Memang benar, berkat lobi yang dilakukan beberapa pemodal ventura asal Silicon Valley, tarif pajak atas keuntungan modal turun 50% dalam lima tahun pada akhir tahun 1970-an. Peningkatan penggunaan upstream patent – diklaim untuk alasan-alasan "strategis" – melemahkan efek spillover.
Tentu saja pemain sektor swasta seperti Gates dan Musk adalah mitra penting dalam menggerakkan revolusi hijau. Melalui peran yang lebih besar dalam komersialisasi dan penyebarluasan tenologi baterai penyimpan energi, mereka akan mendapat imbalan yang cukup atas usahanya. Tetapi bukankah seharusnya ARPA-E (atau angel investor-nya yaitu wajib pajak Amerika Serikat) juga memperoleh sebagian keuntungan, atas investasi dini dan berisiko yang dilakukannya?
Di beberapa negara, seperti Israel (melalui program Yozma) dan Finlandia (melalui Sitra fund), pemerintah berkontribusi dalam inovasi disponsori negara. Hal ini memungkinkan negara sebagai pelaku ekonomi untuk terus berinvestasi dan mendorong gelombang inovasi berikutnya. Mengapa negara-negara Barat begitu menentang ide rasional ini?