Una revolución verde alimentada por el Estado
LONDRES – Las discusiones sobre la construcción de un futuro verde tienden a enfocarse en la necesidad de mejorar la generación de energía a partir de fuentes renovables. Pero ése es sólo el primer paso. También es crucial que existan mejores mecanismos para almacenar y liberar esa energía -cuando el sol no brilla, el viento no sopla o cuando los autos eléctricos están en movimiento-. Y, contrariamente a la creencia popular, es el sector público el que está liderando el camino hacia soluciones que sean efectivas.
Desde el desarrollo comercial de las baterías de iones de litio -las baterías recargables comunes en los productos electrónicos de consumo- a comienzos de los años 1990, el desafío de almacenar y liberar energía de una manera suficientemente efectiva como para hacer de las fuentes de energía sustentable alternativas viables para los combustibles fósiles ha sido desconcertante. Y los esfuerzos por parte de empresarios multimillonarios como Bill Gates y Elon Musk para superar este desafío han sido el foco de mucha especulación mediática excitada. ¿Cuántos multimillonarios hacen falta entonces para cambiar una batería?
La respuesta, parece ser, es ninguno. Esta semana, Ellen Williams, directora de la Agencia de Proyectos de Investigación Avanzados-Energía, perteneciente al Departamento de Energía de Estados Unidos, anunció que su agencia había vencido a los multimillonarios. ARPA-E, declaró, había conseguido "algunos santos griales en materia de baterías", lo que nos permitirá "crear una estrategia totalmente nueva para la tecnología de baterías, hacer que funcione y tornarla comercialmente viable".
Sin dejar de elogiar los logros de Musk, Williams hizo una marcada distinción entre sus estrategias. Musk ha estado involucrado en la producción en gran escala de "una tecnología de baterías existente y muy poderosa". ARPA-E, por el contrario, se ha dedicado a la innovación tecnológica en el sentido más puro: "creando nuevas maneras de hacer" cosas. Y están "muy convencidos" de que algunas de sus tecnologías "tienen el potencial de ser significativamente mejores".
A muchos este desarrollo les puede parecer sorprendente. Después de todo, el sector privado ha sido considerado desde hace tiempo como la fuente de innovación más importante de una economía. Pero esta percepción no es del todo precisa.
En verdad, las grandes figuras empresarias de la historia frecuentemente descansaron en el estado emprendedor. Steve Jobs, el difunto fundador y CEO de Apple, fue un empresario inteligente, pero cada tecnología que hace que el iPhone sea "inteligente" fue desarrollada con financiamiento del estado. Esa es la razón por la cual Gates ha dicho que sólo el estado, en forma de instituciones públicas como ARPA-E, puede liderar el camino hacia un avance en el campo de la energía.
Subscribe to PS Digital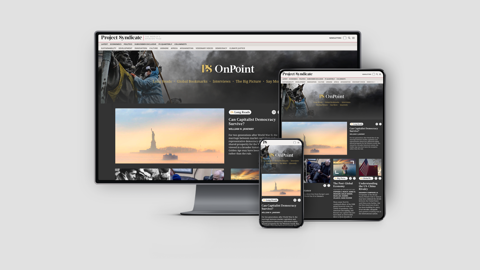 Subscribe to PS Digital
Access every new PS commentary, our entire On Point suite of subscriber-exclusive content – including Longer Reads, Insider Interviews, Big Picture/Big Question, and Say More – and the full PS archive.
Aquí es fundamental destacar que no se trata del estado como un administrador que cumple este papel; más bien, es el estado emprendedor en acción, creando mercados y no sólo enmendándolos. Con una estrategia orientada a objetivos específicos y la libertad de experimentar -entendiendo que el fracaso es una característica inevitable, y hasta bienvenida, del proceso de aprendizaje-, el estado es más capaz de atraer talento de excelencia y abocarse a la innovación radical.
Pero, por supuesto, liderar una revolución verde no será una hazaña sencilla. Para tener éxito, las agencias públicas tendrán que superar desafíos importantes.
Consideremos el caso de ARPA-E, que fue fundada en 2009 como parte del paquete de estímulo económico del presidente de Estados Unidos, Barack Obama. Si bien todavía está en sus inicios, la agencia -basada en el modelo de la tradicional Agencia de Proyectos de Investigación Avanzados de Defensa (DAPRA)- ya ha revelado una promesa importante. Y, luego del compromiso asumido por Obama y otros 19 líderes mundiales en la conferencia sobre cambio climático el pasado mes de diciembre en París de duplicar la inversión pública en investigación de energía verde, ARPA-E parece lista para recibir un bienvenido impulso en materia de financiamiento.
Pero ARPA-E todavía carece de la capacidad de crear y forjar nuevos mercados de la que goza DARPA. Esto representa un desafío importante, porque la agencia está trabajando en una industria que sigue estando en sus albores. Aunque el desarrollo de tecnologías de energía eólica y solar recibió un gran impulso en los años 1970, ambas todavía están afectadas por la incertidumbre tecnológica y del mercado. La infraestructura de energía embebida todavía cuenta con fuertes ventajas por ya estar allí, y los mercados no valoran la sustentabilidad de manera adecuada ni calculan el precio de los desechos y la contaminación de manera justa.
Frente a esta incertidumbre, el sector empresario no entrará en el mercado hasta que no se hayan hecho las inversiones más riesgosas y de mayor demanda de capital, o hasta que no se hayan comunicado señales políticas coherentes y sistemáticas. Los gobiernos, por consiguiente, deben actuar de manera decisiva para hacer las inversiones necesarias y ofrecer las señales correctas.
Es crucial también que los gobiernos instalen salvaguardas para asegurar que el estado emprendedor reciba una porción apropiada de las beneficios por sus esfuerzos. En el pasado, esto podría haber sucedido vía derrames impositivos. Pero la tasa marginal superior no está ni cerca del nivel que tenía en los años 1950, cuando en Estados Unidos fue fundada la NASA, el ejemplo fundamental de innovación patrocinada por el estado. (En aquel momento, la tasa marginal impositiva más alta era de 91%). De hecho, gracias al lobby de los capitalistas de riesgo de Silicon Valley, el impuesto sobre las ganancias de capital cayó un 50% en cinco años a fines de los años 1970. El mayor uso de un patentamiento previo -según se dice, por razones "estratégicas"- debilita los derrames.
Por supuesto, actores del sector privado como Gates y Musk son socios esenciales a la hora de impulsar la revolución verde. En tanto ellos asuman un rol más relevante en la comercialización y utilización de tecnología de almacenaje en baterías, ganarán su parte justa de las recompensas. ¿Acaso ARPA-E (o sus inversores providenciales, los contribuyentes norteamericanos) no deberían recibir cierto retorno por su inversión temprana -y riesgosa?
En algunos países, como Israel (con su programa Yozma) y Finlandia (con su fondo Sitra), el gobierno ha conservado una participación en la innovación financiada por el estado. Esto permite que el estado emprendedor siga invirtiendo y catalizando la próxima ola de innovaciones. ¿Por qué los países occidentales son tan resistentes a esta idea sensata?