Státem poháněná zelená revoluce
LONDÝN – Diskuze o vytvoření zelené budoucnosti mají tendenci soustředit se na potřebu generovat energii z obnovitelných zdrojů. To je ale pouze první krok. Rozhodující jsou také lepší mechanizmy pro ukládání a uvolňování této energie – když slunce nesvítí, vítr nefouká a nebo když jsou elektrická vozidla v pohybu. A navzdory veřejnému přesvědčení je to veřejný sektor, kdo určuje cestu směrem k efektivnímu řešení.
Od komerčního vývoje lithium-iontových baterií – dobíjecí baterie běžné ve spotřební elektronice – v počátku 90. let bylo ukládání a uvolňování energie dostatečně efektivně k učinění udržitelných zdrojů energie funkční alternativou k fosilním palivům značně nepříjemnou výzvou. A snahy podnikavých miliardářů jako je Bill Gates a Elon Musk překonat tuto výzvu, byly v centru zájmu většiny existujících mediálních spekulací. Kolik milionářů je tedy potřeba k výměně baterie?
Odpověď je, jak se ukazuje, že žádný. Tento týden prohlásila Ellen Williams, ředitelka Advanced Research Projects Agency-Energy, součásti ministerstva pro energetiku USA, že její agentura v této výzvě porazila miliardáře. ARPA-E, jak uvedla, získala "svaté grály v bateriích," což nám umožní "vytvořit zcela nový přístup k technologii baterií, aby fungovaly, aby byly komerčně životaschopné."
Zatímco vychvaluje Muskovy úspěchy, tak zároveň Williamsová striktně rozlišuje jejich přístupy. Musk se zabývá masovou produkcí "existující, poměrně výkonné bateriové technologii." Oproti tomu ARPA-E usiluje o technologické inovace v nejčistším smyslu: "vytvářet nové způsoby, jak dělat" věci. A jsou "docela dobře přesvědčeni o tom," že některé z jejich technologií "mají potenciál být výrazně lepší."
Pro mnoho lidí se tento vývoj může zdát překvapivý. Koneckonců, privátní sektor byl dlouho považován za nejdůležitější zdroj inovací v ekonomice. Ale toto vnímání není úplně přesné.
Ve skutečnosti totiž velcí podnikatelští hráči historie často stáli na ramenech podnikatelského státu. Zakladatel a CEO Applu Steve Jobs byl chytrý businessman, ale každá technologie, která činí iPhone "chytrým" byla vyvinuta se státním financováním. Proto Gates prohlásil, že jedině stát, ve formě veřejných institucí jako je ARPA-E, může vést cestu k energetickému průlomu.
Subscribe to PS Digital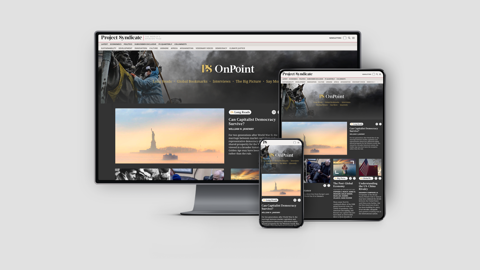 Subscribe to PS Digital
Access every new PS commentary, our entire On Point suite of subscriber-exclusive content – including Longer Reads, Insider Interviews, Big Picture/Big Question, and Say More – and the full PS archive.
Je rozhodující v tomto bodě zmínit, že to není stát jakožto administrátor, který tuto roli tak naplňuje; je to spíše podnikatelský stát, který koná a vytváří trhy, namísto toho, aby je pouze opravoval. S konkrétně zaměřeným přístupem a svobodou experimentovat – se selháním vnímaným jako nevyhnutelným, vítaným prvkem procesu učení se – je stát lépe schopen přilákat top talenty a usilovat o radikální inovace.
Nicméně, vést zelenou revoluci samozřejmě nebude jednoduchá záležitost. Aby uspěly, budou muset veřejné úřady, překonat zásadní výzvy.
Vezměme si ARPA-E, která byla založena v roce 2009 jako součást baličku pro stimulaci ekonomiky prezidenta USA Barracka Obamy. Ačkoliv je stále v dětských letech, ukázala již agentura – založená na modelu dlouho existující Agentury ministerstva obrany pro pokročilé výzkumné projekty (DARPA) – významný příslib do budoucna. A po závazku zdvojnásobit veřejné investice do výzkumu zelené energie, učiněným minulý prosinec Obamou a 19 světovými lídry na klimatické konferenci v Paříži, zřejmě ARPA-E dostane vítanou vzpruhu ve financování.
ARPA-E ale stále postrádá kapacitu k vytvoření formování nových trhů, jak se daří právě například DARPě. To představuje zásadní výzvu, protože agentura pracuje v průmyslu, který je ve svých počátcích. Ačkoliv vývoj technologie pro větrnou a solární energii zažil v sedmdesátých letech velký posun, jsou obě technologie stále poznamenány tržní a technologickou nejistotou. Pevně daná energetická infrastruktura si udržuje silné funkční výhody a trhy si adekvátně neváží udržitelnosti, či neoceňují férově plýtvání a znečišťování.
Ve světle této nejistoty nevstoupí soukromý sektor na trh do doby, než budou učiněny ty nejriskantnější a kapitálově nejnáročnější investice, nebo dokud nebudou jasně vyjádřeny souvislé a systematické politické signály. Vlády proto musí jednat rázně, aby učinily potřebné investice a vyslaly ty správné signály.
Klíčové je, aby vlád také zavedly záruky, které zajistí, že podnikatelský stát bude sklízet adekvátní podíl z výnosů plynoucích z jeho snah. V minulosti by se to možná dělo prostřednictvím daňového přelití. Horní mezní sazba však není ani zdaleka blízko úrovni z 50. let, když byla založena NASA, nejlepší příklad státem sponzorovaných inovací (tehdy byla horní mezní sazba 91%). Díky lobbingu venture kapitalistů ze Silicon Valley klesly daně z kapitálových výnosů v posledních pěti letech 70. let o 50%. Vyšší užití "upstream" patentování oslabuje přelívání – tvrdí se, že ze "strategických" důvodů.
Hráči privátního sektoru jako jsou Gates a Musk jsou samozřejmě nepostradatelnými partnery v posunu zelené revoluce. Protože předpokládají větší roli bateriové technologie v komercionalizaci, získají díky tomu férový podíl ze zisků. Neměla by ale ARPA-E (respektive její hlavní investor – americký daňový poplatník) také získat něco zpět, za její časnou – a riskantní – investici?
V Některých zemích, jako je Izrael (se svým programem Yozma) a Finsko (fond Sitra) si vláda zachovala podíl na státem financovaných inovacích. To umožňuje podnikatelskému státu pokračovat v investicích a vyvolat tak další vlnu inovací. Proč západní země této rozumné myšlence tak vzdorují?