Invertir en crecimiento sostenible
NUEVA YORK – Hoy la gran decepción de la economía mundial es la baja tasa de inversión. En los años que precedieron a la crisis financiera de 2008, el gasto en vivienda y en consumo privado fue el motor del crecimiento en los países de altos ingresos. Cuando estalló la crisis, los dos tipos de gasto se desplomaron, y las inversiones que deberían haber ocupado su lugar nunca se materializaron. Esto debe cambiar.
Después de la crisis, los principales bancos centrales del mundo trataron de revivir el gasto y el empleo recortando las tasas de interés. La estrategia funcionó, hasta cierto punto. Al inundar los mercados de capitales con liquidez y mantener deprimidos los tipos de interés del mercado, las autoridades alentaron a los inversores a impulsar una suba de las cotizaciones de acciones y bonos. Esto creó riqueza financiera en la forma de plusvalías, al tiempo que estimuló el consumo y (por la vía de las ofertas públicas iniciales) algo de inversión.
Pero esta política llegó al límite, y generó costos innegables. Los tipos de interés nulos o incluso negativos alentaron a los inversores a pedir prestado con fines altamente especulativos. Esto llevó a que la calidad general de las inversiones disminuyera y aumentara el apalancamiento. Cuando los bancos centrales finalmente restrinjan el crédito, habrá riesgo real de una importante desvalorización de los activos.
A la par que la política monetaria se llevaba al límite, faltó un aumento de la inversión a largo plazo en trenes de alta velocidad, rutas, puertos, fuentes de energía no contaminantes, saneamiento y potabilización del agua, salud y educación. Pero en general, en los países de altos ingresos hubo una reducción de este tipo de inversiones, debida a las medidas de austeridad fiscal (que obstaculizaron la inversión pública) y a una gran incertidumbre respecto de las políticas públicas y la tributación internacional (que obstaculizó la inversión privada).
A pesar de las promesas del presidente de los Estados Unidos, Barack Obama, de invertir en trenes de alta velocidad y otras infraestructuras modernas, durante los ocho años de su presidencia no se tendió ni un kilómetro de vías férreas rápidas. Es hora de convertir las palabras en acciones (en Estados Unidos y el resto del mundo) y dar inicio a una nueva era de inversión masiva en desarrollo sostenible.
Esta estrategia demanda resolver tres desafíos: la identificación de los proyectos correctos; la elaboración de planes complejos que involucrarán a los sectores público y privado (y muchas veces, a más de un país); y cómo estructurar la financiación. Para tener éxito, los gobiernos tendrán que ser muy eficaces en la planificación, presupuestación e implementación de proyectos a largo plazo. China demostró en los últimos veinte años que tiene estas capacidades (pero con grandes falencias en materia medioambiental), mientras que Estados Unidos y Europa tuvieron problemas para avanzar. En tanto, los países más pobres a menudo ni lo intentaron, por recomendación del Fondo Monetario Internacional y otros organismos.
Subscribe to PS Digital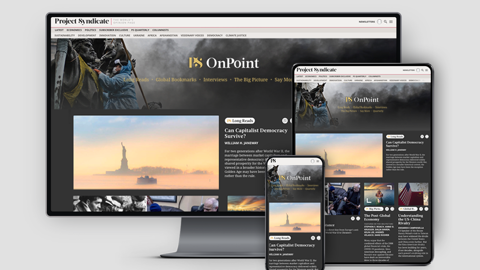 Subscribe to PS Digital
Access every new PS commentary, our entire On Point suite of subscriber-exclusive content – including Longer Reads, Insider Interviews, Big Picture/Big Question, and Say More – and the full PS archive.
Hoy los gobiernos tienen algo a favor para superar al menos uno de los desafíos clave: los Objetivos de Desarrollo Sostenible (ODS) y el Acuerdo de París sobre cambio climático pueden ayudarlos a elegir los proyectos correctos.
El mundo necesita inversiones masivas en energía no contaminante (junto con detener la construcción de nuevas centrales termoeléctricas a carbón) y en la adopción de vehículos eléctricos (y baterías mejoradas), más una rápida reducción del uso de vehículos con motor de combustión interna. Los países en desarrollo, en particular, también necesitan grandes inversiones en proyectos de saneamiento y potabilización del agua en áreas urbanas de rápido crecimiento. Y para los países de bajos ingresos es fundamental ampliar los sistemas de salud y educativos.
La iniciativa "un cinturón, una ruta" de China (que busca vincular Asia con Europa mediante redes de infraestructura modernas) ayudará a promover algunas de estas metas, siempre que los proyectos se diseñen pensando en un futuro de energía no contaminante; impulsará el empleo, el gasto y el crecimiento, especialmente en las economías eurasiáticas sin salida al mar; y puede revitalizar las relaciones económicas y diplomáticas entre la Unión Europea, Rusia y China.
África necesita con urgencia un programa similar. Si bien los países africanos ya identificaron inversiones prioritarias en electrificación y transporte, el progreso será lento si no se cuenta con una nueva ola de fondos para invertir.
El conjunto de los países africanos debería invertir en infraestructuras al menos cien mil millones de dólares más al año; y sólo en educación se necesita un incremento anual algo inferior (del orden de un dígito menos). Estas necesidades deberían cubrirse sobre todo con préstamos a largo plazo y a interés reducido otorgados por China, Europa y Estados Unidos, además de movilizar el ahorro a largo plazo de los países africanos (por ejemplo, mediante la introducción de nuevos sistemas de pensiones).
Estados Unidos y Europa también necesitan grandes programas de infraestructura nuevos. En Estados Unidos (donde el último gran proyecto de infraestructuras, el sistema nacional de autopistas, concluyó en los setenta) hay que hacer hincapié en invertir en energía limpia, trenes de alta velocidad y la adopción masiva de vehículos eléctricos.
En cuanto a Europa, su programa para los ODS debería ser el Plan de Inversiones de la Comisión Europea (apodado "Plan Juncker", en referencia a Jean-Claude Juncker, presidente de la Comisión). Por ejemplo, la UE debería concentrarse en crear una red paneuropea de transmisión de energía limpia y en un aumento masivo de la generación de energía a partir de fuentes renovables.
Para ayudar a financiar estos programas, los bancos multilaterales de desarrollo (como el Banco Mundial, el Banco Asiático de Desarrollo y el Banco Africano de Desarrollo) deberían aprovechar los bajos tipos de interés actuales para tomar muchísima más deuda a largo plazo en los mercados de capitales, y luego prestar esos fondos a gobiernos y entidades de inversión público‑privadas.
Los gobiernos deberían gravar el carbono según un esquema gradualmente creciente, y usar lo recaudado para financiar las energías limpias. Y hay que resolver las lagunas notorias del sistema global de tributación corporativa, lo que permitiría aumentar unos 200 000 millones de dólares al año (o más) la recaudación mundial del impuesto a las corporaciones. (Hoy las empresas estadounidenses están sentadas sobre casi dos billones de dólares en fondos offshore por los que en algún momento deberán tributar.) La recaudación adicional debería asignarse a nuevas inversiones públicas.
Para los países más pobres, buena parte de la inversión necesaria debe proceder de un aumento de las ayudas oficiales al desarrollo. Hay varios modos de generar los fondos necesarios: reducir el gasto militar (lo que incluye poner fin a las guerras en Medio Oriente); un firme compromiso contra una nueva generación de armas nucleares; que Estados Unidos recorte el gasto en bases militares en el extranjero; y evitar una carrera armamentista entre Estados Unidos y China, por medio de una mejora de la diplomacia y la cooperación. El dividendo de paz resultante debería canalizarse hacia la atención de la salud, la educación y la inversión en infraestructuras en las regiones hoy azotadas por la guerra y la pobreza.
El desarrollo sostenible no es un mero deseo ni un eslogan: es el único camino realista hacia el crecimiento y la creación de empleos a escala global. Es hora de darle la atención (y las inversiones) que merece.
Traducción: Esteban Flamini