Derechos Humanos sin impedimentos
NUEVA YORK – Cuando se creó la Organización de las Naciones Unidas desde las ruinas de la Segunda Guerra Mundial, habría sido inconcebible que alguien como yo -un joven de raza negra, gay y que usa silla de ruedas- fuera considerado como candidato a un trabajo de alto nivel en su interior. Por eso es una prueba increíble de la distancia que la humanidad ha recorrido desde 1945 el que yo esté entre los candidatos que la ONU evaluará para suceder a Michelle Bachelet cuando el próximo mes deje su puesto como Alta Comisionada de la ONU para los Derechos Humanos.
Si se me seleccionara, sería el funcionario civil internacional de más alto rango con discapacidad desde la fundación de la ONU, y una victoria histórica para los 1,3 mil millones de personas con discapacidad y que, según datos de la ONU, conforman el grupo minoritario más numeroso del planeta.
La Convención de las Naciones Unidas de Derechos de las Personas con Discapacidad, firmada en 2007, ha ayudado a avanzar en la inclusión en todos los ámbitos, pero ver a alguien en silla de ruedas en un cargo de poder todavía es muy poco usual. Hoy en día, en muchas partes del planeta, el rostro del ostracismo todavía es un chico discapacitado de piel marrón.
Fácilmente yo podría haber sido ese chico. Se podría decir que mi experiencia como activista por los derechos humanos comenzó cuando tenía seis años y con lágrimas en mi cara dije a mi madre: "Quiero ir a la escuela".
La vida para un chico en silla de ruedas en Namibia, donde viví los primeros nueve años de mi vida, es extremadamente limitada, como en gran parte del mundo en desarrollo. Según la ONU, entre un 90% y un 98% de los menores con discapacidad del Sur Global carecen de la oportunidad de asistir a la escuela.
En ese momento, con solo estar vivo ya estaba yendo contra todas las probabilidades. A los 2 años me diagnosticaron atrofia muscular espinal, una enfermedad degenerativa letal que afecta el sistema nervioso. Los médicos le dijeron a mi madre que era probable que no viviera más allá de los cinco años. Hoy tengo 31.
Subscribe to PS Digital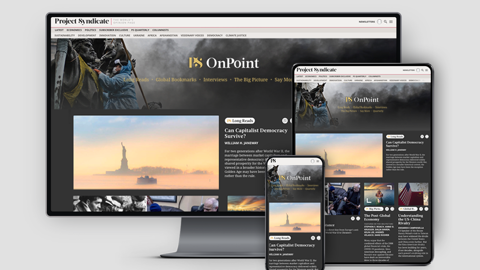 Subscribe to PS Digital
Access every new PS commentary, our entire On Point suite of subscriber-exclusive content – including Longer Reads, Insider Interviews, Big Picture/Big Question, and Say More – and the full PS archive.
Mi madre limpió mis lágrimas y se decidió. Encontró una escuela dispuesta a aceptarme. En mi primer día de clases, me pusieron en la parte de atrás del aula. Era evidente que esperaban poco de mí. Sorprendí a la profesora al escribir mi nombre solo, algo que la mayoría de mis compañeros no podía hacer. Una sonrisa se dibujó en su rostro, al ver que podía aprender tanto o más rápido que los demás.
Esa experiencia me enseñó a apuntar alto, sin que importaran los obstáculos en mi camino. Mi candidatura para suceder a Bachelet busca empujar los límites de lo posible, no solo para las personas con discapacidades sino para cualquiera que alguna vez se haya sentido devaluado, subestimado y marginado.
De ser seleccionado, sería el líder más joven en un nivel de liderazgo principal. A menudo la ONU enfatiza la importancia de la participación de los jóvenes, dado lo que nos jugamos en el futuro. Y, sin embargo, seguimos siendo un grupo demográfico poco representado en la institución. Seleccionar a un joven para este cargo daría nuevos ímpetus y autoridad al trabajo del Alto Comisionado de la ONU.
Lograr derechos humanos para todos muy a menudo se siente como algo imposible, especialmente hoy, cuando todo parece imposible. Pero, como señaló Nelson Mandela, siempre parece imposible hasta que se hace.
Tuve que recordarme estas palabras hace algún tiempo, cuando todavía trabajaba en Amnistía Internacional y tuve el mandato imposible de acercar las posturas de dos grupos conocidos por no confiar entre sí: líderes empresariales y defensores de los derechos humanos. Los persuadí a escucharse como parte de una campaña para hacer que las industrias extractivas rindieran cuentas por las violaciones de los derechos humanos en África.
En tiempos que el mundo está cada vez más fracturado y se siente que simplemente hemos dejado de escucharnos, pienso que el Alto Comisionado de las Naciones Unidas para los Derechos Humanos está particularmente cualificado para abordar los retos más urgentes de la actualidad. Por primera vez desde 2001, la mayoría de la población del mundo vive bajo gobiernos no democráticos que violan los derechos. Enfrentamos un mayor nacionalismo, una crisis económica emergente y una pandemia global, una crisis sanitaria a la que demasiados gobiernos han respondido pidiendo poderes de emergencia y adoptando restricciones que suelen violar derechos. Y, por supuesto, los conflictos en Ucrania, el Sahel, Myanmar y varios otros puntos del planeta crean sus propias alarmas importantes.
El Alto Comisionado de la ONU desempeña un papel crucial en tiempos como estos, sirviendo como faro de los principios que guían los derechos humanos y defendiendo a quienes denuncian con valentía cuando ven violaciones en todo el planeta. Como ha dicho el Secretario General de las Naciones Unidas António Guterres, los derechos humanos sostienen "todo el sistema de la ONU. Son esenciales para abordar las amplias causas y efectos de las crisis complejas, y para desarrollar sociedades sostenibles, seguras y pacíficas".
Si el Secretario General me seleccionara para esta función, mi trabajo sería identificar y exponer incansablemente las violaciones a los derechos, sin importar lo poderosos que sean los intereses que obstaculicen el camino, e interactuar con actores de la sociedad civil para hacer que el trabajo de la ONU sea más participativo y relevante para impulsar los cambios necesarios.
Indudablemente, soy un candidato atípico para este puesto; algunos dirían que una opción imposible. Pero creo que especialmente en estos tiempos el mundo necesita exactamente eso: un pensamiento renovado, nuevas energías y la capacidad de ver cómo superar barreras aparentemente imposibles.
Traducido del inglés por David Meléndez Tormen