"Je dénoncerai inlassablement les violations des droits fondamentaux"
NEW-YORK – Quand l'ONU a été créée à l'issue de la Deuxième Guerre mondiale, il aurait été inimaginable d'envisager que quelqu'un comme moi – jeune, Noir, homosexuel et en fauteuil roulant- puisse occuper un poste important au sein de l'organisation. Or je serai parmi les candidats envisagés par l'ONU pour succéder à Michelle Bachelet le mois prochain, quand elle quittera son poste de Haut Commissaire des Nations Unies aux droits de l'homme. C'est un symbole remarquable du chemin parcouru par l'humanité depuis 1945.
Si je suis choisi, je serai le fonctionnaire de plus haut rang en situation de handicap depuis la création de l'ONU. Ce serait une victoire historique pour les 1,3 milliards de personnes  handicapées qui d'après l'ONU constituent le plus grand groupe minoritaire.
Signée en 2007, la Convention relative aux droits des personnes handicapées est un instrument important en faveur de l'inclusion. Néanmoins, il est encore très rare de voir une personne en fauteuil roulant occuper une position de pouvoir. Dans bien des endroits du monde, le rejet d'un gamin noir handicapé constitue la quintessence de l'exclusion.
J'aurais pu facilement être ce gamin. Cependant, mon expérience de militant des droits de l'homme a commencé à l'âge de six ans, lorsque le visage baigné de larmes, j'ai dit à ma mère : "Je veux aller à l'école."
En Namibie où j'ai passé les neuf premières années de ma vie, la vie d'un enfant en fauteuil roulant est souvent extrêmement limitée - comme dans une grande partie du monde en développement. Selon les Nations unies, 90 à 98 % des enfants handicapés des pays du Sud n'ont pas la moindre possibilité d'aller à l'école.
A l'époque, je me battais avec toute mon énergie pour simplement rester en vie. À l'âge de deux ans, on m'a diagnostiqué une atrophie musculaire spinale, une maladie dégénérative mortelle qui attaque le système nerveux. Les médecins ont dit à ma mère que je ne vivrais probablement pas jusqu'à mon cinquième anniversaire… j'ai 31 ans.
Introductory Offer: Save 30% on PS Digital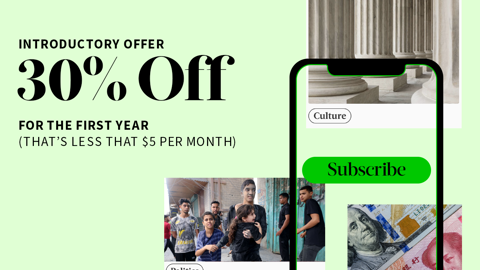 Introductory Offer: Save 30% on PS Digital
Subscribe now to gain greater access to Project Syndicate – including every commentary and our entire On Point suite of subscriber-exclusive content – starting at less than $5 per month.
Ma mère qui essuyait les larmes de mes yeux était déterminée. Elle a trouvé une école qui a accepté de me prendre. Le premier jour, on m'a placé tout au fond de la classe. Il était clair qu'on n'attendait pas grand-chose de moi. J'ai stupéfié l'enseignante en écrivant mon nom, ce que la plupart des autres enfants ne savaient pas faire. Un grand sourire a éclairé son visage. Elle a vu que je pouvais apprendre comme les autres, peut-être même plus vite.
Cette expérience m'a appris à viser haut, quels que soient les obstacles. Ma candidature à la succession de Michelle Bachelet vise à repousser les limites du possible, non seulement pour les personnes handicapées, mais aussi pour tous ceux qui se sont un jour sentis dévalorisés, sous-estimés ou marginalisés.
Si je suis sélectionné, je serai le plus jeune dirigeant au niveau de la direction de l'ONU, une organisation qui souligne régulièrement l'importance qu'il y a à impliquer les jeunes, car ils sont les premiers concernés par l'avenir. Pourtant, nous sommes largement sous-représentés dans l'institution. Le choix d'un jeune dirigeant à ce poste donnerait un nouvel élan et une nouvelle autorité au travail du Haut Commissaire des Nations unies.
Le respect des droits de l'homme pour tous semble une quête irréaliste - surtout aujourd'hui où tout semble impossible. Mais comme l'a dit Nelson Mandela, "Cela semble toujours impossible jusqu'à ce que cela soit fait".
Je me suis rappelé ces mots il y a quelque temps, lorsque travaillant à Amnesty International, on m'a confié la mission impossible de réunir deux groupes connus pour leur méfiance mutuelle : les chefs d'entreprise et les défenseurs des droits de l'homme. Je les ai persuadés de s'écouter les uns les autres dans le cadre d'une campagne visant à empêcher les industries extractives de fermer les yeux sur les violations des droits de l'homme en Afrique.
À une époque où le monde est de plus en plus fracturé et où l'on a l'impression que nous avons tout simplement cessé de nous écouter les uns les autres, le Haut-commissariat des Nations unies aux droits de l'homme est particulièrement qualifié pour relever les défis les plus pressants d'aujourd'hui. Pour la première fois depuis 2001, la majorité de la population de la planète vit sous des régimes non démocratiques qui ne respectent pas les droits fondamentaux. Nous sommes confrontés à un nationalisme exacerbé, à une crise économique émergente et à une pandémie mondiale - une crise sanitaire à laquelle trop de gouvernements ont répondu en revendiquant des pouvoirs exceptionnels et en restreignent certains droits fondamentaux. Par ailleurs, les conflits qui se déroulent en Ukraine, au Sahel, en Birmanie et dans bien d'autres endroits s'accompagnent de violations de ces droits.
Dans une période comme celle-ci, le Haut Commissaire aux droits de l'homme joue un rôle crucial en servant de phare pour leur défense et en soutenant ceux qui ont le courage d'élever la voix lorsqu'ils constatent leur violation. Comme l'a déclaré le Secrétaire général de l'ONU, Antonio Guterres, les droits de l'homme sous-tendent "l'ensemble du système des Nations Unies. … Ils sont essentiels pour s'attaquer aux causes et aux conséquences de toutes les crises complexes, et pour construire des sociétés durables, sûres et pacifiques".
Si le Secrétaire général me choisit pour ce rôle, mon travail consistera à identifier et à dénoncer inlassablement les violations des droits, quels que soient les intérêts puissants qui s'y opposent, et à m'engager avec les défenseurs de la société civile pour rendre le travail de l'ONU plus participatif et plus pertinent pour susciter le changement.
Je suis sans doute un candidat atypique pour ce poste, un choix impossible diraient certains. Mais je crois que tout spécialement à notre époque, une nouvelle manière de penser, une nouvelle énergie et la capacité de voir comment surmonter des barrières apparemment impossibles à franchir, c'est exactement ce dont le monde a besoin.
Traduit de l'anglais par Patrice Horovitz