Arrêtons les subventions aux énergies fossiles, consacrons cet argent à la lutte contre la pandémie et à l'aide aux pauvres !
JAKARTA/CAMBRIDGE, MASSACHUSETTS – Au-delà de son coût humain et sanitaire, la pandémie du coronavirus pourrait annuler une grande partie des progrès accomplis depuis 20 ans par les pays en développement dans la lutte contre la pauvreté. Il faut donc consacrer des sommes importantes pour protéger ceux qui sont frappés le plus durement par la crise. De même que les pays avancés, nombre de pays en développement mobilisent des fonds considérables pour limiter l'effondrement de l'économie et prévenir une famine à grande échelle. Mais cela représente peu de chose, comparé à ce que font les USA et d'autres pays développés. Une centaine de pays ont déjà appelé à l'aide le FMI.
Or jusqu'à présent on néglige un type de financement prometteur. L'effondrement du cours du pétrole est une occasion historique pour en finir avec les subventions en faveur des énergies fossiles. Cela contribuerait à lutter contre le réchauffement climatique, mais aussi à mieux aider les pauvres et à réduire l'endettement lié à la crise.
Depuis des décennies, beaucoup de pays - de l'Equateur à l'Indonésie - subventionnent l'essence et d'autres produits pétroliers, le plus souvent en fixant le prix affiché à la pompe. De ce fait, pour maintenir la stabilité de ce prix, si le cours du pétrole est à la hausse, il en va de même du montant des subventions publiques.
De longue date, la subvention de l'essence et des autres carburants est très populaire dans les pays en développement, d'autant qu'il est difficile d'identifier les pauvres du fait de l'étendue du secteur économique informel et de l'absence de données suffisantes sur la population. Avant l'apparition du payement par smartphone et des services bancaires sur Internet, les dons directs d'argent ou de nourriture aux citoyens constituaient une porte d'entrée à la corruption. Subventionner l'essence permettait de contourner ce problème, car chacun bénéficiait de cette mesure au moment de faire le plein.
Mais ce type de subvention encourage l'utilisation des véhicules polluants, avec de graves conséquences sur la santé et l'environnement. Pour compenser ces inconvénients, plutôt que de subventionner l'essence, des économistes proposent de taxer les énergies fossiles. Selon une étude récente, arrêter de subventionner l'essence aurait réduit de 5 à 6% les émissions de gaz carbonique au niveau mondial en 2015, et de 28% si la mesure s'était étendue au charbon.
Subventionner le carburant n'est pas efficace pour aider les pauvres, d'autant qu'il existe aujourd'hui de meilleures méthodes pour identifier ces derniers et distribuer l'aide. S'il est vrai que les moins fortunés bénéficient de ces subventions, les classes moyennes et les plus riches en bénéficient davantage, car dans leur grande majorité ils consomment plus d'essence. D'après un document de travail publié en 2015 par des chercheurs du FMI, les 20% des ménages les plus riches bénéficient 6 fois plus de ces subventions que les 20% des ménages les plus pauvres. Subventionner le carburant revient souvent très cher, notamment lorsque le prix du baril de pétrole est élevé. Ainsi en 2018 l'Indonésie a consacré 3,1% de son PIB à subventionner l'essence, contre seulement 1,4% aux dépenses de santé publique.
Introductory Offer: Save 30% on PS Digital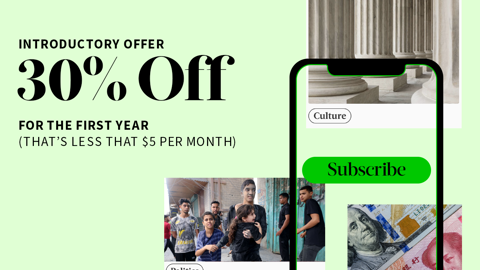 Introductory Offer: Save 30% on PS Digital
Subscribe now to gain greater access to Project Syndicate – including every commentary and our entire On Point suite of subscriber-exclusive content – starting at less than $5 per month.
En dépit de leurs inconvénients évidents, beaucoup de pays maintiennent ces subventions. En période normale, l'arrêt des subventions en faveur de l'essence se traduit par un bond spectaculaire du prix à la pompe, entraînant une vague de manifestations. Cet arrêt peut aussi conduire à l'inflation si tout le monde considère que la hausse du prix de l'essence doit conduire à augmenter le prix d'autres produits.
Mais nous ne sommes pas en période normale. Si la quasi mise à l'arrêt de l'économie en raison de la pandémie a pesé et pèse encore sur la plupart des marchés financiers, l'effondrement du prix du pétrole a été spectaculaire. Le prix du baril en termes réels (ajusté en fonction de l'inflation) a chuté de plus de 50%, passant de 60 dollars avant la crise à 25 à 30 dollars aujourd'hui. A moment donné durant la crise du Covid-19, il a atteint son niveau le plus bas depuis la Deuxième Guerre mondiale.
C'est maintenant l'occasion unique de supprimer définitivement les subventions aux énergies fossiles. Du fait du prix plancher atteint par le pétrole, nombre de pays pourraient laisser le marché décider du prix à la pompe sans intervenir. Quand la demande pour le pétrole augmentera (et qu'il en sera de même pour son prix), les pays qui le faisaient pourraient arrêter de subventionner le pétrole à coups de milliards de dollars chaque année. Cette mesure serait très favorable à la lutte contre le réchauffement climatique, et les économies réalisées pourraient servir aux programmes sociaux et au remboursement de la dette liée au Covid-19.
Les Etats devraient laisser le marché fixer librement le prix de l'essence autant qu'il est encore temps. L'Indonésie l'a appris à ses dépens. En 2008, après la chute du prix du pétrole en raison de la crise financière mondiale, le gouvernement a réduit les subventions en faveur de l'essence, tout en gardant constant le prix à la pompe. Mais quand le prix du pétrole est reparti à la hausse, il a dû soudain dépenser des milliards de dollars en subvention.
Ce scénario s'est répété quelques années plus tard. En 2013, alors qu'il était ministre des Finances de l'Indonésie, l'un de nous (Chatib Basri) a proposé de moins subventionner l'essence et de laisser son prix flotter. Mais après avoir été disposé à faire ce premier pas, le gouvernement a finalement décidé une fois de plus de maintenir la stabilité du prix à la pompe. Ainsi, lorsque le prix du baril est reparti à la hausse, il a dû dépenser des milliards de dollars en subvention.
Aujourd'hui, le prix plancher du pétrole permet de faire des réformes qui contribueront à limiter le réchauffement climatique. Les pays en développement doivent saisir l'occasion historique qui se présente pour arrêter définitivement de subventionner le carburant et libérer ainsi des moyens supplémentaires pour mieux financer la lutte contre la pandémie et aider ceux qui en ont le plus besoin.
Traduit de l'anglais par Patrice Horovitz
M. Chatib Basri est maître de conférence au département d'économie de l'université d'Indonésie. Il a été ministre des Finances du pays de 2013 à 2014.
 Rema N. Hanna est directrice du projet EPoD (Evidence for Policy Design) de la John F. Kennedy School of Government de l'université de Harvard et professeur d'études du Sud-Est asiatique dans cette université.