Alihkan Subsidi Bahan Bakar Fosil untuk Penanggulangan Pandemi dan Masyarakat Miskin
JAKARTA/CAMBRIDGE, MASSACHUSETTS – Selain dampaknya terhadap kesehatan dan hilangnya nyawa, pandemi COVID-19 mengancam akan membalikkan kemajuan yang telah dicapai oleh negara-negara berkembang dalam mengurangi angka kemiskinan selama 20 tahun terakhir. Belanja negara tambahan dalam jumlah besar diperlukan untuk melindungi mereka yang paling terkena dampak krisis ini. Seperti negara-negara maju, banyak negara-negara berkembang yang telah meluncurkan program baru atau memperluas program yang ada untuk mencegah keruntuhan perekonomian dan terjadinya kelaparan yang meluas. Tapi, banyak negara yang tidak bisa mencapai skala belanja negara seperti yang terjadi di AS dan banyak negara-negara maju lainnya. Setidaknya 100 negara sudah meminta pertolongan dari Dana Moneter Internasional (IMF).                              
Sebuah tipe pendanaan yang menjanjikan belum menerima perhatian yang cukup. Anjloknya harga minyak memberikan sebuah peluang untuk menghilangkan subsidi bahan bakar fosil untuk selamanya. Tindakan tersebut tidak hanya akan membantu melawan perubahan iklim. Tapi tindakan tersebut juga akan memungkinkan pemerintah untuk mengalokasikan lebih banyak belanja negara untuk masyarakat miskin dan mendanai utang yang berhubungan dengan krisis ini.
Selama beberapa dekade, banyak negara – mulai dari Ekuador hingga Indonesia – telah menyubsidi bensin dan bahan bakar lainnya, biasanya dengan menetapkan harga yang dibayar konsumen. Dalam kebijakan ini, ketika harga minyak meningkat, biaya subsidi pemerintah juga meningkat, tapi harga yang dibayar konsumen tetap sama.
Secara historis, subsidi bahan bakar sangat populer di negara-negara berkembang, dengan sektor informal yang besar dan kurangnya pencatatan yang baik menjadikan pemerintah kesulitan untuk mengidentifikasi siapa saja yang termasuk dalam kelompok masyarakat miskin. Sebelum adanya uang elektronik dan perluasan layanan perbankan, penyaluran uang tunai atau pangan ke masyarakat cenderung membuka peluang untuk korupsi. Subsidi bahan bakar memberikan solusi terhadap permasalahan ini, karena semua orang bisa mendapatkan manfaat ketika mereka membeli bahan bakar, dan manfaat tersebut tertera dengan jelas dalam bentuk harga yang harus dibayar konsumen.
Tentu saja permasalahannya adalah subsidi bahan bakar mendorong penggunaan bahan bakar secara berlebihan, yang menyebabkan dampak lingkungan yang sangat buruk. Dibandingkan menyubsidi bahan bakar, para ekonom sering menyatakan bahwa kita harus membebankan pajak bahan bakar untuk menangani eksternalitas yang disebabkan oleh hal tersebut. Sebuah studi baru-baru ini memperkirakan bahwa menghapuskan subsidi bahan bakar dan gas saja bisa mengurangi emisi karbon global sebesar 5-6% pada tahun 2015, dan sebesar 28% kalau subsidi batu bara juga dihapuskan.
Subsidi bahan bakar juga merupakan cara yang tidak efisien untuk membantu masyarakat miskin, khususnya ketika saat ini sudah tersedia metode yang lebih baik untuk menargetkan dan menyalurkan bantuan. Meskipun rumah tangga miskin dan kelas menengah bawah mendapatkan manfaat dari subsidi bahan bakar, rumah tangga kelas menengah dan atas mendapatkan lebih banyak manfaat karena mereka cenderung membeli lebih banyak bahan bakar. Menurut tinjauan tahun 2015 yang dilakukan oleh IMF, 20% rumah tangga terkaya menerima enam kali lebih banyak manfaat dari subsidi bahan bakar dibandingkan 20% rumah tangga termiskin. Dan subsidi bahan bakar sering kali sangat mahal, khususnya ketika harga minyak tinggi. Misalnya, Indonesia membelanjakan 3.1% PDB untuk subsidi bahan bakar pada tahun 2018, tapi negara ini hanya membelanjakan 1.4% PDB untuk kesehatan.          
Introductory Offer: Save 30% on PS Digital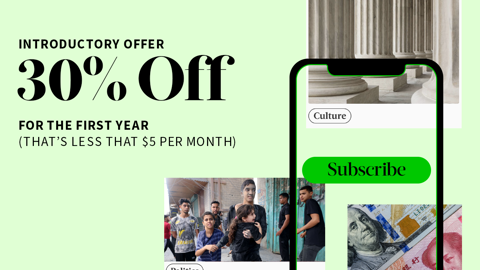 Introductory Offer: Save 30% on PS Digital
Subscribe now to gain greater access to Project Syndicate – including every commentary and our entire On Point suite of subscriber-exclusive content – starting at less than $5 per month.
Terlepas dari kekurangannya yang jelas, kebijakan ini tetap ada di banyak negara. Dalam keadaan normal, menghilangkan subsidi bahan bakar berarti harga minyak akan meningkat secara signifikan, yang sering kali menyebabkan protes dari masyarakat luas. Menghilangkan subsidi juga bisa menyebabkan inflasi jika kenaikan harga bahan bakar dianggap sebagai sinyal untuk menyesuaikan harga-harga lain.
Tapi sekarang bukan kondisi normal. Meskipun runtuhnya perekonomian karena pandemi ini terjadi di hampir semua pasar keuangan, tapi dampaknya terhadap harga minyak khususnya sangat signifikan. Harga riil minyak mentah (yang disesuaikan inflasi) sudah turun setidaknya setengahnya, dari $60 per barel sebelum krisis ke $25-$30 per barel saat ini. Pada suatu titik dalam krisis COVID, harga minyak mencapai titik terendah sejak Perang Dunia II.
Kondisi ini memberikan sebuah peluang yang belum pernah terjadi sebelumnya untuk menghapus subsidi bahan bakar selamanya. Harga minyak yang sangat rendah berarti banyak negara bisa membiarkan pasar yang menetapkan harga tanpa menyebabkan perubahan harga yang dibayar oleh konsumen. Ketika permintaan global terhadap minyak (dan harga minyak) pulih, maka negara-negara ini tidak lagi harus membayar miliaran dolar subsidi bahan bakar setiap tahunnya. Penghematan belanja negara tersebut bisa digunakan untuk membayar kembali utang yang diambil karena COVID-19, dan untuk mendanai program-program bantuan sosial di masa depan. Yang sama pentingnya juga adalah negara-negara tersebut tidak lagi secara aktif menyubsidi krisis iklim.
Pemerintah harus membiarkan harga bahan bakar untuk bergerak bebas sebelum peluang yang ada saat ini hilang. Indonesia mendapatkan pelajaran mengenai hal ini dengan cara yang sulit. Pada tahun 2008, setelah penurunan harga minyak di dunia yang disebabkan oleh krisis keuangan, pemerintah Indonesia mengurangi subsidi bahan bakar dan menyesuaikan harga bahan bakar dalam negeri, tapi masih menerapkan harga bahan bakar tetap. Ketika harga bahan bakar meningkat selama pemulihan, pemerintah tiba-tiba harus mulai membelanjakan miliaran dolar untuk subsidi bahan bakar. 
Siklus ini terulang kembali beberapa tahun setelahnya. Ketika menjabat sebagai menteri keuangan Indonesia pada tahun 2013, salah satu dari kami (Basri) mengusulkan untuk mengurangi subsidi bahan bakar Indonesia dan membiarkan harga bahan bakar bergerak bebas. Tapi meski pemerintah mau mengambil langkah pertama, pada akhirnya mereka memutuskan untuk sekali lagi menerapkan harga bahan bakar tetap. Ketika harga bahan bakar meningkat, perusahaan minyak negara harus membayar subsidi sebesar miliaran dolar.
Harga minyak saat ini yang sangat rendah memungkinkan perubahan yang akan membantu memitigasi perubahan iklim hingga ke masa depan. Menghilangkan subsidi juga akan meringankan anggaran pemerintah ketika harga bahan bakar mulai meningkat. Pemerintah di negara-negara berkembang harus menggunakan kesempatan ini, baik untuk membantu mendanai respons terhadap pandemi ini dan untuk menyediakan bantuan yang menargetkan mereka yang paling membutuhkan.