India camina por la cuerda floja de Ucrania
NUEVA DELHI – La guerra rusa en Ucrania dejó al descubierto las vulnerabilidades estratégicas de la India como muy pocas otras cosas pudieron haberlo hecho: nos lleva a preguntarnos cuestiones fundamentales sobre la posición del país en el mundo, su seguridad regional y lo acertado de sus relaciones a largo plazo.
La India se abstuvo en una sucesión de votos de las Naciones Unidas —en el Consejo de Seguridad, la Asamblea General y el Consejo de Derechos Humanos— que condenaron la invasión rusa. En su «explicación del voto» inicial, la India ni siquiera mencionó a Rusia ni condenó la invasión. En lugar de ello, simplemente instó a que las partes involucradas redujeran el nivel del conflicto, como si ambos países fueran beligerantes, cuando en realidad hay un obvio agresor y una clara víctima. La India ni siquiera objetó el reconocimiento previo por Rusia de la independencia de las regiones ucranianas separatistas de Donetsk y Lugansk.
En declaraciones posteriores, el gobierno del primer ministro Narendra Modi al menos reiteró antiguos principios indios e hizo un llamado a «que todas las partes concierten esfuerzos para volver a la senda de las negociaciones diplomáticas y el diálogo». Frente a la creciente cantidad de muertes —entre ellas, la de un estudiante indio que murió a causa del fuego ruso mientras hacía fila para recibir comida en Járkov— el gobierno de Modi sigue pidiendo en vano la paz mientras se asegura de que no se le escape ninguna crítica —ni hablar de una repulsa— hacia Rusia.
Los motivos de la reticencia india son fácilmente discernibles. En primer lugar, Rusia provee a la India con aproximadamente el 50 % de sus armas y equipamiento para la defensa. Y aunque los vínculos comerciales restantes que la India mantiene con Rusia son mucho más modestos que los que tiene con Estados Unidos, sus relaciones diplomáticas con el Kremlin han sido estrechas desde los días de la Unión Soviética. El veto soviético en la ONU protegió frecuentemente a la India en cuestiones relacionadas con Cachemira, y la protección del Kremlin fue indispensable durante la guerra de independencia de Bangladés en 1971, cuando EE. UU. y China apoyaron a Pakistán.
El creciente acercamiento y afinidad geopolítica de Rusia con China han preocupado entonces a los responsables de las políticas indias durante bastante tiempo. El Kremlin también se mostró más receptivo con Pakistán, estado cliente de China. El primer ministro pakistaní Imran Khan estaba en Moscú el día en que a Rusia invadió Ucrania y continuó con sus reuniones —incluso con el presidente Vladímir Putin—, una clara señal de que los cálculos rusos cambiaron para el subcontinente. Parece que la India siente que debe aferrarse a la buena voluntad rusa para no perderla por completo.
Pero la India también miró hacia Occidente en los últimos años y construyó una asociación estratégica con EE. UU. que incluye vínculos cada vez más significativos para la defensa. Adoptó al «Quad» (una agrupación informal de cuatro países liderada por EE. UU., que incluye además a Japón y Australia) como un útil contrapeso contra China, pero los líderes indios entienden que si continúan evitando sumarse a sus socios del Quad para oponerse a la invasión rusa podrían poner esos vínculos en peligro. El gobierno camina entonces por la cuerda floja, ansioso por no caer para ningún lado.
Subscribe to PS Digital Now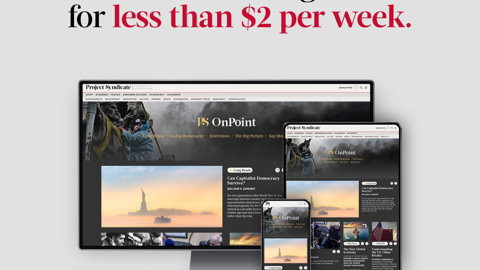 Subscribe to PS Digital Now
Access every new PS commentary, our entire On Point suite of subscriber-exclusive content – including Longer Reads, Insider Interviews, Big Picture/Big Question, and Say More – and the full PS archive.
La guerra en Ucrania plantea otro desafío estratégico para la India: hasta que comenzó la escalada de la crisis a fines del año pasado, EE. UU. parecía estar centrándose en la amenaza que China representaba para el mundo, y en la región Indopacífico más que en Europa; pero es posible que ahora renazca su obsesión de confrontación con Rusia. Eso podría reducir la hostilidad estadounidense hacia China, el amenazador vecino de la India en el norte, que reiteradamente invadió su territorio a lo largo de la frontera en disputa en el Himalaya (y causó incluso la muerte de 20 soldados indios en un ataque no provocado hace menos de 2 años).
Todo esto, en un momento en que la amenaza que plantea Afganistán a su seguridad está en el punto más álgido desde que los talibanes ocuparon el poder dos décadas atrás. La concentración de infraestructura militar China en la región, su patrocinio a los talibanes, la apertura hacia Irán (que cooperó con la India para combatir al régimen talibán anterior) y un aumento de la militancia apoyada por los pakistaníes en Cachemira han puesto la India a la defensiva. Rusia, China e Irán llevaron a cabo ejercicios navales conjuntos recientemente en el Océano Índico.
Los aliados tradicionales de la India en la región son capaces de percibir hacia dónde sopla el viento. Nepal permitió a China que construyera importantes en ferrocarriles y autopistas a través de la zona de su frontera norte. Bután firmó un acuerdo fronterizo en octubre del año pasado que otorga a China territorios que codiciaba, lo que le da a China una ventaja en cualquier futuro conflicto con la India. La mayoría de los vecinos de la India restantes en el sudeste asiático se sumaron a la iniciativa china de la Franja y la Ruta, a la que la India se opone vigorosamente.
La creciente influencia china sobre esos países debilita la posición diplomática de la India frente a sus vecinos cercanos. Y más al este, la junta dirigente de Birmaniadeclaró un parentesco especial con China, mientras que su predecesor consideraba a la India como un valioso contrapeso frente a ese país.
En pocas palabras, la invasión rusa de Ucrania dejó a la India en una posición poco envidiable. Para la India, lo ideal hubiera sido continuar fortaleciendo sus asociaciones con las democracias occidentales —especialmente Australia, Francia, Japón, el Reino Unido y EE. UU.— mientras mantenía sus tradicionales vínculos estrechos con Rusia, con la esperanza de disuadir a China de abusos adicionales contra sus intereses principales de seguridad. En lugar de ello, la India quedó entre la espada y la pared: puede enfadar a Occidente y, de todas formas, perder a Rusia al abrazo chino, incluso mientras Pakistán —con unos vecinos afganos e iraníes más amistosos— aumenta su audacia en Cachemira.
El conflicto en Ucrania plantea un profundo desafío para la gran estrategia india. La falta de alineación prácticamente no es una opción para ningún país con vecinos antagonistas que buscan violar sus fronteras. La tradicional renuencia de la India a elegir un bando en las grandes cuestiones internacionales podría resultarle muy costosa en un futuro no tan distante, cuando desee que otros países la apoyen. Modi tendrá que tomar una decisión, o sus opciones quedarán reducidas a una.
Traducción al español por Ant-Translation