Celoživotní požehnání vakcinace
KAPSKÉ MĚSTO – Svět, ve kterém budou naše děti a jejich děti vyrůstat bez hrozby obrny a dalších nemocí, jimž lze předcházet, je společným snem všech. Na rozdíl od většiny snů je však tento sen dosažitelný. Měl jsem to štěstí, že jsem byl během života svědkem mimořádného vlivu vakcín při ochraně dětí před nemocemi a úmrtími – zejména v rozvojovém světě.
Vakcíny pro mě vždy měly zvláštní význam. Jako malý chlapec v Jihoafrické republice jsem téměř zemřel na obrnu. V té době – počátkem 30. let – neexistovala proti této vysoce nakažlivé nemoci vakcína. Rodiče všude na světě se oprávněně obávali, že poliovirus překročí jako mor práh jejich domu, zasáhne jejich dítě a způsobí mu ochrnutí během několika hodin nebo v horším případě smrt během několika dnů.
Lékaři mým rodičům oznámili, že se se mnou nedá mnoho dělat, a tak otec zahájil přípravy mého pohřbu. Naštěstí jsem se zotavil, pouze nemám plně funkční pravou ruku. Prožil jsem nádherný život, ovšem ochrnutí ruky je mi každodenní připomínkou, proč musíme naléhavě usilovat o vymýcení obrny a zajistit, aby měly všechny děti přístup k potřebným vakcínám.
Ještě před čtvrt stoletím byla obrna endemická ve 125 zemích – a denně ochromila více než tisíc dětí. Dnes máme nejméně případů obrny v menším počtu zemí než kdykoliv v minulosti. Loni byla za stát bez výskytu této nemoci označena Indie – kdysi považovaná za nejobtížnější místo k zastavení obrny. Ve zbývajících třech zemích, kde se obrnu dosud nepodařilo eliminovat – v Pákistánu, Afghánistánu a Nigérii –, se v roce 2012 objevilo pouhých 223 hlášených případů. To mě naplňuje optimismem, že se dožiju dne, kdy bude tato úděsná nemoc navždy vymýcena.
Pozoruhodný pokrok, jehož jsme zatím dosáhli, je výsledkem trvalého celosvětového úsilí za podpory značných prostředků, které věnují dárci i postižené země, milionů oddaných zdravotníků a usilovné politické vůle splnit tento úkol. Musíme však dokončit, co jsme začali. Dokud nebude virus obrny vymýcen všude, není žádná země bezpečná před opětovnou nákazou.
Současně s tím musíme maximálně využít vědeckých pokroků uplynulého půlstoletí, díky nimž se staly vakcíny proti dalším léčitelným nemocem nejsilnější a finančně nejefektivnější zdravotnickou investicí, jaká v současné době existuje. Vakcíny už vymýtily pravé neštovice a dramaticky snížily počet úmrtí a onemocnění dětí v souvislosti se spalničkami, záškrtem a tetanem.
Subscribe to PS Digital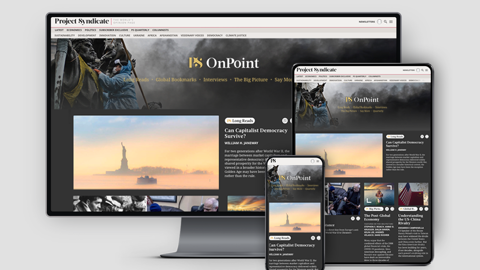 Subscribe to PS Digital
Access every new PS commentary, our entire On Point suite of subscriber-exclusive content – including Longer Reads, Insider Interviews, Big Picture/Big Question, and Say More – and the full PS archive.
Přesto bohužel stále umírá každých 20 vteřin jedno dítě na nemoci, jako je zápal plic, jimž lze rovněž předcházet vakcinací. Většina těchto dětí žije v chudých a odlehlých komunitách, které stále nemají přístup k základním vakcínám, jež jsou v lépe situovaných zemích všeobecně dostupné. To je jeden z důvodů, proč u dítěte narozeného v zemi s vysokými příjmy existuje osmnáctkrát nižší pravděpodobnost, že zemře před dosažením pěti let věku.
Naštěstí svět nezůstává v nečinnosti. Tento týden pořádá korunní princ Muhammad bin Zajíd bin Sultán Nahján – v partnerství s generálním tajemníkem Organizace spojených národů Pan Ki-munem a Billem Gatesem – v Abú Dhabí první globální summit věnovaný snaze zajistit, aby všechny děti všude na světě měly přístup ke všem výhodám spojeným s vakcinací.
Summit o vakcínách vychází z loňského závazku téměř 200 zemí vymýtit obrnu, vyvinout nové a zdokonalené vakcíny za dostupné ceny a zpřístupnit je do roku 2020 všem dětem na světě.
Vykořenění obrny bude na cestě k realizaci této vize klíčovým milníkem. A summit v Abú Dhabí poskytl jasný plán, jak tohoto cíle do roku 2018 dosáhnout – jde o strategii, která doplňuje jiné snahy o zlepšení pokrytí imunizací u nemocí, jako jsou spalničky, zápal plic nebo rotavirus. Posílení běžné imunizace ochrání naše výdobytky v boji proti obrně a umožní nám dostat se i k nejzranitelnějším dětem v nejhůře dostupných a nejnevlídnějších komunitách.
Protože jsem vyrostl v zemi, kde téměř každé čtvrté dítě nakažené obrnou na tuto nemoc zemřelo, plesá mi srdce při představě světa, v němž budou mít všechny rodiny přístup k život zachraňujícím vakcínám, které je zbaví břemene spojeného se zbytečnými úmrtími a nemocemi. Nyní potřebujeme prostředky, závazky a odhodlání zavést plán představený v Abú Dhabí do praxe.
Když je v sázce zdraví našich dětí, nesmí existovat žádný rozdíl mezi bohatými a chudými a žádné rozlišování mezi komunitami. Pokračující mýcení obrny rozšířením přístupu k vakcínám na všechny děti, které je potřebují, představuje pro nás všechny příležitost postavit se v zájmu naší globální společnosti do jednoho šiku. Musíme to udělat. A až se nám to podaří, bude to triumf pro celé lidstvo.
Z angličtiny přeložil Jiří Kobělka.