Een leven vol zegeningen dankzij vaccinatie
KAAPSTAD – Een wereld waarin onze kinderen en kleinkinderen kunnen opgroeien, vrij van de dreiging van polio en andere ziekten die voorkomen kunnen worden, is een droom die iedereen deelt. Maar anders dan de meeste dromen kan deze droom ook echt werkelijkheid worden. Tijdens mijn leven heb ik het geluk gehad getuige te zijn geweest van de buitengewone invloed die vaccins hebben gehad op de bescherming van kinderen tegen ziekte en dood – vooral in de ontwikkelingslanden.
Vaccins hebben altijd een speciale betekenis voor mij gehad. Als jong kind in Zuid-Afrika ben ik bijna aan de polio bezweken. Destijds – begin jaren dertig – was er geen vaccin voor deze zeer besmettelijke ziekte. Ouders waren terecht doodsbang dat het poliovirus – net als de pest – bij hen zou aankloppen en een kind zou treffen, om binnen een paar uur een onomkeerbare verlamming te veroorzaken, of – erger nog – binnen een paar dagen de dood.
De artsen zeiden tegen mijn ouders dat er weinig voor mij kon worden gedaan, dus mijn vader begon mijn begrafenis al voor te bereiden. Gelukkig herstelde ik, afgezien van het feit dat ik mijn rechterhand niet meer kon gebruiken. Ik heb een prachtig leven geleid, maar de verlamming van mijn hand herinnert mij er nog dagelijks aan dat we dringend de uitroeiing van het poliovirus moeten nastreven en ervoor moeten zorgen dat alle kinderen toegang hebben tot de vaccins die ze nodig hebben.
Nog maar een kwart eeuw geleden was polio endemisch in 125 landen, waar iedere dag ruim duizend kinderen verlamd raakten. Vandaag de dag zijn er minder poliogevallen, in minder landen, dan ooit tevoren. Vorig jaar werd India – dat ooit werd beschouwd als de moeilijkste plek om polio een halt toe te roepen – vrij van polio verklaard. In de drie landen waar polio nog niet is uitgeroeid – Pakistan, Afghanistan en Nigeria – waren er in 2012 slechts 223 gerapporteerde gevallen. Dit zorgt ervoor dat ik optimistisch ben dat ik de dag nog zal meemaken waarop voor eens en voor altijd korte metten zal zijn gemaakt met deze gevreesde ziekte.
De opmerkelijke vooruitgang die we tot nu toe hebben geboekt, is het gevolg van een duurzame mondiale inspanning, ondersteund door de aanzienlijke middelen die ter beschikking zijn gesteld door donorlanden en getroffen landen, miljoenen toegewijde gezondheidswerkers en de doortastende politieke wil om deze taak te volbrengen. Maar we moeten voltooien wat we zijn begonnen. Totdat het poliovirus overal is uitgeroeid, zal geen land veilig zijn.
Tegelijkertijd moeten we ons voordeel doen met de wetenschappelijke vooruitgang van de afgelopen halve eeuw. Daardoor zijn vaccins voor andere ziektes die te voorkomen zijn de krachtigste en meest kosten-effectieve investering in de gezondheidszorg geworden die momenteel bestaat. Vaccins zijn niet duur en makkelijk op hun plek van bestemming te brengen, en kinderen worden er een leven lang door beschermd. Vaccins hebben de pokken al uitgeroeid, en gezorgd voor een dramatische daling van het aantal dode en zieke kinderen als gevolg van de mazelen, difterie en tetanus.
Subscribe to PS Digital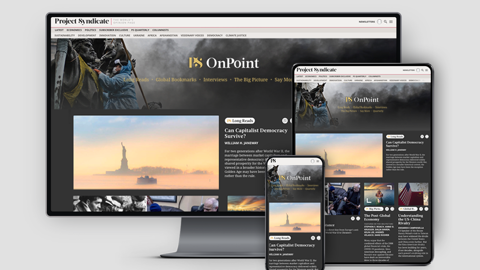 Subscribe to PS Digital
Access every new PS commentary, our entire On Point suite of subscriber-exclusive content – including Longer Reads, Insider Interviews, Big Picture/Big Question, and Say More – and the full PS archive.
Toch gaat er helaas nog iedere twintig seconden een kind dood aan een ziekte die door een vaccin kan worden voorkomen, zoals longontsteking. De meesten van deze kinderen komen uit arme en afgelegen gemeenschappen, zonder toegang tot de fundamentele vaccins die verkrijgbaar zijn in landen die beter af zijn. Dit is een van de redenen waarom een kind dat wordt geboren in een land met hoge inkomens achttien maal minder kans maakt om vóór het vijfde levensjaar te sterven dan een kind uit een land met lage inkomens.
Gelukkig onderneemt de wereld nu actie. Deze week is in Abu Dhabi Mohamed bin Zayed bin Sultan Al Nahyan, de kroonprins van Abu Dhabi – samen met secretaris-generaal Ban Ki-Moon van de VN en Bill Gates – gastheer van de eerste wereldtop die erop is gericht ervoor te zorgen dat alle kinderen overal toegang hebben tot de volledige voordelen van vaccins.
De vaccin-top vloeit voort uit de toezegging die bijna tweehonderd landen vorig jaar hebben gedaan om polio uit te roeien, nieuwe en verbeterde vaccins te ontwikkelen tegen betaalbare prijzen, en die in 2020 aan ieder kind ter beschikking te stellen.
Het uitroeien van polio zal een belangrijke mijlpaal zijn op weg naar het verwezenlijken van dit visioen. En aan de top in Abu Dhabi is een duidelijk plan voorgelegd om daar al in 2018 op uit te komen – een strategie die een aanvulling is op andere inspanningen om de bescherming tegen ziekten als de mazelen, longontsteking en het rotavirus uit te breiden. Door het bevorderen van routinematige inentingen kan onze winst tegen de polio in stand blijven en zijn wij in staat de meest kwetsbare kinderen in de moeilijkst bereikbare gemeenschappen te beschermen.
Doordat ik ben opgegroeid in een land waar bijna één op de vier kinderen die werd besmet met polio aan deze ziekte overleed, zwelt mijn hart op als ik me een wereld voorstel waarin alle gezinnen toegang hebben tot levensreddende vaccins, waardoor ze worden bevrijd van de last van dood en ziekten die voorkomen hadden kunnen worden. Nu hebben we geld, toewijding en vastberadenheid nodig om het in Abu Dhabi gepresenteerde plan ten uitvoer te leggen.
Als het op de gezondheid van onze kinderen aankomt, mag er geen afstand zijn tussen rijk en arm en mogen er geen verschillen bestaan tussen de diverse gemeenschappen. Doorpakken bij het uitroeien van polio, door het bereik van vaccins uit te strekken naar alle kinderen die ze nodig hebben, biedt ons de kans om samen op te trekken ten bate van de hele wereld. Dat moeten we dan ook doen. En als we slagen, zal dat een overwinning zijn voor de hele mensheid.
Vertaling: Menno Grootveld