Une manière simple de maintenir l'économie à flot en période de COVID-19
CAMBRIDGE – Alors que la pandémie de coronavirus paralyse les économies du monde, que les marchés boursiers sont en chute libre et que le chômage augmente, les décideurs seront obligés de comprendre comment contenir l'épidémie, tout en empêchant l'effondrement financier et économique. La plupart des propositions économiques dans les pays développés se concentrent actuellement sur des transferts en espèces aux personnes, des reports d'impôts et des plans de sauvetage d'entreprises.
Or, la biomédecine est essentielle pour sauver l'économie et, des trois grandes chaînes biomédicales qui sont actuellement en jeu, c'est celle qui est la moins importante sur le plan médical qui pourrait empêcher l'Armageddon économique.
Il s'agit d'un test pour vérifier si une personne a été contaminée, guérie et a ainsi développé une immunité au Covid-19. Les scientifiques estiment que les cas asymptomatiques ou faiblement symptomatiques sont plus nombreux que les cas présentant des symptômes graves. Lorsque ces personnes asymptomatiques surmontent l'infection, elles pourraient se rendre au travail – elles n'infecteront pas les autres personnes avec lesquelles elles entrent en contact. Le problème est que nous devons savoir qui sont ces personnes.
Imaginez que nous puissions tester l'immunité des cas faiblement symptomatiques et asymptomatiques aujourd'hui. Il ne s'agit pas du test, dont il a été beaucoup question (et qui n'est pas encore largement disponible), destiné à diagnostiquer la maladie elle-même. Ce test montre si le virus est présent dans un organisme, et non pas s'il a été présent, s'en est allé et pourrait conférer l'immunité. Tester les personnes qui ont été exposées, mais sont guéries et en bonne santé, pourrait leur permettre de retourner au travail, et pourrait permettre aux entreprises et institutions de réouvrir.
Les premiers débats publics à propos des tests d'immunité – qui sont rares – ont insisté sur la façon dont la compréhension de l'immunité au Covid-19 pourrait conduire au développement d'un vaccin ou d'antiviraux pour traiter les malades, et pourrait nous informer quant à l'ampleur de la propagation du virus. Mais une utilisation économique majeure et immédiate d'un test d'immunité est qu'il peut être déployé avant que nous ayons un remède ou un traitement. Les premières recherches suggèrent que, comme pour d'autres maladies virales, la guérison du Covid-19 conduit en effet à une immunité post-maladie. Cela doit encore être pleinement confirmé – et, tout aussi important, il faut aussi vérifier que cette immunité soit de longue durée. Mais ces tests sont maintenant possibles et, avec une volonté politique, pourraient être largement disponibles.
Cette volonté pourrait en valoir la peine, surtout si le virus se propage. L'objectif de santé publique est, bien sûr, le développement de médicaments thérapeutiques et un vaccin le plus tôt possible. Mais un vaccin ne devrait pas être largement disponible avant 12-18 mois – bien plus longtemps que ce que ne peuvent rester fermer les économies du monde.
Subscribe to Project Syndicate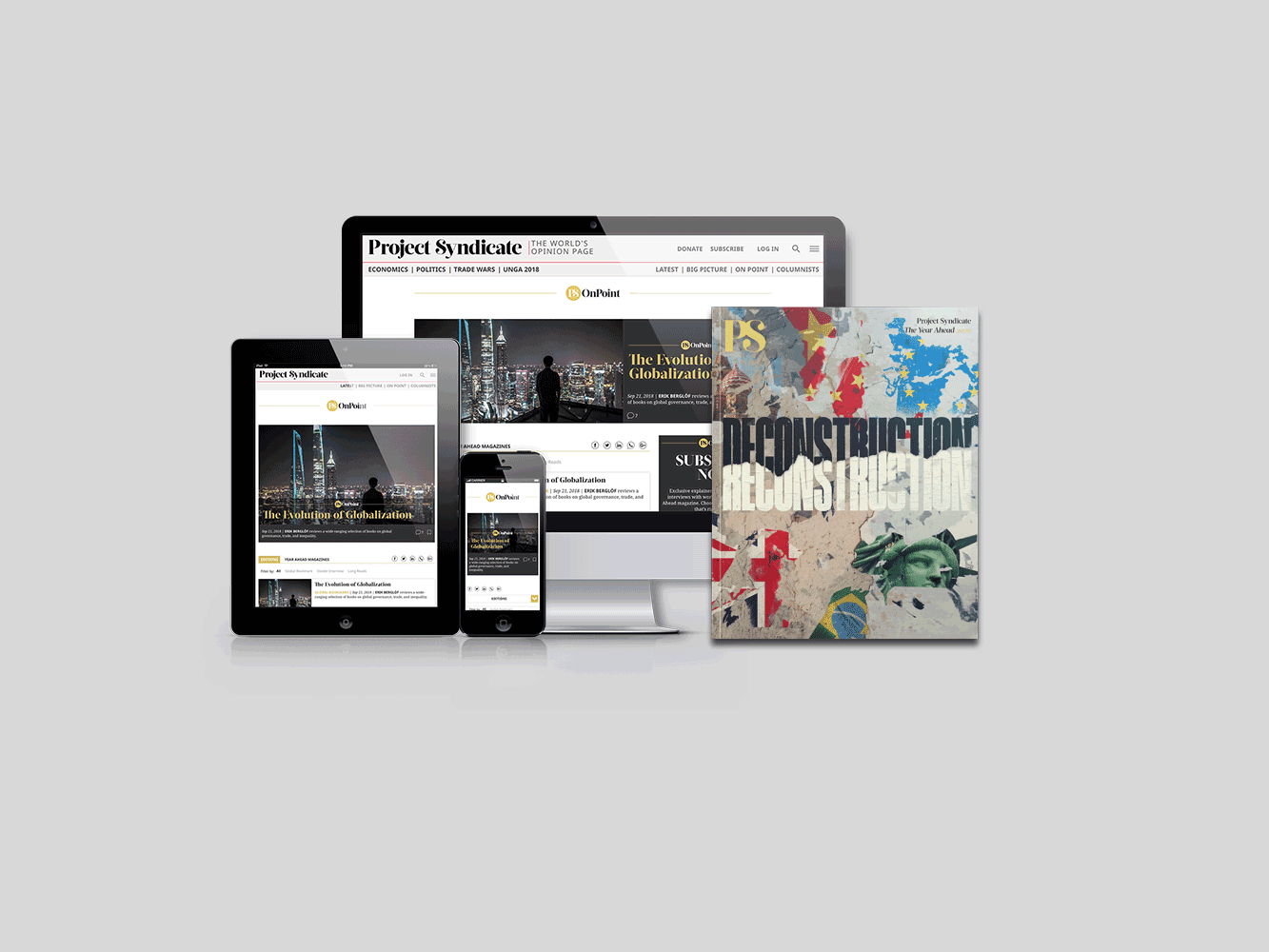 Subscribe to Project Syndicate
Enjoy unlimited access to the ideas and opinions of the world's leading thinkers, including weekly long reads, book reviews, and interviews; The Year Ahead annual print magazine; the complete PS archive; and more – all for less than $2 a week.
De même, les antiviraux pour traiter la maladie sauveront des vies et doivent être une priorité, mais la force de leur impact sur l'économie est incertaine. Les gens vont continuer à tomber malade. En outre, des antiviraux efficaces ne sont pas attendus avant plusieurs mois, peut-être de nombreux mois, et non pas quelques semaines. L'économie ne peut pas attendre aussi longtemps.
Considérez comment un test d'immunité pourrait être utilisé aujourd'hui. Ma femme et moi avons eu un rhume qui a duré une journée la semaine dernière : une toux légère, sèche et un peu de congestion. Est-ce une forme légère de Covid-19, que nos systèmes immunitaires repoussèrent avant l'apparition de symptômes graves ? Probablement pas, mais peut-être c'était le cas – et peut-être que nous sommes maintenant à l'abri. Si un test d'immunité était disponible et pouvait vérifier que nous sommes bel et bien à l'abri, nous pourrions sortir et retourner au bureau. Mais, parce que nous ne savons pas, nous restons à la maison.
Je ne suis pas un épidémiologiste, bien qu'un épidémiologiste de mon université a soulevé des possibilités similaires. Une grande partie du discours public à propos du Covid-19 est incertaine et, paraît-il, il en va de même des connaissances des experts. Par exemple, la valeur économique du test d'immunité dépend de combien de personnes attrapent le virus sans développer de symptômes et du niveau global d'infection dans les mois à venir, ce que nous ne savons pas précisément à l'heure actuelle. Un test d'immunité devrait être facile à utiliser, car ce sont les personnes asymptomatiques qui auraient à le faire. On peut supposer que certains des premiers utilisateurs seraient les entreprises obligées de fermer à moins de disposer d'une poignée d'employés ayant développé une immunité. De manière perverse, plus la situation de santé publique est critique, plus la valeur économique du d'immunité est élevée. Plus il y a de personnes infectées, plus l'économie est perturbée et plus le nombre de patients asymptomatiques qui ne seraient pas obligés de rester à la maison augmente.
Cela pourrait être une méthode peu couteuse pour réduire au minimum les conséquences économiques de la pandémie : ceux qui ne sont plus porteurs du virus reprennent leur routine normale. Leur nombre augmentera fortement au cours des prochaines semaines, selon certaines projections. Le problème est de savoir qui ils sont.
Un test d'immunité pourrait nous dire qui n'a pas besoin d'être retiré de la circulation économique ; une bonne utilisation pourrait nous permettre d'entamer une reprise économique dès avril – ou d'empêcher une nouvelle baisse. Et si les incertitudes sont surmontées, la vie économique pourrait se poursuivre pendant que les efforts biomédicaux plus poussés – pour développer un vaccin et des antiviraux – percolent progressivement vers une solution dans les laboratoires du monde entier.
Traduit de l'anglais par Timothée Demont