De massa's mobiliseren voor klimaatleiderschap
LONDEN – Dit jaar hebben extreme weersomstandigheden onze planeet gegeseld, waarbij kwetsbare gemeenschappen over de hele wereld zijn blootgesteld aan de steeds grotere impact van klimaatverandering. Elke nieuwe dag leren we meer over – en ervaren direct – de gevaarlijke consequenties van het winnen en verbranden van fossiele brandstoffen. Overstromingen, droogtes, en bosbranden worden dodelijker en de weerpatronen heftiger.
Later dit jaar zal het Intergovernmental Panel on Climate Change (IPCC), de wetenschappelijke taskforce van de VN over het onderwerp, zijn eerste grote rapport in vier jaar afleveren. Het zal in detail de verwoestende consequenties uitwerken die ons te wachten staan als we de gemiddelde mondiale temperatuur niet binnen de 1,5°Celsius boven pre-industriële niveaus weten te houden. Ondanks gedane toezeggingen door regeringen en de industrie hebben we de 1°C al bereikt en zijn de gevolgen hiervan verschrikkelijk. Er bestaat een urgente noodzaak tot verandering.
Gelukkig heeft onmiddellijke actie om de uitstoot van broeikasgassen terug te dringen onmiddellijk voordelen. Toen acht kolen- en oliecentrales in Californië tussen 2001 en 2011 gesloten werden steeg binnen slechts een jaar het vruchtbaarheidscijfer van moeders die dichtbij een van deze faciliteiten woonden.
Om een nieuw tijdperk van schone lucht en een betere gezondheid te bewerkstelligen spreken gemeenschappen rond de hele wereld zich uit en maken besluitvormers duidelijk dat een economie vrij van fossiele brandstoffen is wat het publiek wil. Ze zullen doorgaan actie te eisen om fossiele brandstoffen in de grond te laten zitten, en om meer billijker en duurzamere vormen van energie in te zetten.
De kennis over klimaatverandering is waterdicht, de technologieën om deze aan te pakken zijn al beschikbaar, en de noodzakelijke financiering wordt gemobiliseerd. Daarnaaast bestaat er een snel groeiende sociale beweging die wordt geïnspireerd door de universele voordelen van een toekomst van schone energie: mensen zijn er klaar voor om onderdeel uit te maken van de verandering die ze in de wereld willen zien.
Rise for Climate, een mondiale mobilisatie van 250.000 mensen die meededen aan meer dan 900 evenementen in 95 landen, vond 8 september plaats. Deze heeft de toon gezet voor hele reeks aankomende politieke bijeenkomsten om klimaatverandering het hoofd te bieden, waaronder de Global Climate Action Summit deze maand, de One Planet Summit, en de Klimaatconferentie van de Verenigde Naties in Polen (COP24) in december. Bij elk van deze gebeurtenissen zullen beleidsmakers worden uitgedaagd om onverbloemd de realiteit van de klimaatcrisis te erkennen en om hun acties om deze tegen te gaan op te voeren.
Subscribe to PS Digital Now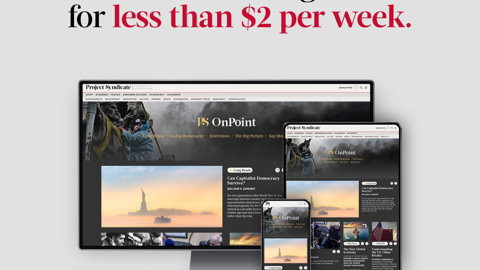 Subscribe to PS Digital Now
Access every new PS commentary, our entire On Point suite of subscriber-exclusive content – including Longer Reads, Insider Interviews, Big Picture/Big Question, and Say More – and the full PS archive.
Wat deze internationale mobilisatie van steden, groepen uit het maatschappelijk middenveld, bedrijven, en individuen over vijf continenten laat zien is dat de macht aan het volk werkt. Het is de drijvende kracht geweest achter overwinningen voor de burgerrechten zoals de afschaffing van de slavenhandel tot de hedendaagse beweging om de rechten en waardigheid van lhbqt-mensen te garanderen. En deze is naar voren gekomen op cruciale momenten in de inspanning om klimaatverandering te bevechten – een inspanning die in feite onderdeel is van  een veel grotere strijd om rechtvaardigheid.
In 2014 bracht de eerste People's Climate March 400.000 mensen bijeen in New York en creëerde de blauwdruk voor escalerende interventies over de hele wereld in de jaren daarna. Het maatschappelijk middenveld heeft wereldleiders overtuigd om in 2015 in Parijs de klimaatovereenkomst te ondertekenen, en heeft druk uitgeoefend op de beleidsmakers die verantwoordelijk zijn om te voldoen aan nationale reductiedoelstellingen. Ondertussen blijven individuen en maatschappelijke organisaties eisen dat bedrijven, universiteiten, en andere instituties zich afkeren van fossiele brandstoffen en gaan investeren in hernieuwbare energie. Deze bewegingen hebben de ruimte gecreëerd voor progressieve politici om actie te ondernemen.
Desalniettemin blijft de klimaatcrisis groeien, wat demonstreert dat we nog steeds een lange weg te gaan hebben. Alleen dit jaar al hebben catastrofalehittegolven Noord-Afrika, Europa, Japan, Pakistan, Australië, en Argentinië getroffen. Dodelijke bosbranden hebben levens geëist en miljarden dollars aan eigendommen vernietigd in Griekenland, Zweden, de Verenigde Staten, en Rusland. Droogtes hebben Kenia en Somalië getroffen; en Afghanistan en Zuid-Afrika hebben onder grote watertekorten geleden. Hawaï, India, Oman, en Jemen zijn murw gebeukt door zware stormen en overstromingen. En het ijs in de Beringzee is nog nooit zo dun geweest. April markeerde de 400e opeenvolgende maand waarbij de mondiale temperatuur boven het twintigste-eeuwse gemiddelde lag.
Iedereen heeft de verantwoordelijkheid om de handen uit de mouwen te steken en om onmiddellijke actie te eisen. Alleen door samen te komen kunnen we een vloedgolf aan steun voor klimaatleiderschap creëren en het goede momentum om een snelle transitie naar een duurzame en billijke wereld te garanderen vinden.
Vertaling Melle Trap