Massa Melakukan Mobilisasi untuk Kepemimpinan Perubahan Iklim
LONDON – Tahun ini, kondisi cuaca ekstrem telah merusak bumi dan menjadikan komunitas yang rentan di seluruh dunia semakin merasakan dampak perubahan iklim yang terus meningkat. Setiap hari, kita lebih banyak belajar – dan mengalami secara langsung – dampak berbahaya dari pengambilan dan penggunaan bahan bakar fosil. Banjir, kekeringan, dan kebakaran hutan menjadi semakin parah, dan pola cuaca menjadi semakin buruk.
Pada akhir tahun ini, Panel Antarpemerintah tentang Perubahan Iklim (IPCC), yang merupakan gugus tugas ilmiah PBB untuk perubahan iklim, untuk pertama kalinya akan menyampaikan laporan utama mereka. Laporan tersebut akan menguraikan secara rinci dampak merugikan yang akan terjadi jika kita tidak menjaga suhu rata-rata global di bawah 1.5°C dari suhu sebelum masa industri. Meskipun terdapat komitmen dari pemerintah dan industri, kita telah mencapai kenaikan suhu 1°C, dan dampak yang ada sudah sangat buruk. Terdapat kebutuhan mendesak untuk perubahan. 
Untungnya, tindakan dalam jangka pendek untuk mengurangi emisi gas rumah kaca memberikan manfaat yang dapat segera dirasakan. Ketika delapan pembangkit listrik tenaga batu bara dan minyak berhenti digunakan di California pada periode 2001 dan 2011, tingkat kesuburan para ibu yang tinggal berdekatan dengan lokasi pembangkit listrik tersebut meningkat hanya dalam jangka waktu satu tahun. 
Untuk mencapai era baru dengan udara bersih dan tingkat kesehatan yang lebih baik, maka komunitas di seluruh dunia harus angkat bicara agar para pembuat kebijakan paham bahwa ekonomi yang bebas dari bahan bakar fosil adalah hal yang diinginkan oleh masyarakat. Masyarakat akan terus meminta agar bahan bakar fosil tidak ditambang, dan agar energi yang lebih ramah lingkungan digunakan.  
Terdapat bukti ilmiah yang kuat mengenai perubahan iklim, teknologi untuk mengatasi hal tersebut telah tersedia dan pendanaan yang diperlukan tengah dimobilisasi. Selain itu, sebuah gerakan sosial yang berkembang terinspirasi dari manfaat universal dari masa depan yang menggunakan energi ramah lingkungan; masyarakat telah siap untuk melakukan perubahan yang mereka inginkan untuk terjadi di dunia.
Rise for Climate, yang merupakan gerakan mobilisasi global yang terdiri dari 250,000 orang yang ambil bagian dalam lebih dari 900 acara di 95 negara yang berlangsung pada tanggal 8 September. Gerakan tersebut telah menggariskan arahan bagi acara-acara politik untuk mengatasi perubahan iklim, termasuk acara KTT Aksi Iklim Global (Global Climate Action Summit), KTT Satu Planet (One Planet Summit) dan Konferensi Perubahan Iklim (UN Climate Change Conference) di Polandia (COP24) yang akan diselenggarakan pada bulan Desember tahun ini. Dalam setiap acara, para pembuat kebijakan akan ditantang untuk menerima kenyataan krisis iklim dan meningkatkan upaya mereka untuk mengatasi hal tersebut.
Subscribe to PS Digital Now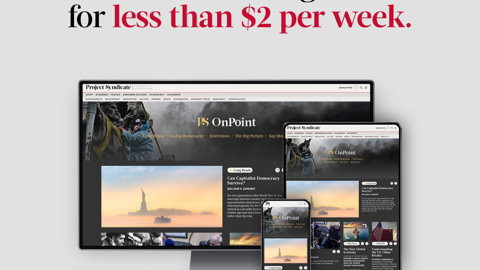 Subscribe to PS Digital Now
Access every new PS commentary, our entire On Point suite of subscriber-exclusive content – including Longer Reads, Insider Interviews, Big Picture/Big Question, and Say More – and the full PS archive.
Adanya mobilisasi internasional dari tingkat kota, kelompok masyarakat sipil, dunia usaha, dan individu di kelima benua menunjukkan bahwa kekuatan masyarakat dapat membuat perbedaan. Hal tersebut telah menjadi kekuatan dibalik kemenangan dalam bidang hak sipil mulai dari penghapusan perbudakan hingga gerakan kontemporer untuk menjamin hak dan martabat kelompok LGBTQ. Dan gerakan ini terjadi pada saat penting dalam upaya melawan perubahan iklim – sebuah upaya yang merupakan bagian dari perjuangan yang lebih besar untuk mencapai keadilan.
Pada tahun 2014, yang merupakan pertama kali diadakan Protes Masyarakat Tentang Perubahan Iklim di New York menyatukan 400,000 orang, dan menggariskan arahan untuk gerakan yang lebih besar di seluruh dunia pada tahun-tahun mendatang. Masyarakat sipil telah membantu meyakinkan para pemimpin dunia untuk menandatangani kesepakatan iklim Paris pada tahun 2015, dan mereka telah menekan para pembuat kebijakan untuk bertanggung jawab dalam memenuhi target penurunan emisi. Sementara itu, para individu dan kelompok masyarakat sipil terus meminta perusahaan, universitas, dan institusi lainnya untuk melakukan divestasi dari bahan bakar fosil dan melakukan investasi pada energi terbarukan. Gerakan-gerakan ini telah menciptakan ruang bagi politisi yang berpikiran maju untuk mengambil tindakan.
Namun, krisis iklim terus berkembang, hal ini menujukan bahwa kita masih harus menempuh jalan yang panjang. Pada tahun ini saja, gelombang panas yang sangat buruk telah melanda Afrika Utara, Eropa, Jepang, Pakistan, Australia, dan Argentina. Kebakaran hutan yang mematikan telah menelan korban jiwa dan merusak banyak properti seharga miliaran dolar di Yunani, Swedia, Amerika dan Rusia. Kekeringan melanda Kenya dan Somalia; dan Afghanistan serta Afrika Selatan telah mengalami kekurangan air bersih dalam skala besar. Hawaii, India, Oman dan Yaman telah dihantam badai yang sangat kuat dan banjir. Dan es di Laut Bering telah mencapai rekor terendah. Bulan April menandai 400 bulan berturut-turut dimana suhu global berada di atas rata-rata abad ke dua puluh. 
Semua orang memiliki tanggung jawab untuk ambil bagian dan menuntut tindakan yang segera dapat dilakukan. Hanya dengan bersatu kita dapat menciptakan dukungan untuk kepemimpinan iklim dan menciptakan momentum yang tepat untuk menjamin transisi menuju dunia yang berkelanjutan dan adil.