Odpoutání se od fosilních paliv
BERN – Ještě nikdy nebyla lepší příležitost pro osvobození se od fosilních paliv, než je teď. Teploty, co lámou rekordy, prudký pokles cen fosilních paliv, historické investice do obnovitelné energie a globální tlak ke splnění klimatických slibů, to vše se nyní setkává k vytvoření ideálních podmínek pro tento posun, co změní svět.
Nutnost změny už nemůže být naléhavější. Klimatická úmluva OSN, vytvořená minulý prosinec v Paříži, znovu potvrdila, že 2°C nad předprůmyslovou úroveň je horní hranice globálního oteplování, za kterou by již následky pro planetu byly katastrofické. Zahrnovala ale také sliby "snažit se" o snížení oteplování na 1,5°C. S ohledem na poslední údaje vydané agenturou NASA by měl být tento spodní limit vnímán jako zcela nezbytný.
Nové údaje potvrzují, že rok 2015 byl nejteplejším zaznamenaným rokem a ukazují, že šňůra teplot lámajících rekordy pokračovala i během prvních dvou měsíců tohoto roku. Podle NASA byly teploty v únoru globálně o 1,35°C nad průměrem, který vychází z dat mezi léty 1951-1980.
Naštěstí se zdá, že se privilegovaná pozice fosilních paliv již oslabuje. Podle Mezinárodní agentury pro energii (IAE) se již dokonce oddělili globální emise skleníkových plynů a ekonomický růst, kdy celosvětová úroveň CO2 vztažená na energii (největší zdroj lidských emisí skleníkových plynů) zůstala na stejné úrovni již druhý rok v řadě. To znamená, že fosilní paliva již nejsou zdrojem síly naší ekonomiky.
Zdá se, že prudký pokles cen ropy – o více než dvě třetiny za posledních 18 měsíců – nezpůsobil, jak se mnozí báli, zvýšenou spotřebu. Co ale způsobil, byla zásadní rána profitům gigantů v oboru fosilních paliv jako je Shell, BP či Statoil.
Uhlí se nedaří o mnoho lépe. Následně po čínském moratoriu z konce minulého roku na nové uhelné elektrárny, požádala největší světová uhelná společnost Peabody v USA o ochranu před bankrotem, poté co již nemohla splácet své dluhy, částečně díky slábnoucí poptávce po uhlí.
Introductory Offer: Save 30% on PS Digital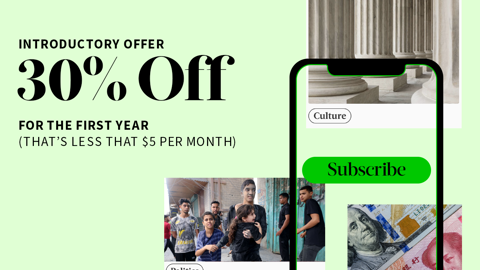 Introductory Offer: Save 30% on PS Digital
Subscribe now to gain greater access to Project Syndicate – including every commentary and our entire On Point suite of subscriber-exclusive content – starting at less than $5 per month.
Paralelně s tím získávají obnovitelné zdroje energie rekordní množství investic – podle výzkumu firmy Bloomberg New Energy Finance to minulý rok bylo zhruba 329,3 miliard dolarů. Výsledkem je, že čistší, férovější a udržitelnější budoucnost, poháněná čistě obnovitelnými zdroji, začíná vypadat jako reálná možnost.
Je to ale stále dlouhá cesta. Většina vlád stále lpí, v různé míře, na fosilních palivech, s jejich nestálými cenami a devastujícím ekologickým dopadem, i přesto, že má tato závislost destabilizační vliv na jejich ekonomiky.
Ti, co se zavázali prací na klimatické změně – od mezinárodních organizací přes lokální společenství až k jednotlivým občanům – musí naléhavě využít pohybu, který v tomto tématu minulý rok nastal, prostřednictvím silného tlaku na vlády a firmy, aby se věnovali politice a investicím potřebných k završení osvobození se od fosilních paliv. Stejně jako oteplující se planeta ohrožuje všechny, tak budou všichni profitovat z včasné akce proti tomu. A je to na každém z nás, abychom přiměli lídry k zodpovědnosti za své sliby.
Celosvětová hnutí, jako je například Break Free, jsou v tomto ohledu exemplární. Podporou kampaní a masivních akcí zaměřených na zastavení nejnebezpečnějších světových projektů s fosilními palivy – od uhelných závodů v Turecku a na Filipínách, přes doly v Německu a Austrálii, až po frakování v Brazílii a naftové vrty v Nigérii – Break Free doufá, že eliminuje sílu průmyslu s fosilními palivy a z něj plynoucí znečištění, a popožene tak svět směrem k udržitelné budoucnosti.
Break Free, která je připravena zintenzivnit mírový odpor proti novým i existujícím fosilním projektům, si uvědomuje rozsah a naléhavost výzvy, která před nimi leží. Klíčem bude síla a statečnost komunit, které se dožadují ponechání fosilních paliv v zemi a namísto toho chtějí zdravější a spravedlivější svět, ve kterém má každý přístup k udržitelné energii.
Svět se blíží k historické změně našeho energetického systému. Ke zrychlení pokroku musíme konfrontovat ty, kteří z klimatické změny profitují a hájit zájmy obyčejných lidí. Mobilizace v příštím měsíci proti projektům fosilních paliv je podstatným krokem správným směrem. Snaha se konečně oprostit od fosilních paliv je globální. Nikdo si nemůže dovolit ji ignorovat.