Hoe komen we van fossiele brandstoffen af?
BERN – Er heeft zich nog nooit een beter moment voorgedaan om van fossiele brandstoffen af te komen. Recordtemperaturen wereldwijd, in elkaar stortende prijzen van fossiele brandstoffen, historische investeringen in hernieuwbare energie, en mondiale druk om klimaatbeloften na te komen vallen allemaal samen en creëren de ideale omstandigheden voor deze verandering op wereldschaal.
En deze verandering kon niet sneller komen. Het VN-klimaatverdrag dat afgelopen december in Parijs werd gesmeed herbevestigde de grens van 2 graden Celsius boven pre-industriële niveaus als een harde bovengrens voor de opwarming van de aarde, waar voorbij de consequenties voor de planeet catastrofaal worden. Maar het bevatte ook toezeggingen om 'inspanningen te ondernemen' om de opwarming tot 1,5 °C te beperken. Afgaand op de meest recente data gepubliceerd door de NASA moet het bereiken van die ondergrens als hoogste opdracht gezien worden.
De nieuwe data bevestigen dat 2015 het heetste jaar ooit gemeten was, en laten zien dat de mondiale serie recordtemperaturen de eerste twee maanden van dit jaar is doorgegaan. Volgens de NASA lagen de mondiale temperaturen in februari 1,35 °C boven het gemiddelde, gebaseerd op basisgegevens van 1951 tot 1980.
Gelukkig lijkt de geprivilegieerde positie van fossiele brandstoffen al te verzwakken. Volgens het Internationaal Energieagentschap (IEA) is de mondiale broeikasgasuitstoot zelfs al ontkoppeld van de economische groei, waarbij de wereldwijde energiegerelateerde CO²-uitstoot - de grootste bron van menselijke broeikasgasuitstoot - het tweede jaar op rij op hetzelfde niveau is gebleven. Dit betekent dat fossiele brandstoffen niet langer de levensader van onze economie zijn.
Het lijkt erop dat de steile daling van de olieprijzen – twee derde afgelopen anderhalf jaar – zoals velen vreesden geen vergrote consumptie heeft aangemoedigd. Wat het wel gedaan heeft is een grote slag toebrengen aan de winsten van fossiele brandstoffengiganten zoals Shell, BP, en Statoil.
Met kolen gaat het niet veel beter. Volgend op het door China aangekondigde moratorium op nieuwe kolencentrales eind vorig jaar meldde Peabody, 's werelds grootste kolenproducent, zich onlangs aan voor faillissementsbescherming in de VS, nadat het zijn schulden niet langer kon betalen, gedeeltelijk vanwege de teruglopende vraag naar kolen.
Introductory Offer: Save 30% on PS Digital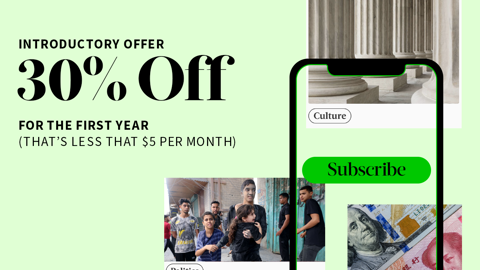 Introductory Offer: Save 30% on PS Digital
Subscribe now to gain greater access to Project Syndicate – including every commentary and our entire On Point suite of subscriber-exclusive content – starting at less than $5 per month.
Ondertussen ontvangen hernieuwbare energiebronnen recordinvesteringen; vorig jaar zo'n 329.3 miljard dollar volgens onderzoek door Bloomberg New Energy Finance. Als resultaat hiervan is een schonere, eerlijkere, en duurzamere toekomst volledig aangedreven door hernieuwbare energie een reële optie aan het worden.
Toch is er nog een lange weg te gaan. De meeste regeringen klampen zich, in verschillende mate, nog steeds vast aan destructieve fossiele brandstoffen, met hun zwevende prijzen en vernietigende impact op het milieu, zelfs wanneer deze afhankelijkheid hun economieën destabiliseert.
Zij die zich engageren aan het aanpakken van klimaatverandering - van internationale organisaties tot lokale gemeenschappen tot individuele burgers - moeten urgent voortborduren op het momentum dat zich het afgelopen jaar heeft opgebouwd, door een stevige druk op overheden en bedrijven te blijven uitoefenen om de politiek en investeringen na te jagen benodigd om het afscheid van fossiele brandstoffen te completeren. Net zoals een opwarmende planeet ons allen in gevaar brengt, bevoordeelt het vroegtijdig opschalen van actie ook iedereen. En het is aan allen om leiders aansprakelijk te houden voor hun beloften, zowel als aan de wetenschap.
Mondiale bewegingen zoals Break Free zijn in dit opzicht exemplarisch geweest. Door het steunen van campagnes en massa-acties gericht op het stoppen van 's werelds meest gevaarlijke fossiele brandstoffenprojecten – van kolencentrales in Turkije en de Filipijnen tot mijnen in Duitsland en Australië, fracking in Brazilië, en oliebronnen in Nigeria – hoopt Break Free de macht en vervuiling van de fossiele brandstoffenindustrie te elimineren en de wereld richting een duurzame toekomst te lanceren.
Omdat Break Free de schaal en urgentie van de uitdaging die ons te wachten staat inziet is het er op voorbereid om zijn vreedzame tegenstand tegen nieuwe en bestaande fossiele brandstoffenprojecten te intensiveren. De sleutel zal de kracht en moed van gemeenschappen zijn die eisen fossiele brandstoffen in de grond te laten zitten en in plaats daarvan een gezondere en meer rechtvaardige wereld zullen opbouwen waarin iedereen toegang heeft tot duurzame energie.
De wereld komt steeds dichter bij een historische verschuiving in ons energiesysteem. Om de vooruitgang te versnellen moeten we degenen confronteren die winst maken op klimaatverandering, en de belangen van gewone mensen verdedigen. De acties komende maand tegen fossiele brandstoffenprojecten zijn een belangrijke stap in de juiste richting. De strijd om eindelijk los te komen van fossiele brandstoffen is een wereldwijde strijd. Niemand kan het zich veroorloven deze te negeren.
Vertaling Melle Trap