Co Przywódcy USA Mogą Zrobić dla Przyrody
MIDDLETON, WISCONSIN - W narracji do serialu Netflixa "Our Great National Parks," były prezydent USA Barack Obama opisuje leniwca jako ukrywającego w swoim futrze "całe mikro-królestwo." "Badania nad nim pomogą w walce z rakiem, malarią i odpornymi na antybiotyki super-bakteriami" - zauważa on, po czym podsumowuje: "Ten śpiący leniwiec może uratować nas wszystkich."
Te uderzające słowa odzwierciedlają, jak bardzo jesteśmy zależni od natury, jeśli chodzi o nasze przetrwanie i dobrobyt. A senny leniwiec i niezliczone inne gatunki fauny i flory mówią nam, że połączone kryzysy utraty różnorodności biologicznej i zmiany klimatu stały się zagrożeniem egzystencjalnym.
Egzystencjalne zagrożenie oznacza, że nie mamy luksusu czasu. Od 1970 roku globalne populacje dzikich zwierząt zmniejszyły się średnio o około 69%. W samej Ameryce Północnej populacje dzikich gatunków zmniejszyły się o 20% w latach 1970-2018. Ten trend będzie się utrzymywał, jeśli nie będziemy działać teraz. To, co zrobimy dzisiaj, określi czy przyszłe pokolenia będą bezpieczne wiedząc, że ich środki do życia, klimat, zdrowie, dobrobyt i siedliska nie są zagrożone.
Stany Zjednoczone są domem dla ogromnej liczby ekosystemów i zadziwiającej różnorodności dzikich roślin i zwierząt. Szacuje się, że na jego terytorium występuje około 200 000 gatunków rodzimych, co stanowi 13% gatunków na całym świecie. Zapierające dech w piersiach krajobrazy rozciągają się od bujnych lasów po mroźną tundrę i subtropikalne lasy deszczowe, w tym w 63 chronionych parkach narodowych.
Stany Zjednoczone są również globalną potęgą polityczną i gospodarczą. A jako największy na świecie kraj-darczyńca, rozwój międzynarodowy jest głównym elementem jego wpływu na sprawy światowe.
W tym miesiącu oczy świata zwrócone są na kluczową konferencję COP15 Konwencji o Różnorodności Biologicznej (CBD) w Montrealu. Mamy nadzieję, że rozmowy te zaowocują ambitnym ostatecznym porozumieniem w sprawie "ram po 2020 roku", których celem jest ochrona co najmniej 30% powierzchni planety do 2030 roku (30x30). COP15 jest również idealnym momentem dla USA, aby wykorzystać swoją znaczącą siłę w imieniu globalnych wysiłków na rzecz budowania "przyrodniczo pozytywnej" przyszłości, w której nie tylko zatrzymamy, ale również odwrócimy utratę przyrody. Chociaż Stany Zjednoczone nie są stroną w CBD - ze względu na dwupartyjne podziały i sprzeciw różnych grup interesu - ich status wagi ciężkiej daje im wiele możliwości wniesienia wkładu, w tym poprzez wpływ na debatę nad ostatecznymi ramami.
Subscribe to PS Digital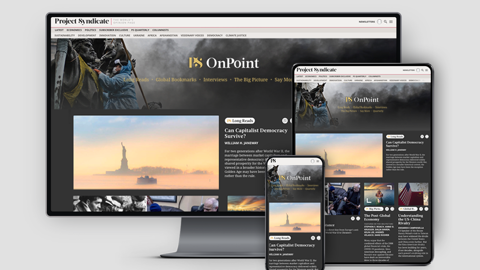 Subscribe to PS Digital
Access every new PS commentary, our entire On Point suite of subscriber-exclusive content – including Longer Reads, Insider Interviews, Big Picture/Big Question, and Say More – and the full PS archive.
Ponadto Stany Zjednoczone mogą pomóc w budowaniu partnerstw, wpływać na kluczowych decydentów i tworzyć nowe bodźce dla działań ochronnych na całym świecie. Mogą wspierać silniejsze zachęty dla zobowiązań poszczególnych krajów do osiągnięcia najpilniejszych celów ochrony przyrody. Może pomóc w zabezpieczeniu finansowania i zobowiązań finansowych potrzebnych do wsparcia wysiłków krajów o niskich i średnich dochodach w celu osiągnięcia globalnych celów ochrony przyrody i ochrony ich lokalnych ekosystemów. Może również włączyć ochronę przyrody do swojej polityki rozwoju międzynarodowego, pomagając w ten sposób zrekompensować koszty ochrony różnorodności biologicznej w tych krajach.
Mimo, że Stany Zjednoczone od trzech dekad nie ratyfikują CBD, ostatnio pokazały, że nadal są zdolne do wdrażania śmiałej polityki. Inicjatywa administracji Bidena "America the Beautiful" ma na celu ochronę 30% amerykańskich ziem i wód do 2030 roku, zgodnie z globalnym celem 30x30, który będzie negocjowany podczas COP15. Inicjatywa ta ma na celu nie tylko przyspieszenie zmiany w kierunku ochrony różnorodności biologicznej, ale także umieszczenie praw społeczności lokalnych, ludności tubylczej i narodów plemiennych w centrum działań na obszarach chronionych.
W tym samym duchu administracja Bidena mianowała niedawno Monicę Medinę pierwszym w historii specjalnym wysłannikiem ds. różnorodności biologicznej i zasobów wodnych - posunięcie to sygnalizuje zaangażowanie Ameryki w walkę z utratą różnorodności biologicznej i kryzysem klimatycznym. Pod przewodnictwem Mediny na początku tego roku Stany Zjednoczone dołączyły do Koalicji Wysokich Ambicji dla Natury i Ludzi.
W 1964 r. Departament Spraw Wewnętrznych USA opublikował specjalny raport "The Race for Inner Space", ostrzegający, że "zegar ochrony przyrody tyka zbyt szybko, by można go było cofnąć." Prawie 60 lat później, zegar ochrony przyrody wciąż tyka. Ale przynajmniej uznanie Amerykanów dla piękna naszego dziedzictwa przyrodniczego jest wciąż żywe.
Ostatnie inicjatywy administracji Bidena mogą na nowo zdefiniować amerykański ruch na rzecz ochrony przyrody, umożliwiając Stanom Zjednoczonym dawanie przykładu i wyznaczanie standardów ochrony przyrody na kontynencie. Jest to kraj, który może wykorzystać swoją ogromną siłę i globalne wpływy - gospodarcze, kulturowe oraz polityczne - aby pomóc światu w ukształtowaniu nowych i rozpaczliwie potrzebnych globalnych ram różnorodności biologicznej. Pomimo podziałów w innych kwestiach, Stany Zjednoczone mogą osiągnąć wewnętrzny konsensus co do potrzeby ochrony swojego wielkiego dziedzictwa przyrodniczego oraz wspierać globalny program ochrony przyrody poprzez zobowiązania finansowe i inicjatywy budowania potencjału.
Ten konsensus nie może przyjść wystarczająco szybko. W obliczu upływającego czasu COP15 musi być postrzegany jako pilne wezwanie do przebudzenia.
Z angielskiego przetłumaczyła Marz McNamer