Verdubbel de Europese energie-efficiency
BRUSSEL – Op de klimaatconferentie in Parijs afgelopen december verbonden wereldleiders zich plechtig zich aan het stellen van nationale doelen, inclusief energie-efficiency criteria, om de uitstoot van broeikasgassen te verminderen. Voor de Europese Commissie komt het moment van de waarheid nu steeds dichterbij: zal deze ambitieuze maar haalbare energie-efficiency doelen stellen die individuen en de industrie zullen dwingen om echt te veranderen? Of zal ze buigen voor politieke druk en betekenisloze doelen stellen die sowieso gehaald zullen worden, zonder extra inspanningen?
Die laatste benadering werd in 2014 gevolgd, toen Europese leiders overeenkwamen de energie-efficiency voor 2030 met 27% verbeterd te hebben. De Europese Raad werd toentertijd om zijn leiderschap geroemd. Niemand nam echter de moeite naar voren te brengen dat de mondiale energie-efficiency in 2030 op eigen kracht waarschijnlijk al met 35% vergroot zal zijn.
De klimaatovereenkomst heeft Europa een tweede kans gegeven om een voorbeeld te stellen en de mondiale maatstaf voor energie-efficiency te worden. Milieuactivisten, captains of industry, en academici wachten allemaal op de nieuwe doelstellingen van de Europese Commissie, die hoogstwaarschijnlijk in oktober vastgesteld zullen worden, in een aanstaande revisie van de Energie-Efficiency Richtlijn van de Commissie.
Dus wat zou dan wel een betekenisvol doel zijn? Als de Europese leiders het menen met hun engagement aan 'Parijs' zouden ze zich moeten committeren aan een vermindering in 2030 van 70% in vergelijking tot de consumptieniveaus van 2010; meer dan het dubbele van de doelstelling van de Europese Commissie uit 2014.
Een reductie van 70% is ambitieus, maar niet onmogelijk. Hier is zowel een economisch als milieuargument voor te maken. Economisch gezien vergroten landen die hun energieconsumptie verminderen tegelijk hun productiviteit, simpelweg omdat een lager energiegebruik minder geld kost. Alhoewel het implementeren van energie-efficiënte maatregelen zware initiële investeringen kan vergen, zullen deze uitgaven gecompenseerd worden door toekomstige productiviteitsgroei, en dit is de enige manier waarop ontwikkelde landen hun levensstandaard mettertijd duurzaam kunnen verhogen.
Het milieuargument voor ambitieuze doelstellingen is niet dat we 'de planeet moeten redden.' Maar we moeten wel het klimaat redden waarin de mensheid is geëvolueerd en tot bloei gekomen. De energie-efficiency wereldwijd groeit met ongeveer 1,5% per jaar, wat een welkome ontwikkeling is, en een teken dat dertig jaar progressief milieubeleid enig effect heeft gehad. De mondiale energieconsumptie echter stijgt jaarlijks met ongeveer 3%, wat impliceert dat we nog steeds bezig zijn dieper ons graf te graven, in plaats het dicht te gooien.
Introductory Offer: Save 30% on PS Digital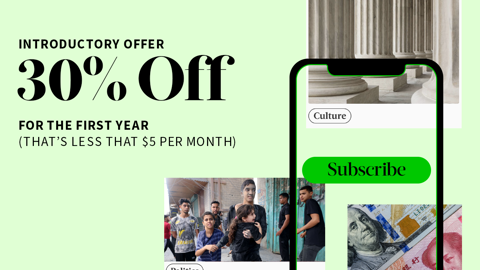 Introductory Offer: Save 30% on PS Digital
Subscribe now to gain greater access to Project Syndicate – including every commentary and our entire On Point suite of subscriber-exclusive content – starting at less than $5 per month.
De grootste vervuilers zijn nog steeds zes van de grootste economieën ter wereld, te weten China, de Verenigde Staten, Rusland, India, Japan, en de Europese Unie. Maar de meeste groei komt vandaag de dag uit ontwikkelingslanden die nu in de wereldeconomie participeren. Zelfs wanneer deze landen grote stappen maken in het reduceren van de uitstoot zullen zij de vervuilers van de toekomst zijn, tenminste op de korte termijn.
De globalisering heeft in veel arme landen de levensverwachting en het welvaartspeil verhoogd. Maar dit brengt ook nieuwe milieuproblemen met zich mee die ambitieuze oplossingen zullen vereisen. In dit licht gezien is een verbetering van 70% in de energie-efficiency het minste waarop Europa – en de wereld – zich kunnen richten om echte duurzaamheid te bereiken bij de huidige niveaus van mondiale groei.
Gelukkig ligt dit alles binnen ons bereik. Een studie uit 2015 gepubliceerd door Ecofys, Quintel Intelligence, en de Lisbon Council concludeert dat Europa nu al over de technologie beschikt om de energie-efficiency zonder opoffering van economische groei te verdubbelen. We hebben het dan over warmtepompen, slimme energienetten, Ledverlichting, en energie-efficiënte huishoudapparaten.
Dus waarom zijn deze technologieën dan nog niet geïmplementeerd? De reden is niet dat de industrie Europa tegenhoudt; in tegendeel, de ecologische voetafdruk van de Europese industrie is de afgelopen jaren al aanzienlijk kleiner geworden. Het zijn in plaats daarvan individuele huishoudens die de grootse energieconsumenten in Europa zijn, en waar de energie-efficiency de komende jaren met het juiste politieke leiderschap, voldoende investeringen, en een lange termijn engagement van de Europeanen zelf, verdriedubbeld kan worden.
Dit brengt ons terug bij het Energie Efficiency Richtlijn, waar al dit werk mee zou moeten beginnen. De Europese Commissie zou 'hemelbestormende' standaarden moeten zetten die ons tot grotere prestaties brengen dan we ooit dachten dat mogelijk zou zijn. Als Europa zijn energie-efficiency in 2030 verdubbeld heeft zullen de Europeanen terugkijken en zich afvragen waarom ze ooit anders hebben geleefd.
Vertaling Melle Trap