We moeten bouwen aan de groene-herstelconsensus
DOHA – Terwijl de Russische invasie in Oekraïne wereldwijd de krantenkoppen beheerst, blijft COVID-19 in de hele wereld sociaaleconomische schade aanrichten. De pandemie heeft ruim zes miljoen levens geëist, 124 miljoen mensen in extreme armoede gestort en de verwezenlijking van de 2030-doelstellingen voor duurzame ontwikkeling belemmerd. Gelukkig hebben ongeveer vijf miljard mensen nu ten minste één dosis van een COVID-19-vaccin ontvangen, en hebben de Wereldgezondheidsorganisatie en Gavi zich ten doel gesteld tegen juli van dit jaar 70 procent van de mensen in alle landen te vaccineren.
Ondanks de gruwelijke oorlog in Oekraïne zullen de pandemie en de voortdurende tol die zij eist bovenaan blijven staan op de lijst van dringende mondiale problemen, naast de klimaatverandering. De gevolgen van deze laatste crisis zijn reeds dagelijks voelbaar, zoals blijkt uit het zesde evaluatierapport van de Intergouvernementele Werkgroep inzake Klimaatverandering. Onlangs nog hebben extreme temperaturen en droogte West-Azië en Noord-Afrika geteisterd. De stijgende zeespiegel vormt een bedreiging voor veel eilandstaten en laaggelegen landen. Catastrofale overstromingen hebben delen van Europa en China overspoeld. En in het Amerikaanse westen en grote delen van Australië hebben verwoestende bosbranden gewoed.
Wetenschappers waarschuwen nu dat ʻbusiness as usual' de gemiddelde mondiale temperatuur, in vergelijking met het pre-industriële niveau, tegen het einde van de eeuw waarschijnlijk met een catastrofale 3-4º Celsius zal doen stijgen. Om de opwarming van de aarde op een veel veiliger niveau, onder de 1,5°C, te houden, moet de uitstoot van kooldioxide tegen 2030 met 45 procent zijn gedaald (ten opzichte van 2010), en vervolgens tegen 2050 tot nul zijn gedaald.
Nu we weten dat Omicron minder dodelijk is dan eerdere COVID-19-varianten, moeten we dit moment aangrijpen om voort te bouwen op het momentum dat afgelopen november op de COP26-klimaattop in Glasgow is gecreëerd. De wereld moet een herstelplan opstellen dat veel verder gaat dan de reactie op de pandemie, door ook de klimaatverandering aan te pakken. Het herstel moet niet alleen een brede basis hebben, maar ook groen zijn.
Wat betekent dit concreet? In de aanloop naar de twintigste editie van het Doha Forum op 26-27 maart hebben onze organisaties de handen ineengeslagen om twintig gerichte initiatieven voor een rechtvaardig, gezond en duurzaam wereldwijd herstel te bevorderen. Deze worden uiteengezet in een onlangs gepubliceerd rapport, Building Back Together & Greener.
Om het herstel groen en duurzaam te maken, stellen wij een wereldwijde groene waterstofalliantie voor om efficiëntere, klimaatvriendelijke methoden voor de productie van waterstof mogelijk te maken. Eenmaal opgericht, zouden de volgende stappen het opzetten van een wereldwijde inventaris van groene waterstofprogramma's omvatten, het beschermen van intellectuele eigendomsrechten en licentierechten terwijl de wereldwijde toegang wordt uitgebreid, en het aanmoedigen van een alliantiebrede standaardisering voor veilige opslag en transport.
Subscribe to PS Digital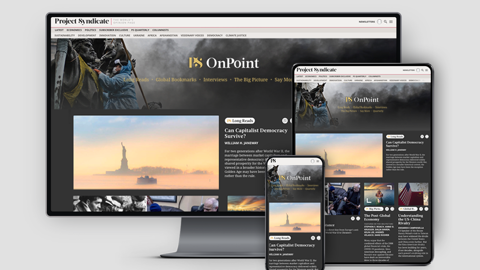 Subscribe to PS Digital
Access every new PS commentary, our entire On Point suite of subscriber-exclusive content – including Longer Reads, Insider Interviews, Big Picture/Big Question, and Say More – and the full PS archive.
Een eerlijk en inclusief herstel vereist meer investeringen in menselijk kapitaal – met name om de vaardigheden van werknemers te verbeteren – en nadruk op steun voor de mensen die het meeste risico lopen. In planningsprocessen moet de voorkeur worden gegeven aan publieke en private financiering voor koolstofarme activiteiten en infrastructuur die het grootste potentieel hebben om banen te scheppen voor jongeren en andere kwetsbare groepen met werkgelegenheidsproblemen.
Om ervoor te zorgen dat het herstel de gezondheid en het welzijn ondersteunt, hebben we een Wereldfonds voor Sociale Bescherming nodig om de regeringen van de ontwikkelingslanden te helpen bij het opzetten van adequate sociale programma's. Een dergelijk fonds zou de coördinatie-inspanningen stimuleren, en binnenlandse en buitenlandse middelen mobiliseren om een buffer te vormen tegen economische schokken, met inbegrip van die welke het gevolg zijn van klimaatgerelateerde milieurampen.
Ten slotte moeten wij, om het potentieel van de digitalisering voor de bevordering van het herstel te verwezenlijken, grootschalige investeringen in informatie- en communicatietechnologie-infrastructuur bevorderen, zowel om digitale gelijkheid tot stand te brengen als om het economische, gezondheids- en milieupotentieel van nieuwe technologieën te benutten. Internationale organisaties en regeringen moeten met het bedrijfsleven samenwerken om te zorgen voor effectieve en betrouwbare digitale connectiviteit, onder meer door gerichte investeringen in de gestage digitalisering van de meeste (zo niet alle) overheidsdiensten.
De komende zeven maanden zullen verschillende belangrijke internationale bijeenkomsten worden gehouden, die telkens een gelegenheid bieden om stappen te zetten in de richting van een gemeenschappelijk herstel. Maar om regeringen, bedrijven en het maatschappelijk middenveld achter een coherente, representatieve en duurzame wereldwijde implementatiestrategie te krijgen, is een afsluitende bijeenkomst nodig.
Daarom roepen wij op tot een ʻGreen Pandemic Recovery Summit,' te organiseren door de Verenigde Naties en de G20. Een tweedaags evenement, dat moet samenvallen met de jaarlijkse Algemene Vergadering van de VN in september, zou ertoe bijdragen dat politieke leiders op de hoogste niveaus zich verbinden tot het nastreven van een duurzame en billijke sociaaleconomische ontwikkeling in het post-COVID-tijdperk.
De biljoenen dollars die de rijke landen tijdens de pandemie hebben uitgegeven, tonen aan dat er financiële instrumenten beschikbaar zijn om ernstige problemen aan te pakken. Wat nodig is, is politieke wil, creatieve marktstimulansen en een praktische blauwdruk met duidelijke doelstellingen, tijdschema's en programmeringsideeën.
Middelen uit aanverwante initiatieven kunnen daarbij helpen. De 2030-agenda voor duurzame ontwikkeling, het ʻBuild Back Better World'-partnerschap en de ʻgreen deals' op nationaal niveau zijn over het algemeen op één lijn gebracht wat hun belangrijkste doelstellingen betreft. Het rapport Our Common Agenda van António Guterres, de secretaris-generaal van de Verenigde Naties, biedt aanvullende actuele en ambitieuze ideeën om mondiale collectieve goederen te leveren en grote risico's aan te pakken.
Het is begrijpelijk dat mensen en landen nog steeds gefocust zijn op de pandemie, de angst dat de mensheid het punt nadert waarop geen terugkeer meer mogelijk is met betrekking tot de klimaatverandering, de oorlog in Oekraïne en andere mondiale bedreigingen. Gelukkig beschikken we al over de multilaterale instellingen die we nodig hebben om een wereldwijde politieke consensus te smeden over de aanpak van deze elkaar overlappende crises. We moeten deze instrumenten nu dienovereenkomstig inzetten.
Vertaling: Menno Grootveld